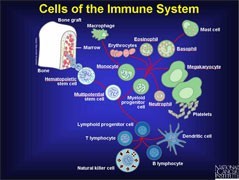 Building Your Immune System and Fighting Viruses
Today's lifestyles can be stressful and generally involves poor dietary habits, hectic schedules, and anxiety, with little or no time to exercise. Threats of dangerous cold and flu strains and the current state of the economy can contribute to the rise in one's stress levels. All of these factors combined can lay the foundation for stress, tension, fatigue, frustration, and anxiety that can decrease immune function.
Between new viral strains of colds and flu, as well as increased public exposure due to busy lifestyles, keeping yourself healthy becomes especially important. Using natural dietary supplements can help build and keep your immune system functioning optimally.
---
Stress and Immunity
Stress is something that everyone experiences in one way or another and causes can range from uncontrollable daily situations to physical illness. Current research has shown that the body reacts in various ways to stress and decreased immunity is one of them. When our immune system is compromised, we succumb to illness more readily. When the immune system is strong, our bodies have a better chance to ward off colds and flu.
According to Dr. Anthony Cichoke, "the immune system is a complex network of specialized cells and organs that defends our bodies against attacks by foreign invaders. When functioning properly, it seeks out, finds, and destroys infectious agents, such as:
Viruses
Bacteria
Parasites
Fungi
Additionally, when the immune system malfunctions, a number of diseases can develop from allergies to arthritis," or even more serious conditions.
---
Cold and Flu Viruses
The typical cold and flu season occurs in the fall and winter months. However, colds and flu can strike during any time of the year, including summer.
Every year in the U.S. the Center for Disease Control (CDC) reports several million cases of colds and flu. Up to 10% to 20% of the total U.S. population may become ill in any given year. Of these, thousands of the most serious cases require hospitalization, and each year there are several related deaths from complications caused by the flu. And now we have renewed and more dangerous strains, such as the Avian Flu and the swine flu virus H1N1.
You can help to keep you and your family members well by keeping the immune system boosted and taking dietary supplements at the onset that will help shorten the severity and duration.
Help keep your immune system strong by:
Taking supplements to help build the immune system
Having products on hand in case you begin to not feel well
Taking measures to reduce stress and exposure to illness
---
Controversies Over Flu Vaccines?

As we are all aware, flu vaccines are available each year.  However, there appears to be quite a bit of controversy surrounding them and their safety.  With all of the conflicting information, it is difficult to decipher what the truth really is. 
On one hand we have the Center for Disease Control (CDC) stating that flu vaccines are perfectly safe and necessary, especially for a particular group of people, such as those "at high risk for serious complications."  Included in their list are children between the ages of 6 months and 19 years old, pregnant women, people 50 years and older, those in nursing homes, and health care workers.
Note:  We feel it is important to note that the CDC feels those who "have ever had a severe allergic reaction to eggs or a previous flu shot and those with a history of Guillain-Barre' Syndrome that occurred after vaccination should consult with their doctor before getting a flu shot."
Then, there are those who are on the other side of the coin claiming the harm that could be potentially caused by the vaccine may outweigh the good.  For example, Dr. Mercola says, "seasonal flu strains that have been selected are cultivated for weeks prior to being inactivated (killed) and combined with various agents.  It is these very additives that are concerning to many."  He then goes on to say that flu vaccines can contain the following:
Aluminum – a neurotoxin linked to Alzheimer's
Thimersol - mercury
Triton X-100 – a detergent
Phenol – carbolic acid
Ethylene glycol – antifreeze
Betapropiolactone – a disinfectant
Nonoxynol – used to kill or stop growth of STDs
Octoxinol 9 – a vaginal spermacide
Sodium phosphate – saline laxative
While flu vaccines may not be widely accepted or needed by everyone, it is very important to communicate with your health care professional if you have any concerns whether you or your family members should have it or not.  Our intention here is to bring you both sides of the controversy for educational purposes only.  As always, a strong immune system is your best prevention against viruses.
Opinions from the Press and the Center for Disease Control:
---
An Ounce of Prevention
Whether you decide to be vaccinated for the flu or not, it is still a good idea to help keep your immune system strong, as previously mentioned.  Benjamin Franklin came up with the old adage "An ounce of prevention is worth a pound of cure" and he could not have been more correct. Having a strong immune system can help our bodies defend against microbial invaders that can make us sick when we are exposed to them.
The first and most effective treatment for a cold or flu is to prevent ourselves from coming down with either one of them in the first place. While this can be a tall order when we're all huddled up and barricaded indoors together against the cold winter weather, there are some precautions you can take to reduce your likelihood of succumbing to colds and flu this season. For example, limiting your exposure to infectious agents, and taking natural dietary supplements that can help boost the immune system to prevent the onset of a cold or flu and help you get well quicker if you do catch a cold or flu.
Preventative measures include:
• Stay healthy - Eat a healthy diet, exercise to keep your immune system working its best, and take natural dietary supplements for preventive measures.

• Get plenty of rest - Sleep helps build your body's natural defenses for fighting off infections, colds, and flu.

• Reduce stress - Stress can compromise your immune system making it harder for your body to ward off viruses and bacteria that can cause you to be sick.

• Wash your hands - Cleansing your hands vigorously with hot soap and water for 20-30 seconds will help kill germs and prevent them from spreading.

• Cover your mouth - Sneezing or coughing into a tissue or the crease of your elbowcan help stop the spread of germs to others, which can help break the cycle.

---
Supplements for Immune Building and Virus Fighting
Many of you already know the important role that natural dietary supplements can play in keeping the immune system strong in order to prevent cold, flu, and disease. Therefore, stocking up on these supplements to strengthen your immune system and keeping them on hand can help you and your family stay well during stressfull times and when the threat of dangerous viruses abound.
Mushroom Immune Defense
16 Mushroom Immunity Complex
This mushroom immune complex features 16 of the best-studied species of health-supportive mushrooms, including shiitake, reishi, and maitake. These mushrooms contain compounds, including beta-glucans, glycoproteins and polysaccharides, which support a wide range of immune defenses. Mushroom Immune Defense may be especially important these days with more dangerous strains of cold and flu that seem to be surfacing. If you are dedicated to good health you want a powerful formula on your side, such as Mushroom Immune Defense.
Children's Immune Chewable
Supports Wellness
With more dangerous cold and flu strains on the rise, many parents are looking for natural ways to help boost their children's immunity. Therefore, we offer Children's Immune Chewables to help do just that. This chewable is a robust formula designed to mobilize children's immune defenses and is offered in safe dosages, with kid-friendly, raspberry flavored wafers.
Vitamin D3
Bioactive Form for Immune Health
Vitamin D is a nutrient that helps regulate hundreds of genes, including those involving the body's innate immunity and its defenses against viruses, especially those affecting the respiratory system. The largest study regarding the association between vitamin D and respiratory infections appeared in the Archives of Internal Medicine. This study found that people with the lowest blood levels of this nutrient reported a significant increase in recent cases of colds and flu.
Wellness Formula
Herbal Defense Complex
Designed to support the immune system, Wellness Formula contains a powerful combination of herbs, antioxidants, vitamins, and minerals formulated to help improve your well-being. Source Naturals recognizes that nutritional symptoms are really body systems out of alignment; therefore they have formulated this unique product to support these systems and not just the symptoms. Take Wellness Formula at the very first signs of imbalances in your well-being.
Systemic C
Optimized Antioxidant Activity
Studies have shown that taking Vitamin C can help raise the immune system, and is a good supplement to take anytime, but especially during the cold and flu season. If you do begin to experience signs of a cold or flu, you can increase your intake to help shorten the severity and duration. Systemic C is a non-acidic Vitamin C that provides superior antioxidant protection by making more vitamin C available for immune support and free radical scavenging.
Vitamin A
Immune Support
Vitamin A helps promote healthy surface linings of the eyes, as well as the respiratory, urinary, and intestinal tracts. When these linings break down, it can become easier for bacteria to enter the body and cause infections. It can also help the skin and mucous membranes function as a barrier to bacteria and viruses. The PDR for Nutritional Supplements states, "vitamin A deficiency results in decreased resistance to infection."
Colloidal Defense
An Evolutionary Step Beyond Simple Colloidal Silver
Colloidal Defense is also an anti-viral, and if taken along with Systemic C and Wellness Formula at the first signs of a cold or flu it can help kill the virus, reducing the severity and duration after onset. Colloidal Silver is also the world's most broad spectrum and safest antibiotic, and can be used for infections of the skin, eyes, ears, and mouth. Harmonic Innerprizes utilizes the most advanced and sophisticated techniques ever developed for colloidal systems to produce their products. (For short term use only during periods of imbalance).
---
Suggested Further Reading
1. Diet, Exercise, Stress and the Immune System
2. Vitamin C can strengthen the immune system, new research indicates
http://www.naturalnews.com/007434.html
3. Sloan-Kettering Reishi Mushrooms
http://www.mskcc.org/mskcc/html/69353.cfm
4. Studies show reishi mushrooms benefit people stricken with a variety of ailments, from high blood pressure to AIDS
http://www.naturalnews.com/021498.html
5. Marvelous Mushrooms
http://www.usaweekend.com/03_issues/030209/030209eatsmart.html
6. Information on Reishi Mushrooms
http://www.reishi.com/
7. Shiitake Mushroom May Improve Human Immune Function
http://www.sciencedaily.com/releases/2008/06/080629081210.htm
8. Turkey Tail Mushrooms
http://www.bastyr.edu/development/newsletter/spring06.asp?jump=5
9. Immunity to Colds and Flu
http://www.joechanmd.com/Immunity.html
10.  WEBMD - H1N1 Swine Flu Vaccine FAQ
http://www.webmd.com/cold-and-flu/features/h1n1-swine-flu-vaccine-faq
---
Copyright 2009 - Energetic Nutrition, Inc.