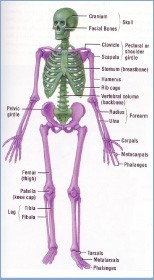 Nutrients For Skeletal Support
The skeletal system is comprised of all the bones in the body along with tissues, tendons, ligaments, and cartilage that connects them. Together, they are referred to as the musculo-skeletal system. While the primary function of the skeleton is to provide support, it also helps protect internal organs and fragile body tissues, allows body movements, produces blood, and stores minerals.
Bones provide the structure for muscles to attach so that our bodies are able to move. Tendons are tough inelastic bands that hold attached muscle to bones. A ligament is a tough band of white, fibrous, slightly elastic tissue, which is an essential part of the skeletal joints; binding the bone ends together to prevent dislocation and excessive movement that might cause breakage. Cartilage is a tough, elastic tissue that covers the ends of bones in joints and enables the bones to move smoothly over each another. It also protects bones by preventing them from rubbing against each other. The skeletal system can be kept healthy by getting regular exercise and proper nutrient intake in order to prevent the degenerative diseases that affect millions.
---
Degenerative Skeletal Diseases
Degenerative skeletal disease affects over 43 million Americans. That is 15% of the total population and represents 1 out of 6 people. Arthritis accounts for over 44 million outpatient visits and more than three-quarter of a million hospitalizations every year. Arthritis is second only to heart disease as a cause of work disability, costing the nation over $65 billion each year. And, as the baby-boomers age, experts calculate that arthritis will affect 60 million Americans, or 20% of the total population.
It is believed that a lot of the suffering and pain associated with degenerative skeletal diseases can be minimized, and even avoided altogether with proper diet, exercise, and intelligent dietary supplementation. Intelligent dietary supplementation begins with a mineral supplement that has calcium properly balanced with other nutrients that are necessary for calcium absorption and re-absorption into the bones. Without these other nutrients, calcium is deposited into the soft tissues of the body rather than absorbed into the bone matrix. Since proper calcium metabolism and utilization does not occur without these other nutrients, they are just as important as the calcium itself!
---
Calcium – Magnesium Ratios
The ratio between calcium and magnesium is very important in dealing with the causes and prevention of a number of disorders including myocardial infraction or arrhythmia, atherosclerosis, hypertension, and kidney stones. In all cases, a lower calcium/magnesium ratio or a higher magnesium/calcium ratio is desirable, especially since low magnesium levels are more prevalent than generally believed. This is due to the fact that magnesium intake is generally less than optimal.
The recommended dietary allowance (RDA) for calcium is 1000 mg/day for adults 19 to 50 years old and 1200 mg/day for those over 51. Whereas for magnesium it is 310 to 400 mg/day for adults 19-30 years of age and 320-420 mg/day for those 31 and older. Only about one-third of magnesium is absorbed from dietary sources, which should be taken into consideration when supplementing with calcium and magnesium. The traditional ratio of approximately 2 parts calcium to 1 part magnesium may need to be upgraded to increase magnesium intake in view of the overwhelming beneficial role of magnesium. The ideal ratio for most people's needs is an equal ratio of calcium and magnesium depending upon one's dietary habits. If calcium consumption is high, magnesium intake generally needs to be high also.
It is a good idea to account for dietary intake of foods that provide these two minerals when deciding what ratio of calcium to magnesium would be right for each individual. For example, if one has a diet high in dairy (calcium) and low in whole grains and leafy greens (magnesium), supplementing with more magnesium would help balance this out. If one has the opposite, then supplementing with more calcium than magnesium may be more appropriate. However, if one consumes a balanced diet of calcium and magnesium rich foods, it would be best to supplement with equal milligrams of each.
NOTE: When considering calcium supplementation, it is important to remember that the average American gets 400 — 500 mg of calcium every day in their diet. Therefore, to achieve the 1000mg Daily Value, dietary supplementation should be no more than 500mg — 600mg per day.
---
Products to Help Support the Skeletal System
We have three dietary supplements that can help support the skeletal system:

Calcium from the Sea provides 100% of the daily calcium requirement derived completely from algae and seaweeds and is balanced with the proper amount of magnesium so that calcium is deposited into the bone matrix rather than the soft tissues of the body.
This product is an advanced version of the famous Coral Calcium, combining all the necessary co-nutrients that are vital to calcium's metabolism into the bone. For example, magnesium, vitamin C, vitamin D, and Aulterra in a Sea Vegetable Base, along with specially formulated enzymes to assure maximum assimilation into the blood system. An excellent calcium supplement for prevention of degenerative skeletal diseases.
Calcium from the Sea also contains a powerful catalyst that is several times stronger than Coral Calcium. Called NanoCalcium, this catalyst alkalinizes the blood system almost immediately through ionic transfer while it is still in the stomach. For maximum benefit, it is very important to take Calcium from the Sea with 8 oz of water. Calcium from the Sea represents a clear alternative to other forms of hard to absorb calcium preparations.
All of the calcium in Calcium from the Sea is naturally occurring from select seaweeds and therefore it is in an easy to digest and easy to absorb, organic state. The calcium provided in most dietary supplements is inorganic, and goes through a process called mineral chelation that bonds it to an acid which allows the body to absorb a mineral form that it ordinarily would not absorb very well.
The foundational minerals in this product are from coral reefs located in pristine waters off the coast of Okinawa, Japan and consciously harvested in an eco-friendly manner. Harvesting is done by a company who is an active member of the World Wildlife Federation and in waters only that have been pre-approved by the Okinawa Prefectural Government.
Benefits of Use:
• Helps maintain positive skeletal health
• Helps in the prevention of degenerative skeletal diseases
• Helps a diverse group of health problems
• Helps alkalinize overly acidic blood

---

Cal/Mag Skeletal Rejuvenator was formulated for those at higher risk of bone loss; either through genetic predisposition, or post menopausal women with hormonal imbalances. This product contains Calcium Hydroxyapatite, which is processed without heat or chemicals to retain all bone minerals and organic residues completely intact and in their natural physiological ratios. It is the organic components of bone — collagen, amino acids, mucopolysaccarides, etc. — that contribute to the enhanced absorption of calcium into the bone.

Another major constituent of this unique formula is Ipriflavone, which is an extract from soy. Numerous human studies clearly indicate that Ipriflavone holds great promise in the prevention and treatment of osteoporosis and other metabolic bone diseases. Ipriflavone appears to have several mechanisms of action, all of which enhance bone density, making it superior to many other treatments available for osteoporosis prevention and treatment. What makes Ipriflavone so beneficial is that it has both anti-resorptive properties (calcium being depleted from bone mass) and bone forming properties that increase bone cell proliferation. Traditional medicine protocol would require two different drugs to accomplish what Ipriflavone appears able to do by itself.

Cal/Mag Skeletal Rejuvenator also contains Manganese, Zinc, Potassium, Boron, Vitamin C, Vitamin D, and Aulterra in an Herbal Extract Base, along with an Enzyme Blend specifically formulated for protein synthesis and to release the colloidal minerals within the plant fiber. This product may be beneficial for those at higher risk of bone loss; either through genetic predisposition, or post menopausal women with hormonal imbalances.
Benefits of Use:
• Helps restore bone loss
• Helps rebuild bone mineral content
• Helps enhance absorption of calcium into the bones
• Helps protect those who are predisposed to skeletal diseases
Please Note: When deciding which product may be right for you, please take the following into consideration. Calcium from the Sea has health generating potential far beyond traditional calcium supplements. It is ideal for men of all ages and pre-menopausal women. Cal/Mag Skeletal Rejuvenator is for those who are suffering from, or who are predisposed to, degenerative skeletal disease and post-menopausal women.
---
Super Silica Plus provides 100% plant-based silica in combination with enzymes specially formulated to release minerals from plant fiber. Each capsule provides over 90 mg of organic silica. Silica is a vital mineral that is almost completely over looked by mainstream nutritionists. Throw in the excessive amounts of calcium being consumed without the necessary magnesium required for calcium to be absorbed into the bone matrix; it is no wonder soft tissues become over-calcified and the rate of heart attacks increase.
We are born with an abundance of silica and relatively low amounts of calcium. Then with every advancement in chronological age, the amount of calcium increases and the amount of silica decreases within the body. This is exactly what happens in the aging process. As our silica supply diminishes, the soft tissues become stiff and lose elasticity. They become over calcified!
Silica deficiency is the causal factor in many degenerative diseases, including Alzheimer's disease and is the missing element in all anti-aging programs. Therefore, a very important supplement for anyone, especially those over 50 years of age.

Research shows that skeletal diseases such as osteomalacia (bad bones), osteoporosis (porous bones and/or spontaneous fractures, as well as shrinkage) although caused by a calcium deficiency, do not respond to calcium therapy alone. Research conducted in Paris, France by noted biophysicist Louis Kervan, and in the United States by Dr. Richard Barmakian shows that fractured bones did not heal at all when high amounts of calcium were present. They heal fair to poorly when moderate amounts of calcium were present. But they heal extremely well when relatively low amounts of calcium were present with an abundance of silica.
Benefits of Use:
• Helps heal broken bones
• Helps prevent calcification of soft tissues
• Helps reduce the risk of certain degenerative diseases
• Helps protect those who are predisposed to skeletal diseases

---
Products to Help with Skeletal System Discomfort

MSM Plus Cream contains MSM, which is a naturally occurring, dietary sulfur compound found in all living things. Sulfur is present in every cell in the human body, and is the eighth-most common compound in the body. It makes up about 1% of a persons body weight, and is critical to the normal function and structure of the human body, especially the joints, cartilage, and tendons. MSM is a raw material that is needed for the natural production of protein and connective tissue. Many medical practioners use MSM as an anti-inflammatory and to help with joint function
MSM plays a major role in skin care and may promote smoother, firmer looking skin by supporting healthy levels of collagen and keratin, which are important substances in healthy looking skin. It is also an excellent skin softener with anti-wrinkle properties when combined with dipalmitoyl hydroyproline, a lipo amino acid which is naturally present in the skin. Dipalmitoyl Hydroxyproline supports the growth and contraction of the collagen fiber network of the skin. The result may be flexible, younger- firmer looking skin.
Benefits of Use:
• Helps support muscles, cartilage, tendons, and joints
• Helps support healthy levels of collagen and keratin
• Support for skin softening and firming
• Helps to temporarily reduce pain and inflammation

---

MSM & Glucosamine Cream contains the maximum concentration of MSM and Glucosamine available in a cream. MSM & Glucosamine has been shown to help provide support for connective tissue and cartilage specifically in joints.
Glucosamine is one of the "building blocks" of cartilage and provides nutrients for cartilage rehabilitation and inflammation relief. Glucosamine is not only beneficial for cartilage, tendons, and joints, it also helps support the synovial fluid (between the joints), which serves to lubricate the joints. Research suggests that MSM is a basic element essential to many structures and functions of the human body.It has also been shown to help reduce inflammation and scarring along with being an excellent skin softener, as mentioned above.
Benefits of Use:
• Helps support cartilage, tendons, and joints
• Helps support synovial fluid between the joints
• Helps to temporarily reduce pain and inflammation

---
Further Reading
Calcium Builds Bone In Pre- and Postmenopausal Women
http://www.vrp.com/articles.aspx?page=LIST&ProdID=773&zType=2
Vitamin D, Calcium Important for Bone Health In Postmenopausal Women
http://www.vrp.com/articles.aspx?page=LIST&ProdID=1054&zType=2
Vitamin D and Calcium: New Findings From World Congress on Osteoporosis
http://www.vrp.com/articles.aspx?page=LIST&ProdID=803&zType=2
Vitamin D, Calcium & Protein Involved in Bone Health
http://www.vrp.com/articles.aspx?page=LIST&ProdID=779&zType=2

Copyright 2008 - Energetic Nutrition, Inc.