What is Ketsumeisei?
Ketsumeisei is a proprietary herbal compound that includes sickle-pod senna, cape jasmine fruit, astragalus root, Chinese wild yam, kudzu vine root, safflower, Chinese licorice, and Chinese ginseng. Ketsumeisei has been formulated to improve metabolic and microcirculatory disturbances. 
Ketsumeisei has been found to help maintain stabilized blood sugar and improve insulin resistance by helping to lower free fatty acid in the body, according to clinical studies.
Insulin resistance and free fatty acid have been identified as being contributing factors to the onset of diabetes. Our rapidly changing modern lifestyle has also resulted in a sharp increase in the incidence of Type II diabetes mellitus, which is now a major problem for society.
Liver Support:
Helps to maintain normal blood sugar levels
Promotes general organ health
MIcrocirculation Support:
Healthy energy levels
Blood cleansing properties
Extremenity circulation support
Healthy vision
Studies have shown that glucose levels can be decreased or maintained with less insulin or oral hypoglycemic agents when using 6 grams per day of Ketsumeisei. The suggested use is 3 grams per day.
---
Composition of Ketsumeisei
Improvement of the constitution (physical functions of the body) is based on the notion of traditional Chinese medicine.  This method uses a collective effect of natural ingredients to improve an abnormal constitution instead of focusing on a single symptom or a single parameter.  According to this philosophy, people with type 2 diabetes have a constitution of liver and blood stagnation, a qi (vital force) deficiency, as well as internal inflammation. 
These types of constitutions can cause disorders of energy production and circulation, which should be improved by the principle of soothing the liver, clearing away heat, tonifying qi, and activating the blood.  A text book of traditional Chinese medicine describes the indications for Chinese herbal ingredients. 
Soothing the liver – means ensuring smooth flow in the liver.  Chinese herbal ingredients for soothing the liver have the effect of protecting hepatocytes, improving circulation in the liver, and promoting bile secretion. 
Clearing away heat – means suppressing inflammation.  Chinese herbal ingredients for clearing away heat have immunostimulating, detoxifying, and anti-inflammatory effects. 
Tonifying Qi (chi) – means restoring impaired functions.  Malaise and delayed healing of tissue damage are typical symptoms of a qi deficiency.  A qi deficiency corresponds to low energy conditions.  The comprehensive function of digestion, absorption, and metabolism is called spleen qi.  Chinese herbal ingredients for tonifying qi have the effect of improving digestive, absorptive, and metabolic functions; promoting the healing of damaged tissue; and enhancing immunity.
Activating blood – means resolving stagnant blood, indidcating improvement in circulatory disorders.  Chinese herbal ingredients for activating blood have the effect of improving microcirculation as well as anti-fibrotic, anti-thrombotic, and anti-tumor effects. 
According to the above principles, edible herbal ingredients were used to devise the supplement Ketsumeisei to help improve one's constitution. 
---
Who Can Benefit From Ketsumeisei?
Ketsumeisei is appropriate for people with insulin resistance syndrome or microcirculation failures. This includes diabetes, angina, myocardial infarction, eyestrain, anapeiratic red-eye, glaucoma, cataract, constipation, angitis, and phlebeurysm, after effects of stroke, vascular dementia, side effects of anticancer agents, postoperative recovery, intestinal adhesion, congestion resulting from injury, menstrual irregularities, stiff shoulder, coptosis, and anemia.
Note: A common constitution underlies type 2 diabetes.  Therefore, constitutional improvement and lifestyle modification can help facilitate recovery.  Furthermore, prevention and early intervention before the development of significant symptoms may substantially reduce medical costs and improve the quality of life.
---
Traditional Chinese Medicine Theory
The "spleen" of traditional Chinese medicine refers to the functional system that controls digestion, absorption, and metabolism. The diabetic constitution is attributed to the metabolic and circulatory pathologic condition associated with "spleen vacuity", stagnant blood, and liver-kidney yin deficiency. The primary pathology is "spleen vacuity", characterized by metabolic disorder. This leads to microcirculatory disorder (stagnant blood), which leads to inadequate synthesis of bodily substances (e.g., blood-pressure-controlling substances as liver-kidney yin). Type II diabetes is not rapid onset. The diabetic constitution commonly predates the abnormal rise in blood sugar. Onset of diabetes and diabetic complications may be prevented by early correction of the constitution.
Ketsumeisei is recommended by the Embassy of the People's Republic of China in Japan and the Japan-China Society, Inc.
---
Dr. Xianen Wang, MD, PhD
Dr. Xianen Wang began investigating viable diabetes treatments when he noticed that the
disease was on the rise, with increasing numbers of patients suffering and dying from complications. The development of insulin and medications did not lower the incidence.
Because genetic and molecular therapies provide only local treatment for certain symptoms, Dr. Wang formulated Ketsumeisei, a proprietary herbal compound that has been widely used in China and Japan to treat diabetes for many years.
Dr. Wang's ongoing involvement in diabetes is practical and solution-oriented, emphasizing
studies that will directly alleviate patients' pain, rather than studies for purely academic purposes. Dr. Wang was granted an Associate Professorship at China's Tongji Medical College in 1995, and became a Full Professor there in 2002. In December 2005, he became an Associate Professor in the Department of Gastroenterology, as well as a Japan's very first Foreign Associate Professor at Juntendo University's School of Medicine.
More information about Dr. Wang and his work is available online at:
http://www.integrativetherapyresearch.org/dr-xianen-wang/
---
Studies and Research
Ketsumeisei (Juemingjing) and Type II Diabetes
Juemingjing extract is formulated to maintain normalized blood sugar levels and keep a healthy circulatory system.
Ketsumeisei (Juemingjing) and Diabetes
Effects on diabetes, including changes of serum free fatty acid and TNF-a.
---
References
1.  Wang XE, et al. Therapeutic effect of the Kampo formula Ketsumeisei on diabetes mellitus.
Eastern Medicine. 2002;18(3):43-49
2.  Wang XE.  Effect of Ketsumeisei on diabetes mellitus and changes in blood free fatty acids and TNF-a. Eastern Medicine. 2007;23:17-22.
---
Ketsumeisei and Diabetes
Increase in Type II diabetes mellitus:
Diabetes mellitus has become increasingly prevalent, so much so that it is, in fact, currently referred to as a "national affliction." Type II diabetes, which accounts for about 95% of diabetes mellitus, results from insufficient insulin secretion and insulin resistance (in which insulin cannot be used effectively). Genetic factors are involved in its etiology, but stress, overeating, lack of exercise, and other modern lifestyle habits also play a large role. These predisposing factors promote the formation of the "diabetic constitution," which is characterized by metabolic and circulatory disorders.
Dangerous complications of Type II diabetes mellitus:
Type II diabetes is most insidious for its complications.  It is not uncommon for complications to continue to progress even though the blood sugar is well-controlled.  Diabetes mellitus ranks first among diseases for complications.  Current for the complications are not adequately effective, and the need to use multiple medications often leads to adverse reactions.  Treatment of diabetes mellitus must not focus solely on lowering the blood sugar, but must also incorporate measures to improve the constitution. 
High blood sugar is just one of the many symptoms of diabetes mellitus.  A continued state of metabolic and circulatory disorder may lead to such pathologies and retinopathy, nephropathy, neuropathy and myocardial infarction (MI), and continue to induce pathological changes throughout the body. (moved down here
Another common complication of diabetes mellitus is delayed wound healing.  In healthy individuals, wounds usually heal spontaneously.  However, tissue damages associated with type 2 diabetes, such as skin ulcers and gangrene, are difficult to heal.  Repair of tissue damage involves cell migration and proliferation, which is an energy-consuming process.  Herbal  medicines with a qi-tonifying effects such as ginseng, astragalus root, Chinese ginseng, and Chinese licorice have long been used to promote wound repair in debilitated persons in China.  These herbs have been included in Ketsumeisei to help address the above conditions by tonifying qi. 
Ketsumeisei as prevention and treatment of Type II diabetes mellitus:
Ketsumeisei is good for the prevention and treatment of Type II diabetes, its complications and insulin resistant syndromes. Ketsumeisei's systemic effects improve metabolism and microcirculation disturbances in the body. Free fatty acid in the body is insulin resistant material. In clinical studies, Ketsumeisei clearly decreases free fatty acid in Type II diabetics. This product also helps decrease glucose indirectly by correcting insulin resistance as a result of the decrease of free fatty acid. Microcirculation disturbance can cause multiple complications. The proprietary mix of ingredients (including flavonoid & diadzein in fruit kudzuvine, carthamidin in safflower, and saponin in Korean ginseng) can help improve total body microcirculation.
Subjective symptoms in diabetics:
Diabetics also suffer from various other symptoms including malaise and numbness.  Chinese wild yam and licorice are reported to be anti-fatigue and excitometabolic.  Most diabetics recognize improvement in various subjective symptoms in a few weeks and improved activity levels have been noted.  Additionally, cape jasmine and licorice have been shown to have ant-inflammatory effects.  Symptoms of retinopathy or acro-tetraplegia (paralysis), if present, improved within a month of using Ketsumeisei.  Shortness of breath by stenocardia (angina pectoris) was also improved. 
Case Study by Dr. Wang:
A 60-year old man was diagnosed with type 2 diabetes at the age of 55.  He has a fasting blood glucose level of 280 mg/dl, worsening of numbness in the legs (peripheral neuropathy), malaise, and hypoacusis (partial hearing loss).  Insulin injections (9 U/day) reduced the blood glucose level between 180 and 190 mg/dl without improvement in the symptoms of numbness.  In August 2004, treatment with Ketsumeisei (3 grams/day) started.  Numbness in the legs gradually resolved and malaise significantly improved.  The patient noted some improvement in hearing also and his fasting blood glucose levels are now maintained at 160 to 170 mg/dl.
Liver Function and diabetes:
After a meal, non-diabetics store approximately 40% of glucose in the liver before being distributed to the blood as required. People become diabetic if there is insulin resistance caused by functional decline or disease of the liver. All Type II diabetics suffer from minor functional diseases of the liver, such as fatty liver, and slow flow of blood and bile. When these minor functional diseases of the liver are treated, metabolism accelerates. Ketsumeisei's ingredients including flatstem milkvetch root, cape jasmine and licorice can help improve liver function.   When these minor functional diseases of the liver are treated, metabolism accelerates.  Ketsumeisei's ingredients, including cape jasmine and licorice can help improve liver function.
Results
Treatments for diabetics has always included lowering and controlling the patient's blood sugar levels, yet this approach often fails to stop further complications and may cause serious side effects, especially, when the patient is taking several drugs. Ketsumeisei offers a way to improve symptoms to help prevent more damage.
In one study, 60% of diabetics taking Ketsumeisei experienced decreased glucose within 2 months. Nearly 100% of diabetics experienced improvement of subjective symptoms during the same time period. For example, observations of patients with type 2 diabetes showed that oral doses of Ketsumeisei in combination with hypoglycemic agents for 1 to 2 months resulted in improvements of malaise and other symptoms, while substantially decreasing blood levels of free fatty acids.  There was also a trend toward reduction in fasting and postprandial (after meals) blood glucose levels.1,2
Clinical studies have shown that in Type II diabetic patients, Ketsumeisei can clearly:
• Help improve metabolism
• Help lower blood pressure
• Help increase ATP (energy of the cells)
• Help decrease or maintain glucose levels
• Help decrease free fatty acid, which may contribute to insulin resistance
Please Note:  Direct or indirect measurements of blood glucose levels are now used as criteria for evaluation of the outcome of treatment for type 2 diabetes. However, just changing blood glucose levels does not always reflect other symptoms associated with this disease. For example, some patients have no improvement in the symptoms of malaise and numbness despite a reduction in blood glucose levels. And, some patients treated with therapy to improve their constitution recover sufficiently to resume work without obvious reductions in blood glucose levels. In other words, symptomatic improvement is not always accompanied by improvement in laboratory data. 
In one study, 60% of diabetics taking Ketsumeisei experienced decreased glucose within 2 months. Nearly 100% of diabetics experienced improvement of subjective symptoms during the same time period.
---
One Patient's Results
A 55 year old male patient of Dr. Wang's has been a Type II diabetic for 14 years. His daily insulin was 25 to 15. After just 3 months of using Ketsumeisei, his daily insulin is now 24 to 14. These photographs show the improvement made in the lesions on his legs over that time period: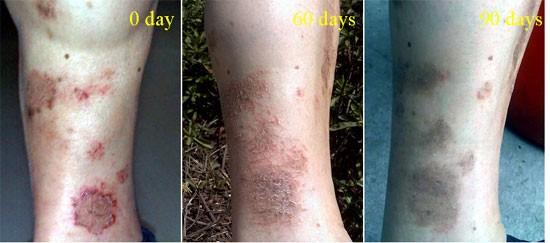 Supplement Facts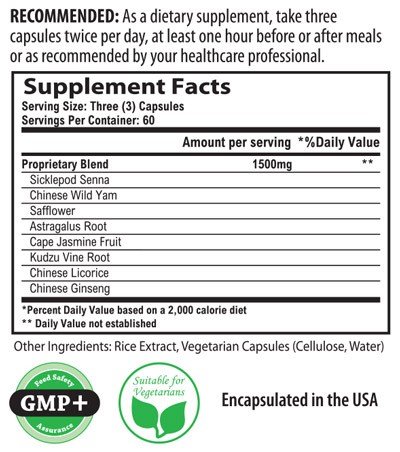 See description of ingredients below.
Serving Size: (3) Capsules
Formulation:
Servings per Container: 60
Amount per Serving: 1,500 mg
Proprietary blend contains: Sicklepod Senna, Chinese Wild Yam, Safflower, Astragalus Root, Cape Jasmine Fruit, Kudzu Vine Root, Chinese Licorice, Chinese Ginseng.
Contains no artificial colors, flavors, or preservatives. No wheat, gluten, soy or talc.
Suggested Use: As a dietary supplement, take three capsules twice per day, at least one hour before or after meals or as recommended by your healthcare professional.
WARNING: If you are pregnant or lactating, consult a healthcare professional before using. Ketsumeisei improves blood circulation, so the intake of blood thinners may need to be reduced or stopped under a doctors supervision. Ketsumeisei cannot be taken by patients with a history of hypersensitivity to any of its components. Keep out of reach of children. Consult your physician if an allergic reaction occurs. Do not use this product if the safety seal is broken. Store in a cool dry place.
Country of Origin: People's Republic of China
Imported by: American Institute of Eastern Medicine
---
Ingredients Defined
Sickle-Pod Senna
Helps lower blood pressure and blood sugar, improving liver disorders and inflammation.  Treatment for eye disease by clearing away liver inflammation.
Chinese Wild Yam
Helps nourish and strengthen the body, improving physical strength, while helping to promote energy metabolism.
Safflower
Helps improve blood flow by activating stagnant blood and help reduce inflammation.
Astragalus Root
Helps invigorate the immune system, suppress ulcers, and promote energy metabolism.  It can also help prevent oxidation, protect against radiation injury, promotes wound healing, protects the liver, and lower blood pressure. 
Cape Jasmine Fruit
May help alleviate fever and inflammation, while helping to aid liver functions.
Kudzu Vine Root
Helps relieve wasting thirst, lower blood pressure, reduce glucose, and inhibits platelet aggregation.
Chinese Licorice
Helps alleviate inflammation, cough, and allergy symptoms. It can help suppress peptic ulcer and diabetes, while helping to protect the liver, improve liver function, and prevent liver cell damage. It may also aid urination and work like steroid hormones.
Chinese Ginseng
Helps decrease fatigue and the level of cortisol in the blood.  It can also act as an anti-inflammatory, promote metabolism, dissolve blood clots, stimulate mental activity, relieve pain and swelling, while detoxifing and normalizing the entire system. 
---
World Nutrition, Inc. is Committed to Providing Customers with Safe Products
World Nutrition, Inc. currently imports three products from Japan: Extra Strength Vitalzym, VitalzymXe Professional Strength, and Ketsumeisei. Original Vitalzym is manufactured in the United States.
With concerns arising from the 2011 natural disasters in Japan, we want to inform our customers that World Nutrition, Inc. is committed to ensuring that none of the products we ship to our customers are contaminated with radiation.
The following statement is from World Nutrition:
Our manufacturing facility in Japan is located in Shizuoka which is on the southwest side of the island, approximately 250 miles away from where the affected power plant is located. This location brings with it a completely different supply of groundwater. It also has the benefit of having the massive natural barrier of Mt. Fuji, thus defending against the slightest chance of air flow and weather patterns having any effect. This is true especially as the weather moves from west to east – taking any polluted air away from our facility instead of towards it.
More importantly we have numerous steps in place to validate its safety. All of our raw materials are tested upon arrival at our facility overseas. Once those ingredients have passed inspection, the product is manufactured and tested again. Once passed it is prepared for shipment. Our cartage company tests every single thing they carry from Japan, so it is tested again. Once passed, it is brought over to the US. Once it arrives, Customs tests it again. After it passes the FDA does their inspection and tests it again, since the product is registered as a food supplement. Once they pass and release it, the product goes to our fulfillment center. We have a lab that we work with here in Arizona where we send randomly pulled samples from our shipment for testing. Once they pass it, only then do we accept it into our inventory. It is a very costly and elaborate process, but once we have all 6 different validations of its safety – all from different independent sources – then we feel quite comfortable offering the product to our customers.
When we say "passed," we do not mean that it is deemed by a handful of people to be at a tolerable level… we mean it has come back with an reading of ZERO radiation.
If you have any further questions or concerns, please feel free to contact World Nutrition at 800-548-2710.
Frequently Asked Questions
What percentage of Ketsumeisei is absorbed by the body?
More than 90% is absorbed if taken on an empty stomach.

What are the known side effects of Ketsumeisei in Type II diabetes patients?
None at present.

Do these side effects (if any) differ in children with Type II diabetes?
No side effects have been reported.

Is Ketsumeisei safe for people with any of the following conditions: lymphoma, thyroid issurs, patients taking blood thinners, patients undergoing chemotherapy?
Ketsumeisei improves blood circulation, so the intake of blood thinners may need to be reduced or stopped. Ketsumeisei has other advantages, too.

How long did the discovery/formulation process for Ketsumeisei take?
A prototype of the natural remedy was created around 1990. After refinements, we succeeded in commercializing it in 2001.

How long must a patient take Ketsumeisei before results are evident?
For an average of two months. Many patients see some results in one month.

What benefits does Ketsumeisei offer for individuals who do not have Type II diabetes?
Individuals who are totally healthy need not to take it. Basically, Ketsumeisei is appropriate for people with insulin resistance syndrome or microcirculation failures. This includes diabetes, hypertension, angina, myocardial infarction, arteriosclerosis, obesity (insulin resistance syndrome), eyestrain, anapeiratic red-eye, glaucoma, cataract, constipation, angitis, phlebeurysm, aftereffects of stroke, vascular dementia, side effects of anticancer agents, postoperative recovery, intestinal adhesion, congestion resulting from injury, menstrual irregularities, stiff shoulder, coptosis, and anemia.

Is there a particular diet that works most efficient when taking Ketsumeisei?
You need to avoid excessive eating and drinking, and engage in regular restrictive diet and physical exercise.

Are there any foods, supplements on medications that should be avoided when taking Ketsumeisei?
You are not prohibited from taking anything. See above note about blood thinners.

Is Ketsumeisei recommended for borderline diabetics? Why or why not?
It takes time for the Type II diabetes constitution to form. Metabolism and microcirculation failures already exist before the blood glucose level rises to such extent that it fulfills the diagnostic criteria.

What are the advantages of taking Kestsumeisei instead of insulin?
Ketsumeisei can't be used as a substitute for insulin. Ketsumeisei works better if used with insulin after the insulin resistance is lowered. This scheme is particularly effective in the prevention and treatment of complications. In general, while insulin lowers the blood glucose level, complications are advancing fast. If Ketsumeisei is taken at an early stage, it is possible that insulin will not be necessary.

Can Ketsumeisei be mixed with water/tea/soda if people do not like the taste?
Alcohol and tea may not be good to mix it with.

What tests/clinical studies have been performed regarding the interaction of Ketsumeisei and medications currently used including: Sulfonylureas; Megitindes; Biguanides; Thiazolidinediones; Alpha-glucosidase inhibitors; Pramlintide; Exanatide?
Basically, you should not stop taking the medications you have been taking when you start taking Ketsumeisei. In our clinical studies, the effects of Ketsumeisei before and after its start of use were compared, as well as those between patients who took Ketsumeisei and the control group. Interactions of multiple medications were not analyzed.

Ketsumeisei does not promote the secretion of insulin. Instead, it is effective mainly in the prevention and treatment of complications. The lowered blood glucose level is attained after the body has recovered to the normal condition, in which the insulin resistance is lowered and insulin use is improved. Ketsumeisei works differently from traditional medications.
Copyright 2007 American Institute of Eastern Medicine

Why buy Vitalzym from Energetic Nutrition?


We are an Authorized World Nutrition Retailer, and one of their largest worldwide retailers.
We receive a fresh supply of products every week, which is kept under climate control.
We have been in business since 1996, and a trusted website since 1997.
Order by 3pm and we will ship the same day (exceptions may apply).
Our excellent staff is available to answer your questions by phone, email, or live chat.
We are known for our excellent customer service and educational support.
We truly care about your health, and we really appreciate your business!