Home
>
Vitalzym Systemic Enzymes

Systemic Enzymes Help You Feel Better, Look Better, and Live Longer

Enzymes are said to be the "sparks of life." They are considered keys that can unlock the door to a healthier you because they not only help improve digestion and nutrient absorption; they are also responsible for millions of bodily functions.
Vitalzym contains potent proteolytic enzymes designed to support health. It is an extremely effective systemic enzyme blend with a high Serrapeptase content.
Vitalzym works to break down fibrin in the body. Fibrin is a hard, sticky protein that has been associated with scar tissue, inflammation and pain, among other symptoms and conditions. Additionally, Vitalzym can help reduce viral load and regulate the immune system, reduce toxins and impurities in the blood, promote cellular detoxification, reduce internal inflammation, and promote overall better health.
Vitalzym works synergistically to provide total system support. It contains protease, serrapeptase, papain, bromelain, amylase, lipase, rutin and amla. According to Dr. Peter Streichhan, a world-renowned enzyme researcher from Germany, "enzyme mixtures have a wider range of therapeutic advantages than do individual enzymes." 1
---
Vitalzym systemic proteolytic enzyme therapy can assist the body in fighting:
Enzyme authority Dr. Anthony Cichoke says, "Every day, researchers throughout the world are discovering new enzymes and new therapeutic uses for them...Researchers are even studying enzyme replacement therapy devising new treatment methods for diseases that they have historically been unable to treat. This includes many diseases that result from inborn errors of metabolism, such as the inability of the body to make a particular enzyme." 1
---
The Purpose of Enzymes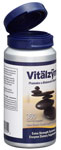 Our bodies have a variety of functional units, such as a digestive system, an immune system, a cardiovascular system, and a circulatory system, just to name a few. Each system requires energy in order to perform optimally. It just so happens that enzymes provide this much needed energy for the successful completion of each biological function.
What exactly are enzymes? They are proteins that are responsible for every chemical reaction that goes on in your body; governing all functions related to your tissues, muscles, bones, organs, and cells. Every second of our lives, over 3,000 different enzymes are constantly renewing and changing, often at unbelievable speeds.
Enzymes are responsible for everyday bodily processes, such as:
Metabolism
Digestion
Breathing
Movement
Liver function
Immune regulation

Viscosity of blood
Cellular detoxification
Energy production
Stamina
Ability to utilize vitamins and minerals
Enzymes have been studied since the early 1900s. Even though there is over a century's worth of information regarding their use, we still have much to learn about them. Although, one thing is for certain; life as we know it, would not exist without them.
Over the last decade, science has uncovered numerous roles for enzymes than ever thought possible, as they literally initiate millions of reactions within your body. In fact, many health care professionals are now advocating the use of enzymes for various conditions and post-operative healing.
When referring to enzymatic supplements, it's important to distinguish between those used for
digestion
and those used
systemic
ally.
Digestive enzymes are taken orally with food in order to help break down fats, carbohydrates, and proteins for improved digestive function and nutrient absorption.
Systemic enzymes, such as those in Vitalzym, are taken orally in between meals on an empty stomach. This way they can be absorbed by the intestines into the bloodstream where the body can utilize them for countless bodily processes.
---
Vitalzym - Systemic Enzyme Therapy - from World Nutrition
Vitalzym contains potent proteolytic enzymes designed to support health and promote healing and repair. It is an extremely effective systemic enzyme blend with a high Serrapeptase content.
---
Vitalzym Systemic Enzyme Therapy for Healthier Bodies
Enzymes are one of the fundamental building materials that are required in all metabolic processes. When your body becomes deficient in systemic enzymes you start to age faster, you heal slower, your body starts to physically slow down, aches and pains increase, you become much more susceptible to illness and diseases, and an accelerated degeneration and aging process often results.
Some health care professionals believe that our natural production of enzymes starts to decrease after the age of 27. It is not too long after this that many of us begin to notice symptoms of low enzyme production, which can include:
More rapid appearance of aging
Slow wound healing
Increased scarring
Poor digestion
Fibrosis conditions

Dr. Anthony Cichoke, enzyme authority, states in
his book, Enzymes and Enzyme Therapy, that
"Our body's ability to function, to repair when injured, and to ward off disease is directly related to the strength and numbers of our enzymes."

1
Supplemental enzymes like those in Vitalzym and Vitalzym Cardio along with proper diet and exercise can help to maintain your normal enzyme levels and balance your body's own repair mechanisms. They can also help reduce the incidence of inflammatory and fibrosis conditions, as previously mentioned.
Read Lorraine's Vitalzym Fibroid Story about how she shrunk her painful fibroids with Vitalzym.
---
Major Functions of Systemic Enzyme Therapy
Inflammation is the cause of pain associated with many different conditions and sports injuries; including muscle sprains, sciatica, and back pain. Systemic enzymes are a healthy alternative to nonsteroidal anti-inflammatory drugs (NSAIDs), such as ibuprofen and aspirin.
Helps reduce joint and muscle inflammation
Acts as a natural pain reliever
Helps reduce C-Reactive proteins, a marker for inflammation

May lower inflammation by removing toxins and debris in the circulatory system

"Physicians throughout Europe and Asia have recognized the anti-inflammatory and pain-blocking benefits of serrapeptase and are using it in treatment as an alternative to salicylates, ibuprofen and other NSAIDs."   Source: The World of Obstetrics and Gynecology
---
Fights Fibrin Build-Up and Fibrosis
Fibrin is a type of protein that can form masses or webs throughout the tissues, muscles, and organs, creating a variety of health problems including inflammation, pain, and fibrosis, among others. Fibrosis is a type of scar tissue formation containing fibrin. Excess fibrous tissue is marked by the body as "foreign proteins". When there is a buildup of excess fibrin, systemic enzymes like those in Vitalzym can help reduce these so called "foreign" proteins, which may help:
Fight the aging process by removing the buildup of fibrin
Reduce the formation of blood clots caused by fibrin build up
Reduce thickening of the blood (fibrin deposits), increasing circulation
Unclog the microcirculation system, increasing circulation
Reduce spider veins and wrinkles
Reduce formation of scar tissue
Increase penile functionality
Reduce post-operative scar tissue, increases healing capabilities
"A Singapore Medical Journal (30( I ):48-5s4 1989 Feb) claims that enzymes eat scar tissue and fibrosis; therefore, it makes sense that replacing lost enzymes can help control and reduce the amount of scar tissue and fibrosis our bodies have."
---
Immune System Modulation
Enzymes are adaptogenic, seeking to restore a steady state to the body. When the immune system is running low, we become susceptible to infectious disease. When it's cranked up too high, then the system creates antibodies that attack it's own tissues.
When the immune system is run down too low, the types of enzymes found in Vitalzym can help increase the immune response, produce more Natural Killer cells (immune cells), and improve the efficiency of the white blood cells, all leading to improved immunity. They may also help:
Speed healing
Balance the entire body synergy
Increase the body's defense mechanism by modulating our immune system
Prevent the rejection of transplanted and health-restoring organs and tissues
Modulate the cell-signaling pathway that triggers immune activation
---
Fights Blood Contamination and Clotting
The blood is not only the river of life; it is also the river through which the cells and organs dispose of their waste. All of this material is supposed to be cleaned off by the liver on "first pass" or the first time it goes through. Given the sluggish and near toxic or toxic states of most people's liver these days, that seldom happens. So the waste remains in the blood, waiting for the liver to have enough free working space and enough enzymes to clean it. This can take days or in some people, weeks! 2
Blood can become contaminated with toxins when the liver is overburdened and its capacity to cleanse the blood becomes diminished as a result. Another way contamination can occur is when excess fibrin builds up in the blood causing it to become too thick. This creates the perfect environment for blood clots to form. When systemic enzymes are taken, they can stand ready in the blood and take the strain off of the liver by helping to:
Clear excess fibrin from the blood and reducing the stickiness of blood cells, which in turn helps minimize one of the leading causes of stroke, heart attack, and blood clots.

2

Break down dead material small enough so it can immediately pass into the bowel.

2

Maintain a normal blood flow by helping to prevent blood clots and platelet aggregations within blood vessels
Assist in the liver's detoxification process
Improve functionality of white blood cell receptors and their ability to fight off infection.

3

Reduce clogging of the microcirculatory system
Improve homeostasis
Read about Vitalzym Cardio, an enzyme formula specifically for cardiovascular health. Contains Nattokinase, Serrapeptase, and Co-Q10.
---
Fights Viruses
Viruses harm us by replicating in our bodies. To do this, a virus must bond itself to the DNA in our cells through the medium of its exterior protein cell wall. Anything that disrupts that cell wall inhibits the ability of viral replication by rendering individual viruses inert. 4,5
Systemic enzymes can tell the difference between the proteins that are supposed to be in your body and those that are foreign or not supposed to be there, such as viruses (again, the enzyme lock and key mechanism).  Vitalzym has the strongest protein eating effects of any enzyme due to its Serrapeptase content, which can help:
Improve anti-virals, kills the virus
Internal filters clean the circulatory system
Lower viral loading
---
---
New and Improved Vitalzym!!
Vitalzym has been reformulated with a technologically advanced delivery system that allows for reduced dosage and vastly increased effectiveness.
Twice as strong as original Vitalzym
Less cost per dose
Enteric coated for ideal release of active ingredients
Liquid filled for optimal absorption
Half the dose of original Vitalzym
Smaller and more convenient packaging, with flip-top lid
100% non-GMO
Vegetarian
Completely recyclable packaging

David Getoff talks about the quality and benefits of the new fully enteric coated Vitalzym formulation.
---
Other Vitalzym Products Available
VitalzymXE
Professional Strength

Original Vitalzym
The Original Vitalzym Formula

VitalzymCARDIO Cardiovascular Formula










FREE SHIPPING on orders over $75.
---
References
1. Cichoke Enzymes and Enzyme Therapy, (Keats Publishing, Chicago, IL, 2000)
2. Ernst E., Matrai A.: Oral Therapy with proteolytic enzymes for modifying blood rheology. Klin Wschr. 65 (1987), 994.
3. Kunze R., Ransberger K., et at: Humoral immunomodulatory capacity of proteases in immune complex decomposition and formation. First International symposium on combination therapies, Washington, DC, 1991.
4. Jager H.: Hydrolytic Enzymes in the therapy of HIV disease. Zeitschr. Allgemeinmed., 19 (1990), 160.
5. Bartsch W.: The treatment of herpes zoster using proteolytic enzymes. Der Informierte Arzt. 2 (1974), 424-429.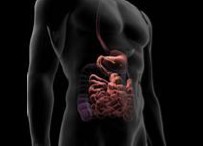 Enteric Coating is Necessary...Why?
When we take a typical supplement, the capsule or table is swallowed and travels down the esophagus to the stomach. In the stomach, the tablet or capsule is churned and gyrated in the highly acidic digestive secretions with pH 1.0-4.0, for 45 minutes to 2 hours. If there is anything left of the table or capsule (and its contents), it will be passed through the duodenum to the small intestine.
The effectiveness of any systemic enzyme is determined by the amount of activity level in the bloodstream after the enzyme has been absorbed from the small intestine. Systemic enzymes, whose activity is significantly reduced in an acidic environment, must be protected from it for their utmost effectiveness.
Some enzymes will begin to lose their activity once introduced into the low pH (1.0-3.0) acids of the stomach. The amount of activity loss is dependent upon the individual enzyme and the amount of time it spends in the stomach.
What happens to uncoated tablets and capsules? Stomach acid breaks down tablets and capsules to prematurely release active ingredients (enzymes). The highly acidic environment of the stomach destroys the majority of the enzymes' activities. If the tablet is of poor quality (contains binders and fillers) the product may pass through both the stomach and intestine with no absorption.
Studies have shown that certain unprotected enzymes can lose up to 100% of their activity in fewer than 30 minutes in pH levels below 3.0. The only reliable method of ensuring that 100% of the enzymes are not destroyed by the stomach acid is to enteric-coat the enzymes.
---
What benefit does a delivery system serve?
| | |
| --- | --- |
| | Looking at the delivery system refers to how the enzyme(s) is manufactured, whether it is a powder inside a capsule, a tablet, or as an enterically coated liquid gel, which is the most effective, state of the art delivery system on the market today. Learn more about delivery systems. |
Benefits of Enteric Coating:
Protects capsule or tablet contents from acidic environments of stomach
After passing through the stomach allows capsule or tablet to break down easily in pancreatic juices in the Duodenum*  (pH 6-8)
Enables absorption of enzymes, at their highest activity levels, in the small intestine
Note: Not all enzymes are manufactured with enteric coating, and so often a premature release of certain enzymes can cause minimal if any absorption of the ingredients in the blood stream where they belong.
*(approximately 1st 10" of small intestine).
---
Vitalzym's Enteric Coating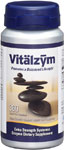 Vitalzym has been reformulated to use an enteric coated gel capsule manufactured under pharmaceutical-grade guidelines.
Though revolutionary to nutritional systemic enzyme blends, this enteric coating process is similar to that used in today's most advanced products. The capsule has an all-natural shell barrier that allows it to withstand the extremely low pH levels found in the stomach. Once introduced to the pancreatic juices in the duodenum (upper small intestine), the shell barrier breaks down to release the enzymes it contains. The enzymes are then absorbed into the bloodstream through the lining of the small intestine.
The new enteric coated gel capsule has been designed to pass both the USP (United States Pharmacopeia) and JP (Japan Pharmacopeia) disintegration tests for enteric coated capsules. Every batch is tested to ensure it meets the agency guidelines before exportation to the U.S.
David Getoff talks about
the quality and benefits of the
new fully enteric coated Vitalzym formulation.
---
Solubilized Liquid-Filled Gel Capsule

At the center of the advanced delivery system is a new Solubilized Liquid-Filled Gel Capsule used to enhance the absorption of Vitalzym. The technology of liquid-filled capsules is superior to that of capsules filled with powder because it uses low heat production, provides more uniform dose distribution, and prolongs enzyme activity.
Low Heat Production– Powder enzyme blends are available today that use an enteric coating, but they are typically in tablet form. The disadvantage of these blends is the amount of heat created with compressing the ingredients into a tablet. Enzymes are susceptible to high temperatures and may begin to degrade during the manufacturing process. Solubilized Liquid-Filled Gel Capsules allow for an enteric coated enzyme without activity loss from heat. Throughout all of the processes, Vitalzym is produced under strictly controlled temperature ranges.
Optimal Distribution– Liquid enzyme blends provide a more uniform dose consistency, because the mixing of liquids allows for optimal particle distribution. In powder formulations, each particle of a different enzyme is different in size, causing greater friction between particles during mixing. Excipients are introduced to powder formulations to increase the mixability, but liquids still provide far more even distribution of ingredients, allowing for more consistent dosages in each capsule.
Prolonged Enzyme Activity– Enzymes always retain some amount of moisture when they are produced. Enzymes, as proteins, are more susceptible to denaturation at higher moisture. Enzyme powders typically have lower (5-10%) moisture. However, even with lower moisture, enzyme powders will lose some of their activity over time, resulting in a loss of up to 20% of activity over a 12-month period. Vitalzym contains enzymes with a higher degree of purity and less moisture that when combined with Medium-Chain Triglycerides (MCT), then decompressed during the manufacturing process, removes the moisture completely. As a result, loss of enzyme activity over time due to moisture will not occur after Vitalzym is produced. Vitalzym is manufactured to have a 5-year shelf life with no loss of activity when properly stored in a cool, dry place with the lid tightly closed.
---
How Enteric Coating Evolved
Over the years, there have been various methods of enteric coating to help protect the enzymes that can be destroyed by stomach acid and some have been proven to be more effective than others.  As you will see, the latest technology of enteric coating has been used to protect the enzymes in Vitalzym.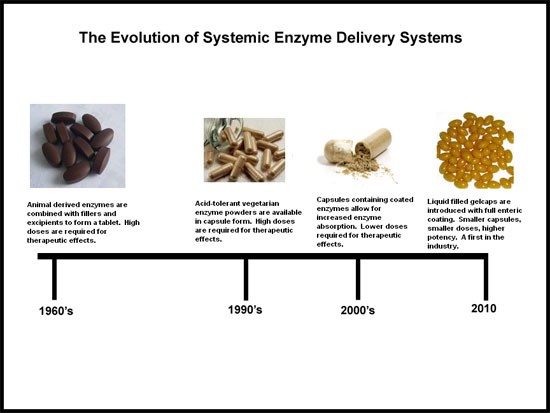 ---
Are You Choosing the Right Enzyme Product?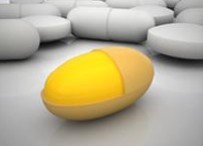 Stomach acid breaks down tablets and capsules to prematurely release the active ingredients of an enzyme formula, such as Vitalzym. The highly acidic environment of the stomach can destroy the majority of the enzymes' activities.

Additionally, if the tablet is of poor quality (contains binders and fillers) the product may pass through both the stomach and intestines with no absorption.  However, the effectiveness of an enzyme is determined by the amount of activity level in the bloodstream after the enzyme has been absorbed from the small intestine.

Enzymes lose activity in low pH (1-3) of the stomach. Studies show unprotected enzymes can lose up to 100% of their activity in 30 minutes or less!  Therefore, the only reliable method is to ensure 100% of the enzymes are not destroyed is to enteric coat the enzymes.
---
Lab Results and Research Testing
Testing shows how effectiveness of the enzyme is important to understand how the enzyme given the delivery system will interact with your body. This refers to how the enzyme will withstand the different acidic areas of the body as it passes from your mouth, down your esophagus, into your stomach, through your duodenum and small intestine and finally finding its way into the blood stream.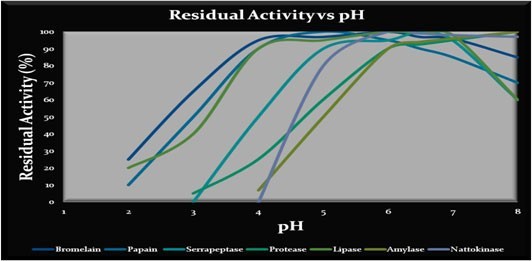 There is misleading information about the effectiveness of many systemic enzyme products in the market today.  In order to demonstrate how the active enzymes in a fully enteric-coated systemic enzyme product are more available to be absorbed into the bloodstream through the small intestine, a number of laboratory tests have been performed.
The following tests demonstrate that of the products tested, only the fully enteric coated product maintains its full activity level by passing through the acid of the stomach. 
These tests have been conducted under laboratory conditions by Japan Food Research Laboratories, an independent government laboratory authorized by the Japanese government, and are only intended to show the likely results of the loss of enzyme activity levels on various enzyme products when those products are subjected to simulated common stomach acid conditions. The actual enzyme activity levels of these products, when absorbed into the bloodstream, may vary based on your own body's metabolism and pH level.
Disintegration & Dissolution Test: To determine the availability of enzyme activity after passing through the stomach acid for the fully enteric-coated systemic enzyme product, Vitalzym®, the "Disintegration Test (Enteric-coated capsule)", was performed in accordance with the Japanese Pharmacopoeia, Seventh and Fifteenth Editions. This test simulated the acid conditions of the stomach and tested for the disintegration of the sample capsules within a prescribe time period. In the case of Vitalzym®, the test result indicated that the product conformed to acceptable test criteria. For detailed test results, see this link: Vitalzym Disintegration Certificate of Analysis
For products that did not pass the test criteria, the following Protease Activity Loss Tests were performed to determine the actual amount of enzyme loss in the simulated conditions.
1. Neutral Protease Activity Test: A sample of each enzyme product was tested in a neutral state (100% activity) utilizing a standard protease activity assay method.
2. Protease Activity Test: A sample of each enzyme product was then tested utilizing the same test procedure after being exposed to the simulated acid condition of the stomach.
While Vitalzym passed the enteric coating test, the following table illustrates the activity losses for the other systemic enzyme products tested:
| | | | | |
| --- | --- | --- | --- | --- |
|   | Neprinol-AFD**  | Exclzyme**  | Serracor-NK** | Serracel** |
|  Beginning Enzyme Activity |  100% |  100% |  100% |  100% |
|  Activity LOSS |  87.84% |  92.09% |  97.44% |  97.52% |

Taking enteric coated Vitalzym can be an effective way to insure that the enzymes in this formula reach the small intestine where they can be absorbed into the bloodstream in order to obtain the utmost effectiveness.
**Neprinol® and Serracel® are registered trademarks of Arthur Andrew Medical;  Exclzyme® and Serracor® are registered trademarks of Specialty Enzymes and Biochemicals Co.; none of whom are affiliated with, nor sponsor or endorse these products or any other product from companies mentioned in this site. The names of all other companies, products and services are the property of their respective owners. 
Compare Vitalzym Products
Size

360 caps

180 caps

450 caps

180 caps

Price

(discounted from retail)

$149.99

$89.99

$114.00

Call for Price

Average caps per day

6 per day

6 per day

12 per day

3 per day

Cost per day

$2.50

$3.00

$3.00

Enteric coated capsule

Yes

Yes

No

Yes

Enteric coated powder

N/A

N/A

Yes

N/A

Liquid filled

Yes

Yes

No

Yes

Vegetarian

Yes

Yes

Yes

Yes

Capsule size

Small

Small

Large

Small

Convenient flip-top lid

Yes

Yes

No

No

Capsules in sealed blister paks

No

No

No

Yes
The Benefits and Conveniences of New Vitalzym
Vitalzym is a trusted name in systemic enzyme supplementation. World Nutrition has produced extremely popular enzyme formulas for years, and now they bring you the latest technology in enzyme production with the introduction of a new Vitalzym!

SMALL CAPSULES
Not everyone is comfortable swallowing a capsule or tablet that is 500mg or more. These capsules are about pea sized, contain fewer milligrams, and yet offer more benefits due to their high potency and absorbability than other enzyme products. This allows people to benefit from taking fewer capsules per dose.
ENTERIC COATED CAPSULE
The capsules themselves have a full USP (pharmaceutical grade) enteric coating for ease of swallowing. Enteric coating also ensures a complete delivery and release of the active ingredients. With such perfect dispersion, you can expect to receive 100% absolute consistency with every capsule.
LIQUID FILLED CAPSULE
Liquid capsules provide better consistency, higher potency, more concentration, greater purity, freshness, and unparalleled absorption.
PHARMACEUTICAL GRADE
Vitalzym contains the highest serrapeptase enzyme units currently available in the United States.
VEGETARIAN CAPSULES
The capsules are 100% vegetarian.
100% NON-GMO
The capsules are non-GMO (genetically modified organisms). No genetic engineering here!
FLIP-TOP CAP
What could be more convenient? The bottles are smaller than before, and easy to hold in your hand. Just flip the top open, shake out what you need, and you're on your way!
RECYCLABLE ALUMINUM BOTTLES
The new Vitalzym bottles are small - the largest being only 4" tall. They are made of recycleable aluminum (yes, they are lined), with recycleable plastic tops.
HIGHEST QUALITY CONTROL FOR SUPPLEMENTS
This applies to all aspects of making this product. Each individual capsule is EYE INSPECTED by 2 people – 2 TIMES! The facility's clean room has the highest quality air sterilization system available today. The facility is a class 100 FED-Std-209 Standard. This is the highest rating that can be achieved in the pharmaceutical industry. This achieves a "CLEAN" to the extent that any person entering the production facility must go through a total body sterilization process.
Customer Testimonials
I have suffered for many years with severe allergies and continual back pain from injuries sustained while serving in the armed forces as a helicopter pilot during the Viet Nam Conflict. I started taking Vitalzym daily in January, and by March all but the mildest symptoms of my allergies have disappeared and I have had no back pain. I can now enjoy playing golf pain free and allergy free. I highly recommend Vitalzym as part of one's daily nutritional regimen.
- Jim H., Arizona

I am so excited. I have only been using Vitalzym for a month and I can already tell it is working. I bought for fibroid relief, and it is working on so many other things too! Thanks!
- Julie E, Kansas

I wanted to share with you the fact that Vitalzym has given me such tremendous relief from my fibromyalgia symptoms. When I first started taking it I was desperate and in agony. I couldn't sit, couldn't lie down, standing hurt, everything hurt. Vitalzym has been the one product that I have found to help with the chronic pain and it wasn't long after starting to take it that I noticed the pain subsiding. Thank you for offering products for someone like myself who believes in natural treatments before chemical complications.  I highly recommend this product to anyone.
- Tami H, North Carolina

I have had rheumatoid arthritis for a couple of years. I have done my homework and tried many different enzyme products. Vitalzym works best. It helps with my pain and stiffness. I use Vitalzym on a regular basis and wouldn't be without it. I want to spread the word about Vitalzym.
- Carol G., Arizona
Supplement Facts

| | | | |
| --- | --- | --- | --- |
| Capsules per container | | | |
| Serving size | Three (3) capsules | Three (3) capsules | Three (3) capsules |
| Servings per container | 120 | 60 | 20 |
| Amount per serving | 168 mg ** | 168 mg ** | 168 mg ** |
| | See label | See label | See label |
** Daily Value not established. Mg measures weight, not volume.
Proprietary blend contains:
Bromelain, papain, rutin, amylase, protease, lipase, amla and serrapeptase. For a full description of these ingredients, see the Ingredients page.
Other ingredients: Medium-chain triglycerides, starch, glycerin, polysaccharrides, corn protein*, beeswax, glycerin fatty acid ester, soy lecithin**, citric acid.
*The corn protein, which derived from non-GMO corn, is part of the enteric coating around the capsule, and comprises less than 1% of the total product. There has not been a single report of an allergic reaction due to the corn protein in Vitalzym, but we suggest that if you have concerns about allergies please contact your healthcare provider regarding your own personal sensitivity levels prior to taking this product. Corn protein was chosen over commonly-used phthalates (a dangerous plasticizer) for the enteric coating of the Vitalzym capsules.

**The soy lecithin acts an emulsifier, and is only in trace amounts - less than 1% of the entire product. Testing of soy lecithin has confirmed that no phytoestrogens are delivered to the body, and therefore there is no impact on hormones. People with a soy allergy have never reported any issues with Vitalzym capsules.
Vitalzym is natural and 100% vegetarian. It contains no artificial flavors, artificial colors, yeast or gluten. Vitalzym is also lactose free and contains no harmful talc.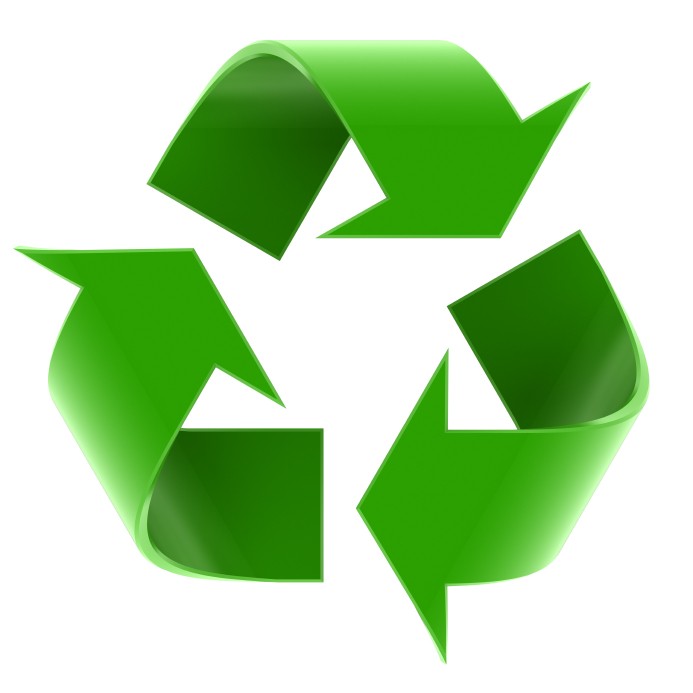 Vitalzym is protected by a recyclable aluminum can that provides optimal protection
for prolonged potency and shelf life.
Manufactured in Japan for World Nutrition, Inc. Vitalzym passes both the USP (United States Pharmacopeia) and JP (Japan Pharmacopeia) testing for disintegration and dissolution. USP is a publication established in 1820 that contains legally recognized standards of identity, strength, quality, purity, packaging, and labeling for drug substances, dosage forms, and other therapeutic products, including nutritionals and dietary supplements. Every batch is tested to ensure it meets the agency guidelines before exportation to the U.S.
---
World Nutrition, Inc. is Committed to Providing Customers with Safe Products
World Nutrition, Inc. currently imports three products from Japan: Extra Strength Vitalzym, VitalzymXe Professional Strength, and Ketsumeisei. Original Vitalzym is manufactured in the United States.
With concerns arising from the 2011 natural disasters in Japan, we want to inform our customers that World Nutrition, Inc. is committed to ensuring that none of the products we ship to our customers are contaminated with radiation.
The following statement is from World Nutrition:
Our manufacturing facility in Japan is located in Shizuoka which is on the southwest side of the island, approximately 250 miles away from where the affected power plant is located. This location brings with it a completely different supply of groundwater. It also has the benefit of having the massive natural barrier of Mt. Fuji, thus defending against the slightest chance of air flow and weather patterns having any effect. This is true especially as the weather moves from west to east – taking any polluted air away from our facility instead of towards it.
More importantly we have numerous steps in place to validate its safety. All of our raw materials are tested upon arrival at our facility overseas. Once those ingredients have passed inspection, the product is manufactured and tested again. Once passed it is prepared for shipment. Our cartage company tests every single thing they carry from Japan, so it is tested again. Once passed, it is brought over to the US. Once it arrives, Customs tests it again. After it passes the FDA does their inspection and tests it again, since the product is registered as a food supplement. Once they pass and release it, the product goes to our fulfillment center. We have a lab that we work with here in Arizona where we send randomly pulled samples from our shipment for testing. Once they pass it, only then do we accept it into our inventory. It is a very costly and elaborate process, but once we have all 6 different validations of its safety – all from different independent sources – then we feel quite comfortable offering the product to our customers.
When we say "passed," we do not mean that it is deemed by a handful of people to be at a tolerable level… we mean it has come back with an reading of ZERO radiation.
If you have any further questions or concerns, please feel free to contact World Nutrition at 800-548-2710.
Suggested Use
As a dietary supplement, take 3 capsules daily, or as recommended by your healthcare professional. Take capsules at least 30 minutes before a meal, 60 minutes after a meal, or any time in-between meals. Or, take an activation dose as recommended by a healthcare professional.
Read Vitalzym Suggested Use for further guidance.
WARNING: DO NOT take Vitalzym without the consent of your physician if you are lactating, or currently taking prescription anti-coagulants (blood thinners). As always, you should consult with a health care professional and/or pharmacist if you are taking prescription medications and would like to include dietary supplements into your regimen.  If you are pregnant consult with a doctor prior to using. If you are pregnant and have uterine fibroids, do not take Vitalzym. Discontinue use two weeks prior to surgery.

Not everyone should take Serrapeptase.  People with bleeding disorders, such as hemophilia or a group of diseases called "hemorrhagic diathesias", should not use this natural product.  People with ongoing bleeding problems, including ulcers, recent surgery, recent major trauma, or hemorrhoids also should not use serrapeptase.  Anyone who has ever suffered intracranial (brain) bleeding, or who has had neurosurgery or ischemic stroke in the previous six months, should avoid these enzymes.  Those with severe uncontrolled high blood pressure should also refrain from taking nattokinase and serrapeptase.
Note: During the detoxification process, medications that have been stored in the liver may cause one to experience side effects that are related to its use and would not be considered a side effect from Vitalzym. Please talk with a health care professional if you feel you may be having symptoms that are unrelated to detoxing. Additionally, Vitalzym can increase the effectiveness of certain medications; another reason to consult with a doctor or pharmacist prior to using them if taking prescription drugs. Detoxification effects that can occur when taking Vitalzym can include heart palpitations for some individuals. If this occurs, you can reduce your dose to minimize the cleansing response. If you do experience heart palpitations that you feel may be unrelated to detoxing, please consult with a health care professional.
---
Side Effects
Dr. Cichoke says, "There appear to be no side effects of long-term duration when taking oral enzymes.  Temporary side effects (that will disappear when therapy is discontinued or reduced); include changes in the color, consistency, and odor of the stool.  Gastrointestinal disturbances, such as flatulence, a feeling of fullness, diarrhea, or nausea, may occur in individual cases, and minor allergic reactions (reddening of the skin) are rare and occur only with high doses."  He also goes on to say that no detriment has been associated with long term usage of supplemental enzymes and best results can be seen when doses are divided throughout the day rather than taken all at one time. 1  
Why buy Vitalzym from Energetic Nutrition?
We are an Authorized World Nutrition Retailer, and one of their largest worldwide retailers.
We receive a fresh supply of products every week, which is kept under climate control.
We have been in business since 1996, and a trusted website since 1997.
Order by 3pm and we will ship the same day (exceptions may apply).
Our excellent staff is available to answer your questions by phone, email, or live chat.
We are known for our excellent customer service and educational support.
We truly care about your health, and we really appreciate your business!


1 fl oz.
Retail $37.50 - Save 20%
Our Discount Price:
$29.95
120 caps
Our Discount Price:
$45.00