Vitalzym Cardio

Hybrid Enzyme Formula with Cardiovascular Support


(formerly Vitalzym SEB)
from World Nutrition

Availability: In Stock
Order by 3pm - Ships Same Day

Vitalzym Cardio Hybrid Formula with Cardiovascular Support
Vitalzym Cardio has been formulated with your cardiovascular health in mind. Healthcare professionals worldwide have recommended Vitalzym Cardio for their patients cardiovascular wellbeing. The proprietary blend contains "heart healthy" enzymes that may support:
Recent studies have shown the correlation between elevated vascular inflammation and heart disease. C-Reactive Protein levels are used as a marker for vascular inflammation. The enzymes in Vitalzym Cardio have been shown to reduce the levels of C-Reactive Protein.
The main ingredient in Vitalzym Cardio is nattokinase, the enzyme well-known extracted from natto, a fermented soy product. Nattokinase is widely believed to:
Increase longevity
Strengthen heart function
Improve cardiovascular health and blood mobility
Limit the physiological effects of aging
Vitalzym Cardio also contains the powerful anti-oxidant CoQ10, which has been shown to have significant positive impact on heart function.
---
Reduce Fibrin in the Blood
The fibrinolytic enzymes in Vitalzym Cardio, particularly Nattokinase, have been shown to have the ability to digest excess fibrin (protein buildup) in the blood, allowing for improved blood viscosity. It may also help dissolve existing blood clots (thrombus) by dissolving the fibrin that binds platelets and red blood cells together.
Stacked red blood cells (or Rouleau effect) often reflect poor protein digestion. Symptoms can include fatigue, stress on the heart, and poor circulation. Using darkfield microscopy, the ingredients in Vitalzym Cardio have been shown to significantly reduce stacked red blood cells. Below, you can see the effect of proteolytic enzymes on stacked red blood cells.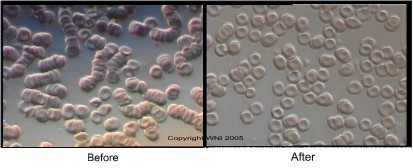 ---
Introduced in 2002, the original Vitalzym has become the leading systemic enzyme formulation recommended for pain, inflammation, and scar tissue.

A common benefit of Vitalzym has been its ability to cleanse the blood and reduce vascular inflammation. World Nutrition has taken the cardiovascular benefits of Vitalzym and harnessed them with nattokinase and other "heart healthy" nutrients to create an enzyme formulation specifically for cardiovascular wellness: Vitalzym Cardio.
---
Customer Testimonials
I have suffered two heart attacks; the last one being in July of 2005. I was given four different pharmaceuticals (Plavix, Benicar, Toprol, Zocor) that left me with no energy, very lethargic and still with pain in and around my heart. My wife has been using Vitalzym with great success and thought I would benefit from Vitalzym SEB (Cardio). Within one month I was able to get off the four pharmaceuticals. I am now back on the golf course and have a quality of life that I have not had in a long time, including no heart pain! I attribute this to the Vitalzym SEB (Cardio). Thank you for carrying such a wonderful product.
- Robert M, Nevada
Frequently Asked Questions
Is Vitalzym Cardio the same as Vitalzym SEB?
Vitalzym Cardio is the same product as Vitalzym SEB. Only the name has changed.
What are enzymes?
Enzymes are protein molecules, composed of long chains of amino acids. Enzymes are the biocatalysts necessary for the chemical reactions associated with breathing, growth, reproduction, digestion, and all other metabolic functions. For most people under the age of 25, enzymes are efficiently produced by the body to maintain optimal health. Many over 25 may need to supplements with enzymes.
What are systemic enzymes?
Systemic enzymes operate throughout the body in every system and organ. Following their absorption from the gastrointestinal tract, enzymes travel to their "site of action" in the body via the bloodstream, where they ultimately become effective. This is known as the "systemic effect." The term "systemic" indicates that the agent (in this case the enzymes) is distributed throughout the entire body.
What is Nattokinase?
Nattokinase is a fibrinolytic enzyme extracted and purified from natto, a fermented soybean food used by the Japanese for thousands of years as a traditional food medicine.
What is Serrapeptase?
Serrapeptase is a proteolytic enzyme that is able to digest dead tissue, bloodclots, and cysts. Clinical studies show that serrapeptase induces fibrinolytic, anti-inflammatory, and anti-edemic activity in a number of tissues, and its anti-inflammatory effects are superior to other proteolytic enzymes.
What is the difference between Vitalzym and Vitalzym Cardio?
Vitalzym Cardio was formulated specifically for cardiovascular health. There is a significant amount of nattokinase in the product that may help cleanse arterial plaque. It may also help to reduce fibrin in the circulatory system and help to reduce vascular inflammation. Vitalzym was formulated specifically for pain, inflammation, and systemic fibrosis. Vitalzym's chief fibrinolytic enzyme is serrapeptase. Serrapeptase has the ability to reduce chronic pain, systemic inflammation and systemic fibrosis.
Choose Vitalzym Cardio for:

Cardiovascular heatlh
Excess fibrin in the blood
Vascular inflammation

Choose Vitalzym for:

Chronic conditions such as fibromyalgia and arthritis
Pain and inflammation
Scar tissue
Systemic fibrosis
Fibroid tumors
Is Vitalzym Cardio stronger than Vitalzym?
It is impossible to compare the two blends in terms of strength as they were formulated for different results. Vitalzym is better for pain, inflammation and systemic fibrosis. It will also help with cleansing the blood and reducing vascular inflammation. Vitalzym Cardio is better for cleansing excess fibrin in the blood, reducing vascular inflammation, and possibly arterial plaque.
Should I reduce my Vitalzym dosage while taking Vitalzym Cardio?
There may be a small amount of crossover between Vitalzym and Vitalzym Cardio. It is recommended to continue with your current Vitalzym dosage if taking it for pain and inflammation. However, one may slightly reduce their Vitalzym dosage if taking it for general wellbeing.
Why is there a caution against taking Vitalzym Cardio and anticoagulant medications?
Vitalzym Cardio may help to cleans the blood of debris and excess protein. The blood may become thinner as a result of this cleansing. Vitalzym Cardio may also help to better absorb your anticoagulant medication. You should speak with your healthcare professional before taking Vitalzym Cardio with your blood thinning medication.
Is there any toxicity?
There have been no reports of toxicity from the ingredients, however nattokinase can significantly cleanse, therefore thin, the blood. We suggest staying within the recommended dosage.
Supplement Facts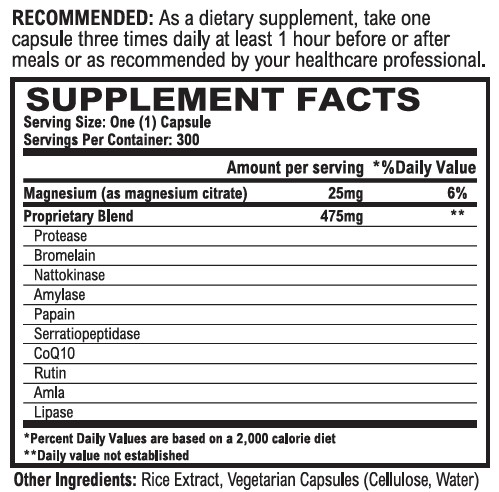 See full label.
Serving Size: One (1) Capsule
Servings per Container: 300 Capsules
Amount per Serving: Proprietary Enzyme blend - 500 mg.
Proprietary blend contains: Nattokinase, Serrapeptase, Bromelain, Papain, Lipase, Protease, Rutin, Amla, Co-Q10, and Magnesium. Other ingredients: Maltodextrin and Vegetable Capsules. There is no soy in the Nattokinase.
Vitalzym Cardio is natural. It contains no animal derivatives, artificial flavors, wheat, yeast or gluten. It is also lactose free and contains no harmful talc.
Manufactured by World Nutrition, Inc. World Nutrition's products are USP grade (United States Pharmacopeia). USP is a publication established in 1820 that contains legally recognized standards of identity, strength, quality, purity, packaging, and labeling for drug substances, dosage forms, and other therapeutic products, including nutritionals and dietary supplements. 
Suggested Use
As a dietary supplement, take 1 capsule three times daily, or as directed by your healthcare provider. Take capsules at least 30 minutes before a meal, 60 minutes after a meal, or any time in-between meals. Vitalzym Cardio is quite potent, and the nattokinase thins the blood, so be conservative in your dosage. Do not consume more than 3 capsules per day unless your health care professional has directed otherwise.
WARNING: DO NOT take Vitalzym without the consent of your physician if you are lactating, or currently taking prescription anti-coagulants (blood thinners). As always, you should consult with a health care professional and/or pharmacist if you are taking prescription medications and would like to include dietary supplements into your regimen.  If you are pregnant consult with a doctor prior to using. If you are pregnant and have uterine fibroids, do not take Vitalzym. Discontinue use two weeks prior to surgery.

Not everyone should take Nattokinase and/or Serrapeptase.  People with bleeding disorders, such as hemophilia or a group of diseases called "hemorrhagic diathesias", should not use this natural product.  People with ongoing bleeding problems, including ulcers, recent surgery, recent major trauma, or hemorrhoids also should not use nattokinase or serrapeptase.  Anyone who has ever suffered intracranial (brain) bleeding, or who has had neurosurgery or ischemic stroke in the previous six months, should avoid these enzymes.  Those with severe uncontrolled high blood pressure should also refrain from taking nattokinase and serrapeptase. 
Why buy Vitalzym Cardio from Energetic Nutrition?


We are an Authorized World Nutrition Retailer, and one of their largest worldwide retailers.
We receive a fresh supply of products every week, which is kept under climate control.
We have been in business since 1996, and a trusted website since 1997.
Order by 3pm and we will ship the same day (exceptions may apply).
Our excellent staff is available to answer your questions by phone, email, or live chat.
We are known for our excellent customer service and educational support.
We truly care about your health, and we really appreciate your business!


ON SALE THIS MONTH
16 oz. bottle Retail $54.95 - Save 28%
Our Discount Price:
$39.70