Neutralizer EMF Protection - Whole Car USB Plug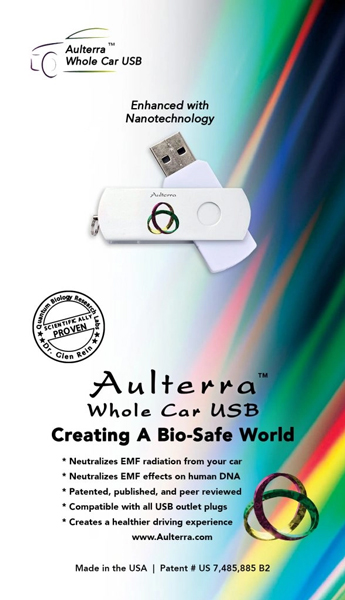 The Aulterra™ Whole Car USB neutralizes EMF radiation inside your car providing full automobile EMF protection and creates a healthier driving experience. It contains a proprietary blend of paramagnetic minerals found straight from the earth that neutralizes the negative effects of EMF's on the human body. The Aulterra Whole Car USB provides full automobile EMF Protection. Now you can drive comfortably knowing your family, friends, and especially little ones are being protected from harmful EMF's with the Aulterra Whole Car USB.
The Aulterra™ Whole Car USB is the Only Product that NEUTRALIZES Harmful Effects of EMF Exposure! The Aulterra™ Whole Car USB is intended for use in your automobile. It neutralizes the EMFs coming from all electronics within your automobile and all electrical devices plugged into the inside of your automobile and prevents ambient EMFs from getting into the automobile.
It fits into any USB outlet or adaptor inside your automobile. It covers 5G EMF's in vehicles of all shapes and sizes. It can take up to three days to retune the wiring in the vehicle. Your automobile's built-in wiring system lets the Aulterra™ Whole Car USB power through your vehicles space and neutralizes all internal electrical systems as well as every device plugged into your vehicle such as your cell phones, tablets, computers, DVD player, etc. It does not use any electricity.
Features:
Neutralizes 5G EMF's in all size automobiles
Uses no electricity
Neutralizes all electronic devices that are being used in the automobile
Utilizes your automobiles wiring to neutralize ambient EMF radiation coming in from outside the vehicle
Has no adverse affects
Will last a lifetime if taken care of
---
Patented, Tested and Proven Technology
The Neutralizer by Aulterra International is the only product on the market with in-vitro studies that prove human DNA can be protected from the damaging effects of RF/EMF. It reverses bio-electrical patterns emitted by wireless phones and blocks 100% of the detrimental effects from EMFs on human DNA. It provides protection from molecular, electrical, and thermal radiation emitted from electronic devices.
This chart shows before and after EMF fields using the Neutralizer: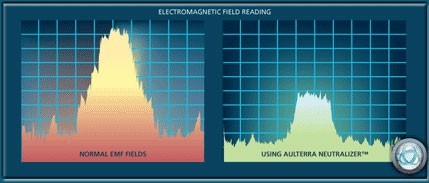 Click
HERE
to read the study methods and results.
---
Further Reading
The Cell Phone Poisoning of America by Lynn Quiring, RPh, CCN, NMD
The Dangers of Modern Convenience Leigh Erin Connealy, MD
---
References
Lai, Henry, "Neurological Effects of Radio frequency Electromagnetic Radiation" a paper presented by at the Mobile Phones and Health Symposium, Oct. 25-28, 1998, University of Vienna, Austria.
Penn State University, "DNA and the Microwave Effect", January 20, 2001
London Times, "Hands Free Phone May Triple Risks" April 4, 2000
Dr. Glen Rein, private conversation, June 12, 2001
† These statements have not been evaluated by the U.S. Food and Drug Administration (FDA) or EnergeticNutrition.com. This product is not intended to diagnose, treat, cure or prevent any disease. The information provided on this site is for informational purposes only and is not intended as a substitute for advice from your physician or other health care professional or any information contained on or in any product label or packaging. You should not use the information on this site for diagnosis or treatment of any health problem or for prescription of any medication or other treatment. You should consult with a health care professional before starting any diet, exercise or supplementation program, before taking any medication, or if you have or suspect you might have a health problem, or are pregnant. When you receive an item, carefully read all labels, warnings, and directions before use. Actual product packaging and materials may contain more and/or different information than shown on this website.