Bellabaci Aches and Pains Get Lost Combo Set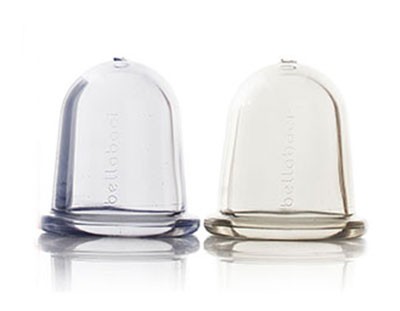 Bellabaci Cupping Therapy Massage techniques and cups can be helpful for women or men suffering from tight and sore muscles, joint pain, and more. This Aches and Pains Get Lost Combo set includes a set of Bellabaci Body Cups (1 soft and 1 hard), the Aches and Pains Get Lost Genie oil, and a roomy travel/storage bag.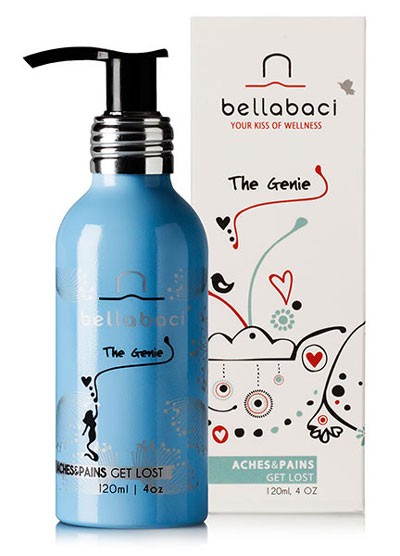 The medical grade Bellabaci silicone cups create a vacuum when squeezed, and can be used in a variety of massage modailities by moving the cups over the body. When used in a massage technique, the cups will not leave the associated "bruising" or "marking" of the traditional cupping therapy methods that had previously been the primary turn off. For your convenience there are two cups — the softer cup to be used initially or on more sensitive areas such as the arms, stomach and inner thighs and the harder cup to be used on the back or any other areas which need intensive work.
The Aches and Pains Get Lost Genie oil is formulated by a highly experienced medical team to increase the body's natural healing capabilities. The combination of aromatherapeutic oils, nourishing vegetable oils and homeopathic remedy synergies will give you relief in no time. It renders support to compromised capillaries to heal bruising and speed up removal of the cellular by-products caused by injury or stress.
---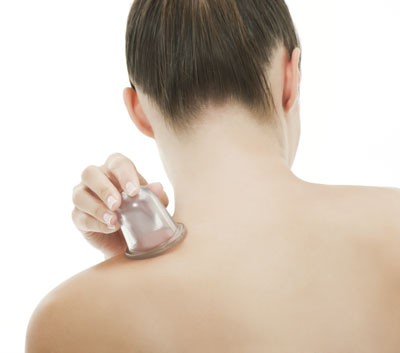 Directions for Use
Using the Bellabaci Body Cups is easy and doesn't require any special preparation. The massage should not be painful. Squeeze the cup so it is comfortable, and increase the suction gradually. Watch our instructional videos for more.
For your convenience there are two cups – the softer cup to be used initially , and the harder cup to be used as you become comfortable using the cup and feel a need for more intensity. During the first couple of weeks of using Bellabaci Cups and oil, apply a very light suction for about ten minutes at a time to provide some drainage until your skin becomes elasticised enough. Increase suction gradually to stimulate circulation, remove stagnation, and loosen adhesions.
Apply plenty of Aches and Pains Gets Lost Genie oil to the area to facilitate smooth movement.
Squeeze the Bellabaci Cup approximately in the middle.
Put the Bellabaci Cup's "neck" tightly to skin and release.
Use straight-line, circular and zigzag movements to massage the area.
After massaging the area with the Bellabaci Cup, drain the area by moving the Cup up toward the nearest lymph nodes

People often experience deep warmth and a tingling sensation long after they are done. This is because of improved blood circulation to the area and the results are cumulative. In a case of a persistent problem, one can leave the cup stationary on the problem spot. This, however, will leave a cup kiss – indicating that toxins are being removed. The cup kiss will last a few days, and is not painful.
Ingredients - Aches and Pains Get Lost Genie
Diligently selected wild harvested organic ingredients combined to create energetic remedies, synergized with years of expertise and wisdom, and more than a dash of innovation:
Cocos nicfera [Coconut oil]; Caprylic.Capric Triglycerides and Glycerine and Aqua and Sucrose Laurate; Arnica montana [Arnica] oil; Nigella sativa [Black cumin] seed oil, Phenoxyethanol and Ethylhexylglycerin, Cedrelopsis grevel [Katafray] bark oil; Eucalyptus citriodora [Lemon eucalyptus] leaf oil; Lavandula spica [Lavender, spike] oil; Litsea cubeba [Litsea] oil; Mentha arvensis [Cornmint] oil; Gaultheria procumbens [Wintergreen] leaf oil; Arnica montana [Arnica] flower extract, Calendula officinalis [Calendula] flower extract, Hamamelis virginiana [Witch-hazel] leaf extract..
PARABEN FREE
† These statements have not been evaluated by the U.S. Food and Drug Administration (FDA) or EnergeticNutrition.com. This product is not intended to diagnose, treat, cure or prevent any disease. The information provided on this site is for informational purposes only and is not intended as a substitute for advice from your physician or other health care professional or any information contained on or in any product label or packaging. You should not use the information on this site for diagnosis or treatment of any health problem or for prescription of any medication or other treatment. You should consult with a health care professional before starting any diet, exercise or supplementation program, before taking any medication, or if you have or suspect you might have a health problem, or are pregnant. When you receive an item, carefully read all labels, warnings, and directions before use. Actual product packaging and materials may contain more and/or different information than shown on this website.