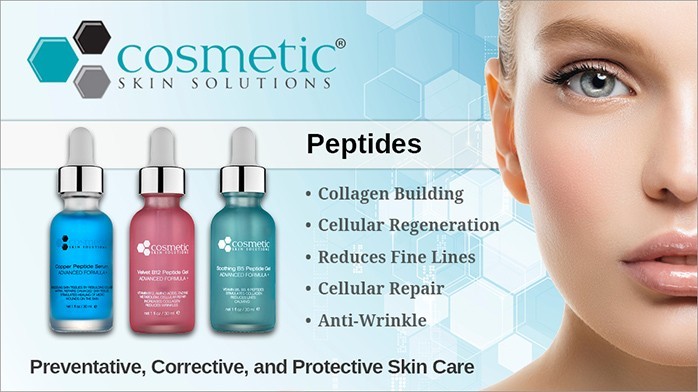 Velvet B12 Peptide Gel
This velvety antioxidant gel contains a powerful Peptide Complex to turn back the clock and reverse signs of aging. Vitamin B12 maintains essential metabolism levels, synthesis and regulation of DNA cells to promote healthy skin. High amounts of Hyaluronic Acid will leave skin feeling nourished, silky, and perfectly hydrated.
Ingredient Highlights:
Vitamin B12: Regulates healthy biological functioning of cells,synthesis and regulation of DNA. In addition, this vitamin is also known to reduce inflammation strengthening skin capillaries.
Vitamins B5 (Pantothenic Acid) and B3 (Niacinamide): Provides DNA reparative properties, promoting wound healing and antiwrinkle properties. Repairs and regenerates epidermal cells, provides antioxidant protection.
Palmitoyl Pentapeptide-4, Palmitoyl Oligopeptide, Palmitoyl tetrapeptide 7: These 3 Peptides provide anti-wrinkle and anti-aging properties while boosting collagen production.
Hyaluronic Acid: A naturally occurring polysaccharide responsible for tissue hydration and lubrication within the extra-cellular space of bodily tissues. Immediate water-binding and water-attracting attributes fill void spaces between connective collagen and elastin fibers found within the dermal skin layer. Capable of holding 500 times its own weight in water, this powerful moisturizer functions to retain water both above and below the skin surface to keep skin looking plumped, well hydrated, and voluptuous.
Amino Acids: Contains essential levels of amino acids responsible for enzyme metabolism which provide nutrition for cellular repair and renewal
Ingredients - Velvet B12 Peptide Gel
Ingredients: Water/Aqua/Eau, Cyanocobalamin (Vitamin B12), Caffeine, Arginine, Taurine, Lysine, Glutamine, N-Acetyl Carnitine, Pantothenic Acid (Vitamin B5), Niacinamide (Vitamin B3), Palmitoyl Pentapeptide-4, Glycerin, Carbomer, Polysorbate 20, Palmitoyl Oligopeptide, Palmitoyl Tetrapeptide-7, Hyaluronic Acid, Phenoxyethanol.
Not tested on animals. Paraben free.
Manufactured by Cosmetic Skin Solutions
Directions for Use - Velvet B12 Peptide Gel
Twice daily, apply 5 to 6 drops to the face neck, and décolleté or as directed by a skincare specialist. For optimal results, use after a Cosmetic Skin Solutions topical antioxidant.
† These statements have not been evaluated by the U.S. Food and Drug Administration (FDA) or EnergeticNutrition.com. This product is not intended to diagnose, treat, cure or prevent any disease. The information provided on this site is for informational purposes only and is not intended as a substitute for advice from your physician or other health care professional or any information contained on or in any product label or packaging. You should not use the information on this site for diagnosis or treatment of any health problem or for prescription of any medication or other treatment. You should consult with a health care professional before starting any diet, exercise or supplementation program, before taking any medication, or if you have or suspect you might have a health problem, or are pregnant. When you receive an item, carefully read all labels, warnings, and directions before use. Actual product packaging and materials may contain more and/or different information than shown on this website.