Joint Health by Emerald Labs
Joint Health offers therapeutic dosages of BioCell Collagen II®, Meriva® Turmeric Root, Opti MSM® and Glucosamine Sulfate to help:
Support Joint Mobility and Reduce Stiffness†
Support Healthy Cartilage & Connective Tissues†
As we age, the naturally occurring substances in our bodies diminish and require replenishment. Some of these substances can be acquired through diet, but not always in amounts we need, or the quality required for our bodies to utilize properly. One of the common complaints and consequences of aging is the loss of movement and comfort of our joints. As a complement to diet modifications and exercise that support joint health, supplementing with a combination of pure ingredients known for their joint-health supporting properties is another way to promote healthy joint function.
---
Joint Health Formula Highlights
BioCell Collagen II® – with naturally occurring Hyaluronic Acid which has shown effective results for both joint motion and stiffness.† The combination of HA, chondroitin sulfate, and collagen 2 provide unparalleled support for joint and cartilage function and performance.1,2†


OptiMSM® – Proprietary Distillation-Processed MSM for joint tissue health, the primary component of sulfur is a crucial, naturally occurring element in the human body. Sulfur provides support to the structure of proteins and is required for function and activity of enzymes.†3,4


Meriva® Turmeric Root Extract – Studies suggest that Meriva (containing 75% curcumin) may provide, "long-term improvement in pain and function in 100 patients with knee OA," according to Arthritis.org Other proponents support turmeric for joint health benefits for everyone due to its beneficial antioxidant properties.


Glucosamine Sulfate – In the (1500mg) dosage outlined in the government's clinical research. Glucosamine is a compound of sugars and proteins which support cartilage and synovial fluid specific to joint health. Though naturally present in the body, levels deplete with age and use, making supplementation necessary for some individuals.5


Grapeseed Extract – Offers an array of benefits for the body and contains OPCs (oligomeric proanthocyanidins), which in relation to joint health provide antioxidant benefits of muscle and tissue recovery after exercise†


Green Tea Extract – ECGCC, a component of green tea, limits the production of immune responses that may inhibit healthy joint function†


Pomegranate Extract – Get all the super potent antioxidant benefits of pomegranate without the excess fructose intake. Studies show that Pomegranate Extract contains the full spectrum of antioxidants, including glagitannin compounds believed to specifically benefit joint health.6†


Ginger Root Powder – Another antioxidant with numerous medicinal properties including an analgesic effect7†


Bioperine – Extracted from the piper nirum (black pepper) plant, it complements the turmeric by increasing absorption, and helps to reduce joint discomfort†8,9


RAW Whole-Food Proprietary Blend - In every Emerald product, this distinct blend of organic sprout powders, probiotics, plant enzymes, and super food powders offers increased bioavailabilty and absorption.†
7 Points of Quality
Raw whole-food based formulas for enhanced absorption and bioavailability
Doctor formulated
Therapeutic doses with clinical results
100% Additive free - no magnesium stearate
Gluten-free formulas
Purity tested - cGMP Certified facility
Every product in vegetable capsules
---
Ultra Laboratories - The "Additive-Free Company"
The Emerald Laboratories brand of products are owned and manufactured by Ultra Laboratories. Ultra Laboratories is absolutely committed to making products that are the highest quality that they are able to produce; it is with this philosophy in mind that they have chosen to ONLY put "active" ingredients in their products with NO fillers, NO binders, NO lubricants, NO flow agents, and NO disintegrants. You can enjoy the benefits of any Ultra Laboratories product with the confidence that you are only getting "active", bioavailable nutrients and capsules.

Why Gluten-Free Formulas are Important:
Gluten sensitivities are becoming more and more common among people. They have made these formulas completely gluten-free so the supplements will not pose problems for people with this issue.
Why Purity-Tested Formulas are Important:
Each and every one of the raw materials in Emerald Laboratories Condition-Specific Formulas are tested by the Ultra Labs laboratory for identity, strength, composition and purity.
Why Vegetable Capsules are Important:
Every Emerald Laboratories Condition-Specific Product is in vegetable capsules so that vegetarians and people that have concerns about animal-based products can be confident in taking products that do not otherwise contain animal-derived ingredients.
Why Raw Whole-Food Based Formulas are Important:
Enzymes, Prebiotics, and Probiotics are some of the primary keys involved in slowing the aging process and maintaining proper absorption. Raw whole foods are rich in essential enzymes which help to maintain excellent health. Digestive and metabolic enzymes as well as healthy "gut" bacteria (probiotics) tend to "drop-off" as we age. The Raw Whole Food Blend which is in every Emerald Laboratories Condition-Specific Formula provides a synergistic blend of sprout powders (one of the richest sources of metabolic enzymes), broad-spectrum plant-based digestive enzymes as well as a rich blend of probiotics, raw whole foods and prebiotics (essential food for probiotics).
---
Further Reading
---
References
Biocell Collagen II, Statistical Report BIO 502 study, Miami Research Associates; March, 2003.
Clin Drug Invest 2004;24:353-63.
Cochrane Database Syst Rev 2005;(2):CD002946.
Supplement Facts - Joint Health by Emerald Labs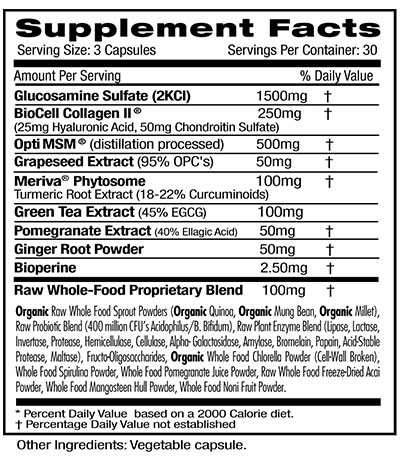 Capsules per Container: 90 Capsules
Serving Size: 3 Capsules
Servings per Container: 30
Suggested Use:Take 3 capsules divided throughout the day with or without food
Keep Out of Reach of Children. Do not use if safety seal on cap or printed inner seal is missing or broken. Not recommended for pregnant or lactating women.
If currently using prescription medicine or you have a medical condition, consult your healthcare practitioner prior to use. Store in a cool, dry place.
Allergy Information: Product is manufactured in a facility that processes milk, egg, soy, tree nuts, fish & shellfish. Dietary supplement FREE of milk, soy, salt, sugar, wheat, yeast, gluten, artificial flavors or preservatives.
BioCell Collagen II is a Registered Trademark of BioCell Technology LLC. (US Patents 6,025,327; 6,323,319; 6,780,841; 7,091,180; Other US and Foreign Patents Pending)
OptiMSM is a Registered Trademark of Bergstrom Nutrition (US Patent #5,843,923)
Meriva is a Registered Trademark of Indena S.p.A., Milan
Manufactured and Distributed by: Ultra Laboratories, Carson, CA