Memory Health by Emerald Labs
Memory Health contains multi-targeted nutrients at therapeutic dosages for cognitive health and to help:
Support Brain Health and Concentration†
Boost Mental Clarity, Focus & Mood†
Most people have experienced a memory failure to one extent or another sometime in their life. The modern lifestyle is stressful and many factors can contribute to our mind's inability to remember things or concentrate on the task at hand. Thankfully, the combination of ancient traditional medicine and modern science have revealed how simple dietary and supplemental changes can help to improve and maintain memory. The combination of ingredients found in Memory Health from Emerald Labs also provides overall health benefits due to their high antioxidant and nutritional markers.
---
Memory Health Formula Highlights
Methylated B12 – B12 deficiency is common among 25% of American seniors, and is known to contribute to memory loss. Supplementing with B12 is shown to improve mild memory issues in addition to preventing other issues caused by B12 deficiency.†


Cognizin Citicoline – Helps with mental processes, focus, concentration, and healthy memory function. Doese are in the amount clinically proven in a double-blind randomized human placebo study to reduce cognitive inhibition and improve attentional performance.†1


Meriva® Phytosome – According to clinical trials, the turmeric formula in Meriva has 29 times better bioavailability than standard turmeric and provides natural brain support in relation to balancing healthy inflammation response levels.†


Max Memory Synergestic Blend – Pomegranate, Resveratrol, Camu-Camu and Goji Berry provide specific antioxidant benefits for memory health such as improved blood flow from pomegranate, glucose metabolism and hippocampail FC benefits from resveratrol2, boosting focus and concentration with camu-camu, and lowering oxidative stress on the brain with goji berry extract3†


RAW Whole-Food Proprietary Blend – In every Emerald product, this distinct blend of organic sprout powders, probiotics, plant enzymes, and super food powders offers increased bioavailabilty and absorption.†
*NOTE: Energetic Nutrition does not carry all the Emerald products referenced in this video.
7 Points of Quality
Raw whole-food based formulas for enhanced absorption and bioavailability
Doctor formulated
Therapeutic doses with clinical results
100% Additive free - no magnesium stearate
Gluten-free formulas
Purity tested - cGMP Certified facility
Every product in vegetable capsules
---
Ultra Laboratories - The "Additive-Free Company"
The Emerald Laboratories brand of products are owned and manufactured by Ultra Laboratories. Ultra Laboratories is absolutely committed to making products that are the highest quality that they are able to produce; it is with this philosophy in mind that they have chosen to ONLY put "active" ingredients in their products with NO fillers, NO binders, NO lubricants, NO flow agents, and NO disintegrants. You can enjoy the benefits of any Ultra Laboratories product with the confidence that you are only getting "active", bioavailable nutrients and capsules.

Why Gluten-Free Formulas are Important:
Gluten sensitivities are becoming more and more common among people. They have made these formulas completely gluten-free so the supplements will not pose problems for people with this issue.
Why Purity-Tested Formulas are Important:
Each and every one of the raw materials in Emerald Laboratories Condition-Specific Formulas are tested by the Ultra Labs laboratory for identity, strength, composition and purity.
Why Vegetable Capsules are Important:
Every Emerald Laboratories Condition-Specific Product is in vegetable capsules so that vegetarians and people that have concerns about animal-based products can be confident in taking products that do not otherwise contain animal-derived ingredients.
Why Raw Whole-Food Based Formulas are Important:
Enzymes, Prebiotics, and Probiotics are some of the primary keys involved in slowing the aging process and maintaining proper absorption. Raw whole foods are rich in essential enzymes which help to maintain excellent health. Digestive and metabolic enzymes as well as healthy "gut" bacteria (probiotics) tend to "drop-off" as we age. The Raw Whole Food Blend which is in every Emerald Laboratories Condition-Specific Formula provides a synergistic blend of sprout powders (one of the richest sources of metabolic enzymes), broad-spectrum plant-based digestive enzymes as well as a rich blend of probiotics, raw whole foods and prebiotics (essential food for probiotics).
---
Further Reading
---
References
Food and Nutrition Sciences 2012, 3, 7696-773
Supplement Facts - Memory Health by Emerald Labs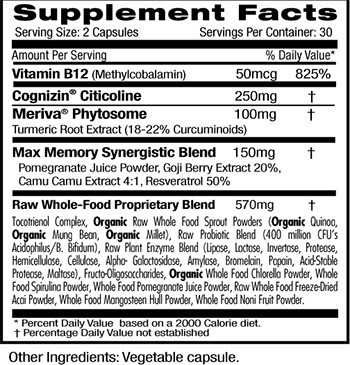 Capsules per Container: 60 Capsules
Serving Size: 2 Capsules
Servings per Container: 30
Suggested Use: Take 2 capsules daily with the first meal of the day
Keep Out of Reach of Children. Do not use if safety seal on cap or printed inner seal is missing or broken. Not recommended for pregnant or lactating women.
If currently using prescription medicine or you have a medical condition, consult your healthcare practitioner prior to use. Store in a cool, dry place.
Allergy Information: Product is manufactured in a facility that processes milk, egg, soy, tree nuts, fish & shellfish. Dietary supplement FREE of milk, soy, salt, sugar, wheat, yeast, gluten, artificial flavors or preservatives.
Meriva is a Registered Trademark of Indena S.p.A., Milan
Manufactured and Distributed by: Ultra Laboratories, Carson, CA