Black Vinegar by Enzymedica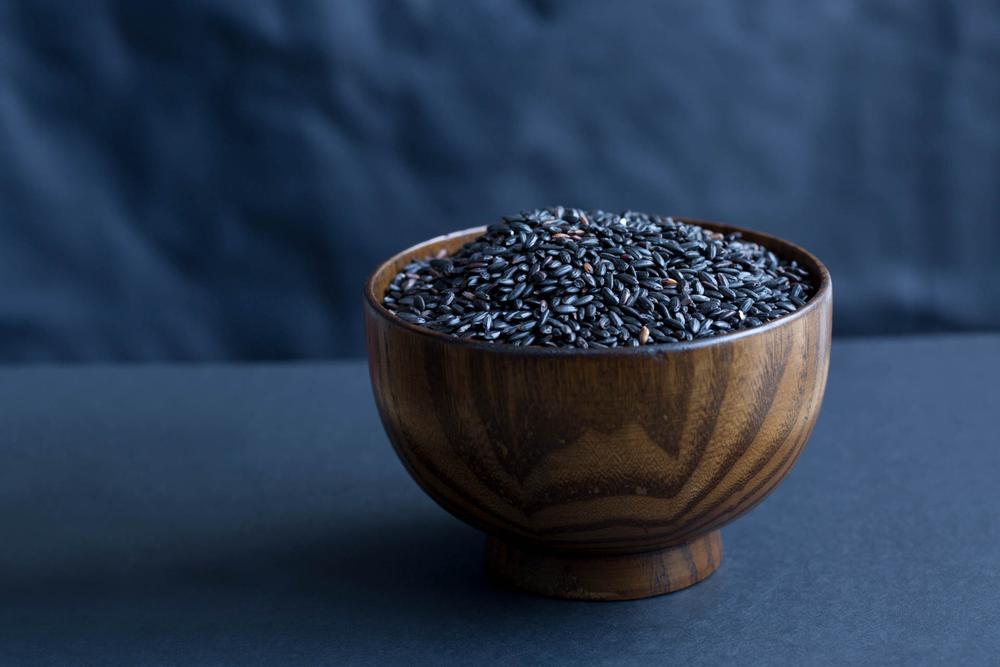 Black vinegar is an inky-black vinegar derived from fermented unpolished black or brown rice. Black Vinegar has been used medicinally for hundreds of years throughout Asia. It is universally recognized as an incredible health tonic, and naturally contains beneficial amino acids, vitamins, and other essential minerals.†
The natural acidity of vinegar can damage tooth enamel. With Enzymedica Black Vinegar, you get the same health benefits of liquid Black Vinegar in convenient capsules eliminating this risk. Each serving equals one ounce of 40:1 concentrate real, fermented, black vinegar, and has been uniquely crafted to provide modern health benefits from a potent and powerful traditional remedy.†
Increase Energy - Black Vinegar contains naturally occurring metabolites like citric acid that boost energy production.†
Heart Health - Studies have shown the warming nature of black vinegar supports healthy blood flow, regular cholesterol levels, improved circulation, and optimal cardiovascular health.†
Detoxification - The wide variety of amino acids and essential nutrients in Black Vinegar help to detoxify the body and keep pH levels well-balanced by alkalinizing our blood.†
---
Black Vinegar and Weight Loss
Black Rice Vinegars are renowned throughout Asia for their ability to support a healthy weight.† The acidic nature of the vinegar can help your body to more efficiently use nutrients for energy instead of storage. Combined with a healthy lifestyle, it can act as a catalyst for achieving a healthy weight.
In addition, other health benefits have been noted with black vinegar (BV), especially in relation to weight loss. For example, a study in rats showed BV to possess a couple of very interesting anti-obesity effects. In the development of obesity, the increase in the size of visceral fat cells leads to greater amounts of compounds that inhibit the action of insulin, leading to insulin resistance. BV was shown to significantly reduce the size of fat cells compared to not only a control group, but also a group that got the same corresponding amount of acetic acid. What the result means is that it was the additional compounds in BV, and not acetic acid, that were responsible for the effect on the fat cells. In the BV group, the number of small adipocytes in the subcutaneous and visceral fat tissues were increased while the number of large adipocytes was decreased.†
BV also impacted key regulatory genomes involved in fat cell formation. What this means is that it can literally stop fat cells from being created. Again, these effects were related to compounds other than acetic acid, most likely the phenolic compounds found in BV.†
In addition, taking vinegar at bedtime has been shown to decrease fasting glucose levels in people with type 2 diabetes, suggesting that ACV may cause the liver to produce less glucose. Hence, taking an additional dosage at bedtime may also be helpful for both blood sugar control and weight loss. †
---
Is Black Vinegar Superior to Apple Cider Vinegar?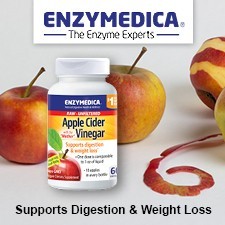 While apple cider vinegar (ACV) is more popular in the United States, black vinegar (BV) possesses even greater health-promoting properties, as it contains considerably higher amounts of amino acids, polyphenols, trace minerals, and organic acids than other vinegars including balsamic and ACV. Not surprisingly, BV has been shown to possess the same high antioxidant activity as ACV and other forms of vinegar. Enzymedica also offers Apple Cider Vinegar in capsule form.
Just as with apple cider vinegar, a black vinegar product should contain the full spectrum of mother compounds to ensure the maximum benefit. Enzymedica's product contain the full spectrum of mother.
To get the greatest benefit from ACV or BV, it appears that it must not only contain acetic acid, but all of the other compounds typically found in the mother. That recommendation is true whether the product is in liquid or pill form. The dosage is typically one tablespoon, or its equivalent as a dried powdered extract in capsule form, with a glass of water.
---
---
About Enzymedica
Enzymedica is a Florida company that was founded in 1998 with the purpose of offering their customers the highest-potency enzyme products possible. Today, as one of the leaders in the industry, they still strive for no less.
All of their products are made from only the highest quality enzymes and contain absolutely no fillers to ensure purity. Every product is 100% vegetarian, and they seek out vegan and Kosher ingredients whenever possible. Each product is specifically formulated to provide targeted support for common digestive discomforts, food intolerances, cardiovascular health, proper immune function or healthy inflammatory responses.
Enzymedica's Quality Pledge
They respect consumers' desire to make healthy dietary choices. Enzymedica routinely tests their products for gluten and other ingredients in accordance with cGMP guidelines.
Supplement Facts - Black Vinegar by Enzymedica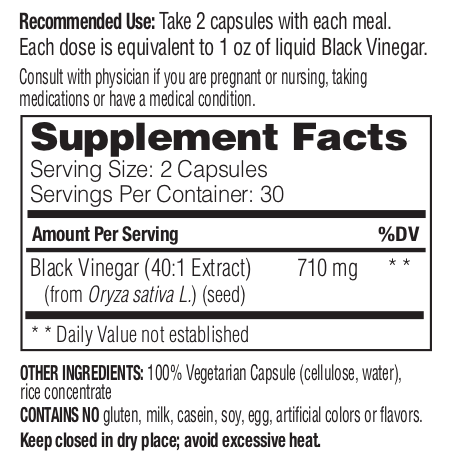 Serving Size: 2 Capsules
Servings Per Container: 30

Amount Per Serving: Black Vinegar (40:1 Extract) (from Oryza sativa L.) (seed) 710 mg
Other Ingredients:100% Vegetarian capsule (cellulose, water), rice concentrate.
This product does not contain gluten, milk, casein, soy, egg, GMOs, artificial colors or flavorings, and is suitable for vegetarians and vegans.
NON-GMO. VEGAN. NO FILLERS ADDED.
Storage: Keep tightly closed in a dry place; avoid excessive heat.
CAUTION: Please keep all supplements out of children's reach. Consult a physician prior to use if pregnant or nursing
Manufactured by Enzymedica, Inc., 771 Commerce Drive, Venice, FL 342922-1731
Click Supplement Facts box to see larger image