Enzyme Nutrition Multi-Vitamin - Two Daily by Enzymedica
Enzyme Nutrition™ Two Daily contains Enzyme-Activated Nutrients™ as part of a whole food matrix and is a viable option for every member of the family age 14 and over. Each ingredient is grown to preserve the highest potency of enzymes in the food structure. Additional Thera-blend™ enzymes enhance utilization of vitamins, minerals, superfoods and botanicals. The enhanced blend maximizes the ability to increase energy and support immune function while providing daily antioxidant support.† Enzyme Nutrition Two Daily also contains guaranteed potency probiotics, along with nutrient-rich superfoods and daily botanicals.
Increases Energy†
Supports Immune Function†
Contains Powerful Antioxidants†
Promotes Longevity†

---
Enzyme Activated Nutrients
3 in 1: Enzymes + Probiotics + Whole Food Vitamins
Vitamins and minerals (nutrients) that are part of a complex grouping of naturally occurring compounds in whole foods are best described as nutriments. This complex matrix includes enzymes, coenzymes, cofactors and phytonutrients, along with amino acids, lipids and carbohydrates. The greater the density of vitamins or minerals bound in such a matrix, the greater nutritional value of the food and the more benefit the body will derive.
Just 2 Capsules Per Day Provides 100% Daily Value For:
Vitamin A (as Beta Carotene)
Vitamin D3 (as Cholecalciferol with Active Metabolites)
Niacin (B3)
Folate
Pantothenic Acid (Vitamin B5)
For more details about the total amounts of all nutrients, vitamins, minerals, enzymes, superfoods, and probiotics included, see the Supplement Facts tab above.
Enzymedica believes that greatest science comes from observing nature. Nature never provides vitamins and minerals in a single isolated molecule. Furthermore, no single isolated vitamin or mineral in any nutrient matrix is solely responsible for a nutritional benefit; it must be attached to cofactors and enzymes to be utilized by the cells of the body. Enzyme Activated Nutrients are grown to preserve the highest enzyme potency from within the food structure. These enzymes along with naturally occurring cofactors ensure that the body recognizes and utilizes the nutrients as whole food, thus increasing potency.
Thera-blend™ Enzymes for Maximized Digestion
Enzymedica has also added Thera-blend™, a unique enzyme blend, specifically formulated to enhance the value of the vitamins and minerals in the body. This combination makes them easily digestible and absorbable while improving utilization. Naturally occurring ATP complements a healthy diet by increasing the energy potential of the foods consumed.
Enzyme Nutrition Multi-Vitamin Two Daily contains the following Thera-blend enzymes plus phytase, beta glucanase, maltase, invertase, and hemicellulase in their Nutrient Enhancing Enzyme Blend:
Amylase Thera-blend (3,000 DU) - Breaks down starches (carbs) into smaller sugars such as glucose
Protease Thera-blend (10,000 HUT) - Breaks down protein from meat, fish, poultry, dairy and other protein sources
Lipase Thera-blend (500 FIP) - Breaks down fats, allowing the body to use fat for energy
Cellulase Thera-blend (100 CU) - Breaks down cellulose to help free nutrients in fruits and vegetables
---
Why We Need Digestive Enzymes
Enzymes are destroyed in cooking and processing foods
Stress, medications, eating on the run, not fully chewing food can all affect our ability to digest properly
Some lack enzymes due to genetics, ethnicity, lifestyle, or trauma which leads to food intolerance
To support overall digestive health regardless of natural enzyme levels
If the body does not produce the enzymes necessary to break these foods down into easily digestible carbohydrates, fats, proteins, or other nutrients, the whole body can suffer. When not broken down, these foods begin to ferment, producing gas and bloating.† In addition, other symptoms - that may not seem related to what you eat - may surface such as headaches, fatigue, difficulty focusing or sleeping, unexplained rashes, and more.†
Many people have difficulty digesting meals containing certain foods, such as dairy, resulting in discomforts like occasional gas and bloating. This may occur due to the body's deficiency of enzymes that break down dairy. This decline in dairy-digesting enzymes is normal for many people after the age of two. Other forms of food intolerance may be less obvious while factors, such as genetics and stress to the digestive system can make it even more difficult to pinpoint problem foods. Food intolerance symptoms may range from subtle to severe.
If you experience mild and occasional indigestion, gas, or bloating and also usually take a multi-vitamin, then one of Enzymedica's Multi-Vitamin formulas may be the perfect choice for nutrients and digestive support.
Not sure which Enzymedica product is right for you? Take their DIGEST TEST to find out!
---
---
About Enzymedica
Enzymedica is a Florida company that was founded in 1998 with the purpose of offering their customers the highest-potency enzyme products possible. Today, as one of the leaders in the industry, they still strive for no less.
All of their products are made from only the highest quality enzymes and contain absolutely no fillers to ensure purity. Every product is 100% vegetarian, and they seek out vegan and Kosher ingredients whenever possible. Each product is specifically formulated to provide targeted support for common digestive discomforts, food intolerances, cardiovascular health, proper immune function or healthy inflammatory responses.
Enzymedica's Quality Pledge
They respect consumers' desire to make healthy dietary choices. Enzymedica routinely tests their products for gluten and other ingredients in accordance with cGMP guidelines.
---
Further Reading
Supplement Facts - Enzyme Nutrition Multi-Vitamin - Two Daily by Enzymedica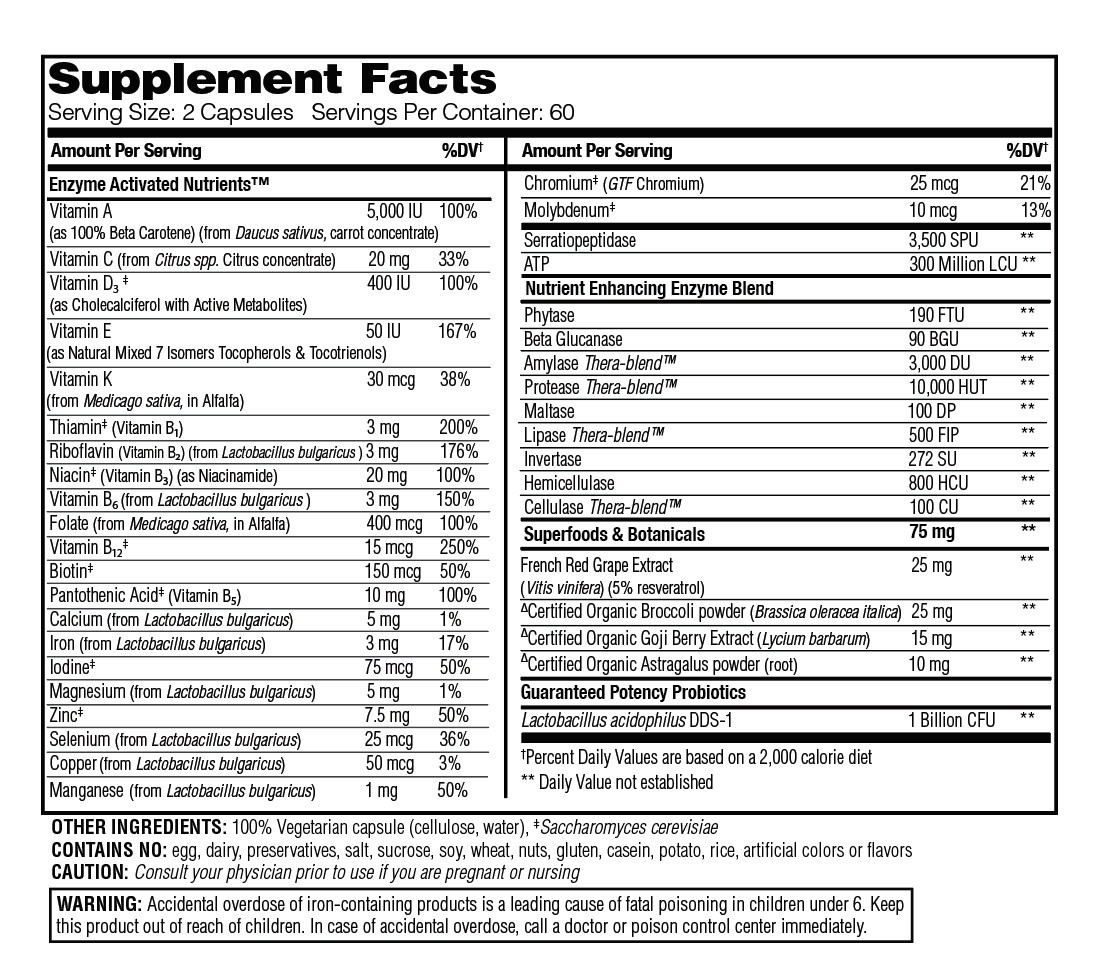 Serving Size: 2 Capsules
Servings Per Container: 60 or 120
Other Ingredients: 100% Vegetarian Capsule (cellulose, water), *Saccharomyces cerevisiae
This product does not contain egg, dairy, preservatives, salt, sucrose, soy, wheat, nuts, gluten, casein, potato, rice, GMOs, artificial colorings or flavorings.
NON-GMO. VEGETARIAN CAPSULE. NO FILLERS ADDED.
Storage: Keep tightly closed in a dry place; avoid excessive heat.
WARNING: Accidental overdose of iron-containing products is a leading cause of fatal poisoning in children under 6. Keep this product out of the reach of children. In case of accidental overdose, call a doctor or poison control center immediately.
CAUTION: Consult a physician prior to use if pregnant or nursing
Manufactured by Enzymedica, Inc., 771 Commerce Drive, Venice, FL 34292-1731
Click Supplement Facts box to see larger image
Suggested Use - Enzyme Nutrition Multi-Vitamin - Two Daily by Enzymedica
Recommended Use: 1 capsule twice daily, morning and afternoon, for best results. If preferred, 2 capsules may be taken anytime during the day, even on an empty stomach. Capsule may be opened and combined with food or liquids, if desired.
Consult a physician prior to use if pregnant or nursing.