Rapid Relief for Occasional Heartburn †

Heartburn Relief† by Enzymedica not only neutralizes excess acid, but also contains ingredients that form a protective raft between the acid and the esophagus, keeping the acid where it belongs.† Available in 42 or 90 count Relief Chews in a tasty vanilla-orange flavor.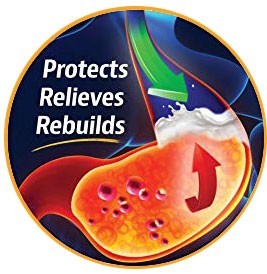 PROTECTS the Esophagus †
Algnic Acid, from natural brown seaweed, is an innovate formula that forms a protective raft of gel between stomach acid and the esophagus, keeping the acid where it belongs.† The effect preserves our natural gastric acids which are critical for digestion, but also aids in blocking the stomach contents from entering the esophagus.†
RELIEVES Excess Acid †
Your body needs acid to function, but too much can be uncomfortable. Calcium Carbonate neutralizes excess stomach acid in seconds.† Over 14 clinical trials have shown the natural approach used in Heartburn Relief† is safe and effective. Most customers report instant relief in a little as 4 seconds, lasting 4 or more hours.†
REBUILDS the GI Tract †
The alginate and herbal extracts not only soothe occasional heartburn, but work together to relieve irritation to the gastrointestinal tract lining, rebuilding our body's natural defenses. A highly concentrated extract of Prickly Pear helps rebuild the mucosal lining of the GI tract to reduce future acid discomfort.† This makes Heartburn Relief† a long term solution, not just a typical quick fix.†
---
Our Most Advanced Technology
Heartburn Relief† represents a major scientific breakthrough supporting natural digestive health and total body wellness.† Enzymedica has taken the most well-researched natural approach for occasional heartburn and indigestion and improved it through a collaboration with SRQ Bio, a division of the Roskamp Institute.
The Roskamp Institute is renowned worldwide and is led by scientists who uncovered the genetic cause of Alzheimer's disease. Heartburn Relief is the result of detailed scientific study to provide safe and immediate long-lasting support.† No side effects, drug interactions, or toxicity have been reported.
---
The Science of Alginate
The innovated Heartburn Relief† solution is based upon combining the effects of alginate, natural buffering agents, and a unique botanical extract. The barrier effect is produced by alginate, a gel-forming compound from brown seaweed.
What separates Heartburn Relief† from other alginate-containing products is that researches at SRQ Bio developed a formulation that amplifies the benefits of alginate by using natural buffering agents (calcium carbonate, trimethylglycine, and carnosine) for dual purposes. These compounds help neutralize excess stomach acid and they also work to reinforce the strength and flexibility of the protective barrier.†
The result is that a more effective raft is produced from less alginate.† It allows Enzymedica to produce a better tasting chewable table. Other products typically have a foamy, chalky, unpleasant taste that isn't present in Heartburn Relief.
The final piece of the Heartburn Relief† puzzle is the inclusion of a special extract of prickly pear cactus. The extract is from the flattened stems (technically referred to as cladodes) and not the fruit. Similar to Aloe Vera in action, but without the irritant laxatives, the extract of opuntia cools and relieves irritation to the gastrointestinal tract lining.†
---
Answers to Common Questions
What exactly is alginate?
Alginate, also called alginic acid, is a compound found within the cell walls of brown algae. Alginate has a unique ability to hold upwards of 200-300 times its own weight in water, making it a naturally gelling substance. Enzymedica uses a very specific species of brown seaweed because it yields an alginate with more favorable raft forming properties. Think of it as you would bubble gum vs. chewing gum. The best raft forming alginates are strong, yet pliable.
Why doesn't Heartburn Relief have any side effects or drug interactions?
The individual ingredients are safe and without side effects at the levels provided. Alginate, in particular, is very safe. Technically, it is a type of dietary fiber that our body does not digest nor is it known to interfere with absorption of nutrients or drugs.
Can Heartburn Relief be used during pregnancy and breastfeeding?
Yes, Heartburn Relief can be used to relieve indigestion and heartburn associated with pregnancy or when breastfeeding.† As with all dietary supplements, please consult with a physician prior to use if you are pregnant, nursing or taking any medications.
Why is there a warning for Reproductive Harm on the package?
Don't be alarmed. This warning is required on certain products sold in the state of California, and can be found in a variety of places, including restaurants, gas stations and hotels. Some chemicals naturally occur in the environment, and natural products can contain small amounts of these. California's limit for lead is 20 times less than the federal limit, meaning many supplements must carry this warning.
My occasional heartburn occurs most often at night. Can Heartburn Relief help me?
Yes. For nighttime use, take 30 minutes before bedtime and avoid laying down for 30 minutes.
Why is calcium carbonate in Heartburn Relief?
For the dual purpose of providing acid neutralization and an enhanced raft, a small amount of calcium carbonate is included in the formula.
How fast does Heartburn Relief provide relief?
In one alginate study, a single dose delivers relief in about one minute in 82% of people. The effect is described as an "instant" cooling effect. After 3.3 minutes 100% of subjects experienced heartburn relief.
---
---
About Enzymedica
Enzymedica is a Florida company that was founded in 1998 with the purpose of offering their customers the highest-potency enzyme products possible. Today, as one of the leaders in the industry, they still strive for no less.
All of their products are made from only the highest quality enzymes and contain absolutely no fillers to ensure purity. Every product is 100% vegetarian, and they seek out vegan and Kosher ingredients whenever possible. Each product is specifically formulated to provide targeted support for common digestive discomforts, food intolerances, cardiovascular health, proper immune function or healthy inflammatory responses.
Enzymedica's Quality Pledge
They respect consumers' desire to make healthy dietary choices. Enzymedica routinely tests their products for gluten and other ingredients in accordance with cGMP guidelines.
---
Further Reading
Supplement Facts - Heartburn Relief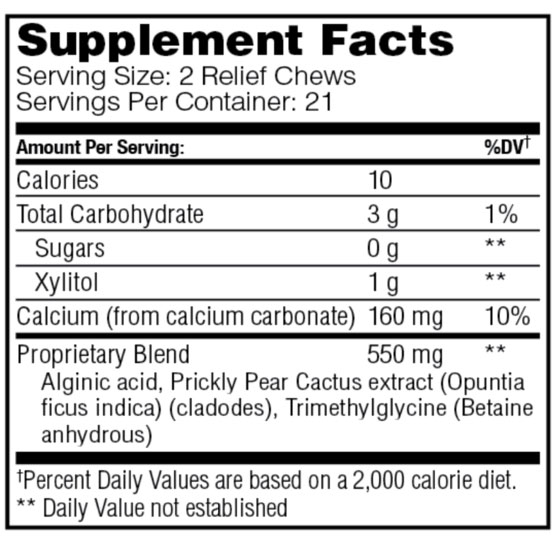 Serving Size: 2 Relief Chews (Vanilla-Orange Flavor)
Servings Per Container: 21
Other Ingredients: Sorbital, natural orange flavor, natural vanilla flavor, rice concentrate.
Contains No: gluten, milk, casein, soy, egg, artificial colors or flavors.
Storage: Keep tightly closed in a dry place; avoid excessive heat. Do not use if safety seal is broken or missing.
KEEP OUT OF REACH OF CHILDREN
WARNING: Consult with a physician prior to use if pregnant, nursing, or taking any medications. If any adverse reaction occurs, immediately stop using this product and consult your doctor.
Enzymedica does not use ingredients produced using biotechnology.
Manufactured for Enzymedica, Inc., 771 Commerce Drive, Venice, FL 34292-1731
Click Supplement Facts box to see larger image