Immune Max™ Black Elderberry by Enzymedica
The powerful formula in Immune Max™ Black Elderberry contains four key ingredients - Elderberry, Vitamins C & D3, and zinc - that have been proven over time to be vital in supporting and promoting everyday immune health and well-being.† It contains the European Haschberg-variety of whole food black Elderberry, and a prebiotic fiber to help feed good bacteria in the digestive tract.† Each of the ingredients in this product play a unique role in supporting your immune system and protecting you and your microbiome against environmental threats.†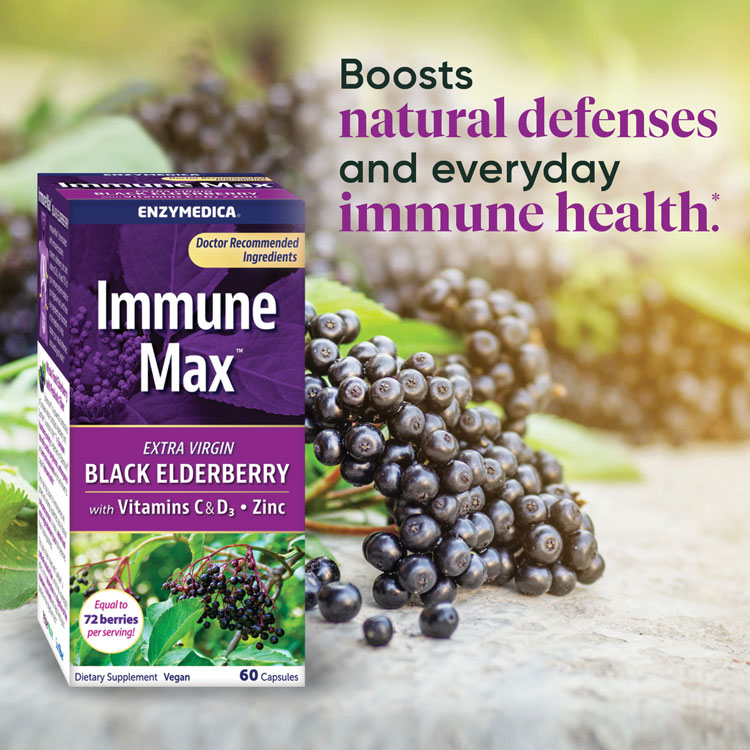 Product Features:
An all-in-one daily formula to support immune health.†
Contains 4 key ingredients Elderberry, Vitamins C and D3, and zinc picolinate to help protect against environmental threats†
Supports the body's natural innate and adaptive immune function.†
Potent nutrient support to help maintain healthy cells during seasonal challenges.†
Elderberry comes from whole-food, extra virgin Elderberry juice that preserves their natural goodness.
Equal to 72 berries per serving!
Contains >3% polyphenols from Elderberry.
---
Immune Max™ Black Elderberry Ingredient Highlights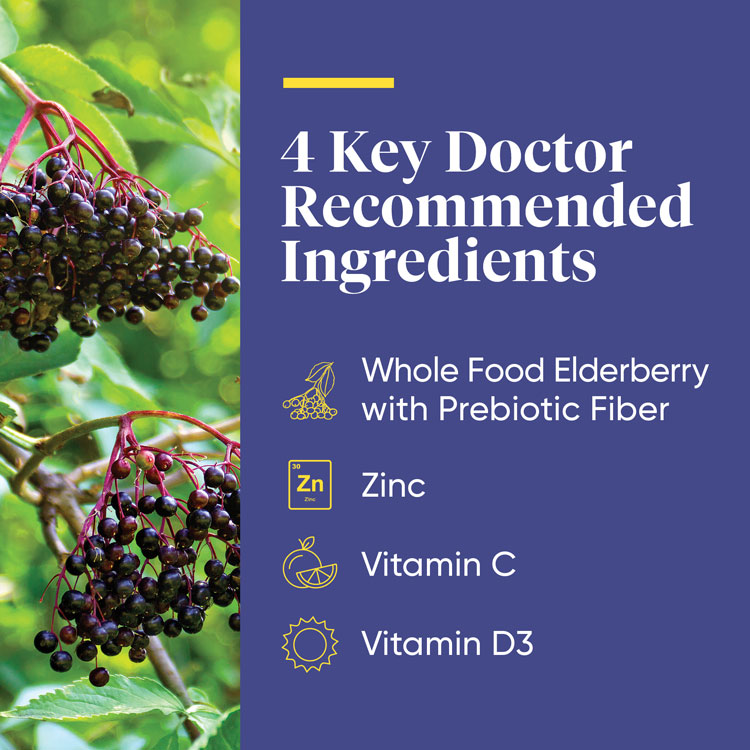 Elderberry
is naturally rich in polyphenols, anthocyanins and berry micronutrients that help boost the natural immune response.†
Zinc
is an essential mineral that your body does not store and needs to intake daily. It helps the body to maintain healthy cells during seasonal challenges.†
Vitamin C
is an antioxidant that cells within the immune system need to function, especially natural defense cells phagocytes & T-cells.†
Vitamin D-3
is an important nutrient to help your immune system stay seasonally balanced.†

What makes Immune Max Black Elderberry capsules unique?
For years, doctors and medicinal experts have recommended the essential ingredients in this unique, all-in-one formula to boost the immune system and help protect against environmental threats.† This powerful blend of Extra Virgin Elderberry Juice Concentrate, Vitamin C, Vitamin D3 and Zinc, contains key ingredients that have been proven over time to be vital in supporting and promoting everyday immune health and well-being.† While individuals are often faced with the challenge of buying these ingredients separately and subsequently taking many pills a day, Enzymedica's Immune Max is "just what the doctor ordered" in a single, easy-to-take dose.
How is this Elderberry special?
For centuries throughout Europe and the Americas, black elderberries (Sambucus nigra), have been used in traditional herbalism as a tonic to promote respiratory health and overall vitality.†1 Immune Max capsules feature Extra Virgin Black Elderberries of the European Haschberg-variety. This varietal is recognized for being naturally rich in polyphenolic compounds such as flavonoids, anthocyanins, polysaccharides, and other berry micronutrients. Our careful cold press Elderberry Juice extraction ensures these plentiful polyphenols are present in every capsule.
While Elderberries have a long history of safety and efficacy, modern science has revealed Elderberry polyphenols have potent antioxidant and immune supportive properties.† When these healthy, antioxidant compounds enter the bloodstream, they are powerful free radical scavengers that support our natural immune defenses.†2 New research is revealing that Elderberries also enhance the beneficial bacteria in the digestive system; fortifying the relationship between the gut, the respiratory system and whole body health.†3
How do the other ingredients support healthy immunity?
Vitamin C must be obtained through healthy foods or supplementation, and so often in our busy lives we need a little help to meet our nutritional needs. Vitamin C is a well-known antioxidant which cells within the immune system need to function, especially natural defense cells such as phagocytes and T-cells.† Our Vitamin C includes sources from Acerola; a cherry-like plant common to tropical regions of the Western Hemisphere. In addition to being a rich source of Vitamin C, these berries have been used in folk medicine for hundreds of years to support immune function.†4
Our bodies are able to manufacture Vitamin D3 from exposure to sunlight. However, many of us spend so much time indoors we are not able to manufacture enough of this naturally occurring nutrient. Vitamin D3 supports healthy immune modulation and is an invaluable ally when dealing with environmental threats.†5
Zinc is an essential mineral that your body does not store and needs to be regularly replenished. It is involved a multitude of aspects of cellular activity and plays crucial role in development and function of vital immune responses.†6
---
---
About Enzymedica
Enzymedica is a Florida company that was founded in 1998 with the purpose of offering their customers the highest-potency enzyme products possible. Today, as one of the leaders in the industry, they still strive for no less.
All of their products are made from only the highest quality enzymes and contain absolutely no fillers to ensure purity. Every product is 100% vegetarian, and they seek out vegan and Kosher ingredients whenever possible. Each product is specifically formulated to provide targeted support for common digestive discomforts, food intolerances, cardiovascular health, proper immune function or healthy inflammatory responses.
Enzymedica's Quality Pledge
They respect consumers' desire to make healthy dietary choices. Enzymedica routinely tests their products for gluten and other ingredients in accordance with cGMP guidelines.
---
References
Hawkins J, Baker C, et al. Complement Ther Med. 2019; 42:361-365.
Mohammadi Pour, P., et al. (2019). Frontiers in pharmacology, 10, 1207.
Bresciani L, Angelino D, Vivas EI, et al. J Agric Food Chem. 2020;68(7):1837-1843.
Carr, A. C., & Maggini, S. (2017). Nutrients, 9(11), 1211.
Aranow C. (2011). Journal of investigative medicine: the official publication of the American Federation for Clinical Research, 59(6), 881–886.
Prasad A. S. (2008). Molecular medicine (Cambridge, Mass.), 14(5-6), 353–357
---
Supplement Facts - Immune Max Black Elderberry by Enzymedica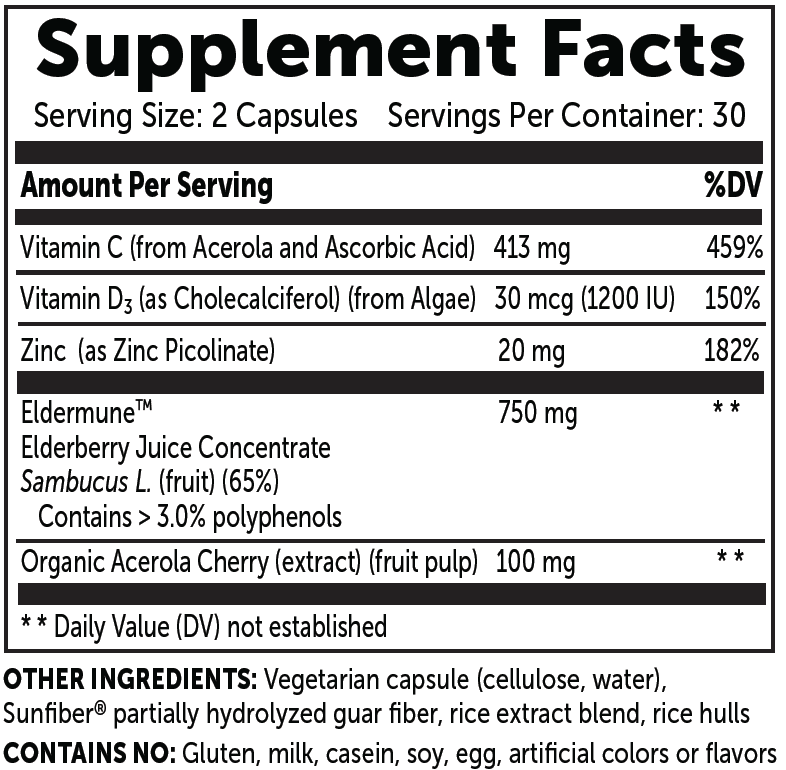 Serving Size: 2 Capsules
Servings Per Container: 30
Other Ingredients: 100% Vegetarian Capsule (cellulose, water), Sunfiber partially hydrolyzed guar fiber, rice extract blend, rice hulls.
This product does not contain gluten, milk, casein, soy, egg, artificial colorings or flavorings, and is suitable for vegetarians and vegans.
NO FILLERS ADDED. Made in the USA with Global Ingredients.
Recommended for adults only. Should not be used by pregnant or nursing women. Consult a physician prior to use if taking medications or have a medical condition.
Storage: Keep tightly closed in a dry place; avoid excessive heat. Please keep all supplements out of children's reach.
Manufactured by Enzymedica, Inc., 771 Commerce Drive, Venice, FL 34292-1731
Click Supplement Facts box to see larger image