Lypo Gold by Enzymedica
Lypo Gold™ is a formula that contains the highest potency of Lipase Thera-blend™. It has been formulated to support proper essential fat and fat-soluble vitamin absorption, gallbladder function and cardiovascular health and address the symptoms of lipase deficiency. †
WINNER
Better Nutrition Magazine
2016 Best of Supplements Award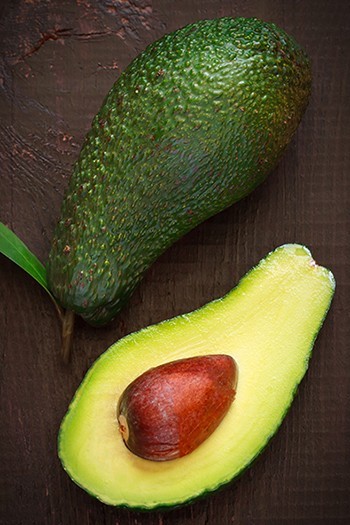 A laboratory study showed 1 capsule of Lypo Gold breaking down up to 22 grams of fat in just 30 minutes. To optimize fat digestion and to support the digestive system during breakfast, lunch and dinner, Lypo Gold provides high potency enzymes specific for fat, carbohydrate and protein digestion. †
Ingredient Highlights for Lypo Gold
Lipase Thera-blend (15,000 FIP) - Breaks down fats from animals, dairy, and vegetables.


Amylase Thera-blend (8,500 DU) - Breaks down starches (carbs) into smaller sugars, good for gluten or phenol intolerance


Protease Thera-blend (20,000 HUT) - Breaks down protein, good for gluten or dairy intolerance
Just one capsule digests the fat in:
About 6 Slices of Bacon (21g)
1 Cup Avocado (22g)
1 Regular Cheeseburger(13g) with Small Fries (5.5g)
More than 1 Tablespoon Coconut or Olive Oil (13g)
A 6oz Atlantic Salmon Fillet (22.8g)
or 1 Frosted Donut (15g)
---
Why We Need Digestive Enzymes
Enzymes are destroyed in cooking and processing foods
Natural enzymes in our bodies begin to decrease in the late 20s
Stress, medications, eating on the run, not fully chewing food can all affect our ability to digest properly
Some lack enzymes due to genetics, ethnicity, lifestyle, or trauma which leads to food intolerance
To support overall digestive health regardless of natural enzyme levels
If the body does not produce the enzymes necessary to break these foods down into easily digestible carbohydrates, fats, proteins, or other nutrients, the whole body can suffer. When not broken down, these foods begin to ferment, producing gas and bloating.† In addition, other symptoms - that may not seem related to what you eat - may surface such as headaches, fatigue, difficulty focusing or sleeping, unexplained rashes, and more.†
Uncomfortable indigestion is simply a result of incomplete food digestion. Our bodies naturally produce digestive enzymes that work to break down food into nutrients the body can absorb and utilize. The enzyme protease breaks down protein, amylase breaks down carbohydrates and the enzyme lipase is essential for digesting fats. Not having enough lipase necessary to break down fat content causes the occasional digestive discomforts associated with consuming fatty foods.
Providing quick and efficient fat digestion may help to relieve discomfort associated with the digestion of fatty foods. † By aiding the digestive system, enzyme supplementation takes stress off the gallbladder, liver and pancreas making it easier to digest foods and ensuring absorption of nutrients from the foods you eat. †
Although enzymes digest food when taken with meals, enzymes also have a therapeutic benefit when taken on an empty stomach. When taken one to two hours before or after a meal, Lypo Gold may support cardiovascular health by maintaining healthy cholesterol levels already in the normal range. †
---
Digestive Enzymes and Food Intolerance
In an ideal world, we would eat enough raw, unprocessed food to supply ample enzymes in addition to those that naturally occur in our bodies. Digestive Enzymes are required to break down all types of foods into small enough particles that our bodies can use. The reality is, our bodies only produce so many enzymes, which also need time to replenish in between meals.
When enzyme production is reduced, or other factors prevent the ability to produce sufficient enzymes, our bodies suffer. Not only can temporary discomfort such as gas, indigestion, or bloating occur, but the lack of enzymes prevents our bodies from absorbing the necessary nutrients for overall health and wellness.
If enzyme deficiency isn't offset with the help of digestive enzyme supplements, a variety of food intolerance symptoms can occur.
Food intolerance is simply the inability to fully digest, or break down, certain types of foods due to not having enough of a certain type of enzyme. Otherwise known as a "digestive enzyme deficiency", it means the body doesn't have the normal levels of enzymes for digesting certain types of foods.
However, occasional intolerance may be due to the normal reduction of enzymes that occurs with age, or other factors that temporarily affect digestion. Symptoms may vary from minor stomach upset after a meal containing the offensive foods, or ongoing symptoms due to the inability to pinpoint which foods are causing the problem.
---
Choosing the Right Food Intolerance Product for You
This chart can be helpful in choosing the right product for you out of Enzymedica's food intolerance support products. Determine your needs, and click on the product name to learn more.
Not sure which Enzymedica product is right for you? Take their DIGEST TEST to find out!
---
Thera-Blend for Enzyme Strength and pH Range
"By combining multiple strains of enzymes that have a different optimal pH range, blends achieve greater activity over a broader pH range. Lab tests show Enzymedica Thera-blend enzymes are 3x strong and work 6x faster than leading digestive supplements." - Enzymedica Thera-Blend Page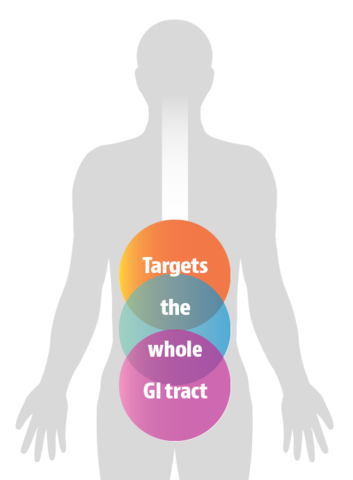 Thera-blend enzymes break down multiple bonds of various food types, targeting the whole GI tract and resulting in better digestion and absorption.
pH levels are different in each step of digestion. For enzymes to pass through or work in each area, they must be able to withstand these variations to be effective in the next stage. From stomach to pancreas to small intestine pH levels vary from 1.0 to 8.0, and each requires different types of enzymes for proper food break-down and nutrient absorption.
Thera-blend™ is an exclusive process that combines multiple strains of enzymes that work in various pH levels. Thera-blend enzymes have been shown to be three times stronger and work more than six times faster than leading digestive supplements. †
---
---
About Enzymedica
Enzymedica is a Florida company that was founded in 1998 with the purpose of offering their customers the highest-potency enzyme products possible. Today, as one of the leaders in the industry, they still strive for no less.
All of their products are made from only the highest quality enzymes and contain absolutely no fillers to ensure purity. Every product is 100% vegetarian, and they seek out vegan and Kosher ingredients whenever possible. Each product is specifically formulated to provide targeted support for common digestive discomforts, food intolerances, cardiovascular health, proper immune function or healthy inflammatory responses.
Enzymedica's Quality Pledge
They respect consumers' desire to make healthy dietary choices. Enzymedica routinely tests their products for gluten and other ingredients in accordance with cGMP guidelines.
Supplement Facts - Lypo Gold by Enzymedica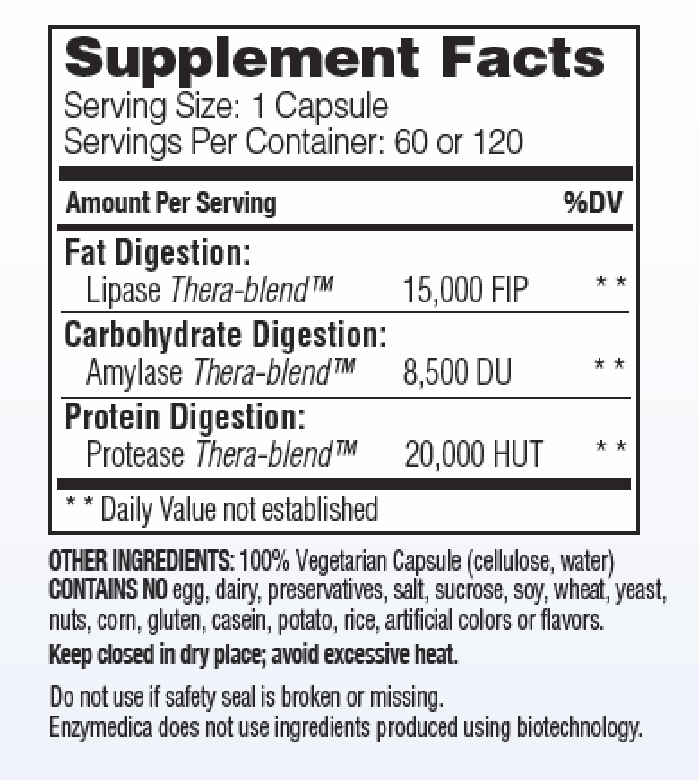 Serving Size: 1 Capsule
Servings Per Container: 60 or 120
Other Ingredients: 100% Vegetarian Capsule (cellulose, water)
This product does not contain egg, dairy, preservatives, salt, sucrose, soy, wheat, yeast, nuts, corn, gluten, casein, potato, rice, GMOs, artificial colorings or flavorings, and is suitable for vegetarians and vegans.
NON-GMO. VEGAN & KOSHER. NO FILLERS ADDED.
Storage: Keep tightly closed in a dry place; avoid excessive heat.
CAUTION: Please keep all supplements out of children's reach. Consult a physician prior to use if pregnant or nursing
Manufactured by Enzymedica, Inc., 771 Commerce Drive, Venice, FL 34292-1731
Click Supplement Facts box to see larger image