Prebiotics Superfoods Drink Mix
Enzymedica's Prebiotic drink mix (Green Apple flavor) is a next-generation prebiotic formula. It contains incredibly wide-range of diverse prebiotic compounds that supports, promotes, and nourishes microbiome diversity.†
Prebiotics are most often non-digestible, but fermentable dietary fibers and oligosaccharides that are well known for their ability to promote healthy bacterial growth.† These compounds can act as a fertilizer for the healthy bacteria in the gut.
Prebiotics are natural compounds that can improve the viability and efficacy of both supplemental probiotics, and the body's own microbiome. You can think of Prebiotics as the "fuel" Probiotics need to stay healthy and provide health benefits.
Microbiome Support
Our body's microbiome is composed of billions of good bacteria and plays a crucial role in our health. The growth and health of these bacteria can be dramatically enhanced with prebiotics. This formula helps boost not only our own microbiome, but supplemental probiotics as well.
---
Antioxidants and Superfoods
Ohtaka Superfood Blend - A uniquely crafted blend of 50 superfoods, including fruit and vegetable powders. These ingredients are fermented from natural plant material sourced from fertile farms in Japan and Italy. They contain an unprecedented amount of beneficial compounds that provide nourishment for the microbiome.†


Coconut Powder - an excellent source of fiber that is high in nutrients and beneficial for digestion and a healthy metabolism.†


Organic Fermented Barley Grass - provides a rich source of chlorophyll and other plant pigments with potent benefits. Barley grass is valued for its support of detoxification, elimination, and overall digestive health.†


Fiber from Acacia Gum - provides unique prebiotic fibers that target the large intestine to support regularity and keep the digestive system moving efficiently.†


Galacto-oligosaccharides - Prebiotic fibers that are responsible for many of the beneficial effects associated with breastfeeding infants.†
---
Gastrointestinal Health
The human GI tract contains trillions of microorganisms that function in synergy with each other. Referred to as the "microbiome," this complex and diverse system is as important to total body health and wellness as any organ. Maintaining balance in the intestinal microbiome can prevent occasional symptoms of digestive distress like gas and bloating.
---
---
About Enzymedica
Enzymedica is a Florida company that was founded in 1998 with the purpose of offering their customers the highest-potency enzyme products possible. Today, as one of the leaders in the industry, they still strive for no less.
All of their products are made from only the highest quality enzymes and contain absolutely no fillers to ensure purity. Every product is 100% vegetarian, and they seek out vegan and Kosher ingredients whenever possible. Each product is specifically formulated to provide targeted support for common digestive discomforts, food intolerances, cardiovascular health, proper immune function or healthy inflammatory responses.
Enzymedica's Quality Pledge
They respect consumers' desire to make healthy dietary choices. Enzymedica routinely tests their products for gluten and other ingredients in accordance with cGMP guidelines.
Supplement Facts - Prebiotic Superfoods Drink Mix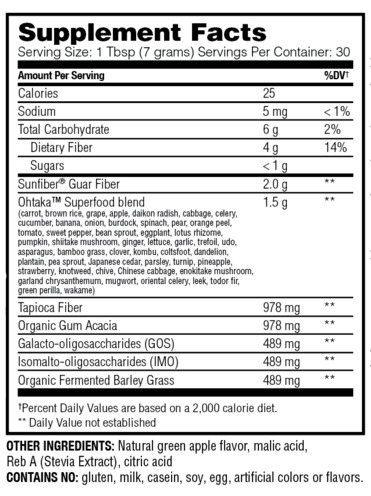 Serving Size: 1 Tbs (7 grams)
Servings Per Container: 30
Other Ingredients: Natural green apple flavor, malic acid, Reb A (stevia leaf extract), citric acid.
Contains No: gluten, milk, casein, soy, egg, artificial colors or flavors.
Storage: Keep tightly closed in a dry place; avoid excessive heat.
CAUTION: Please keep all supplements out of children's reach. Consult a physician prior to use if pregnant or nursing.
Manufactured for Enzymedica, Inc., 771 Commerce Drive, Venice, FL 34292-1731
Click Supplement Facts box to see larger image
Suggested Use - Prebiotic Superfoods Drink Mix
Mix 1 tablespoon of powder with 8oz of cold water once per day.
Consult a physician prior to use if pregnant or nursing.