Purify™ Activated Coconut Charcoal by Enzymedica
Purify™Activated Coconut Charcoal assists the body's natural detoxification process by helping to both capture and eliminate unwanted toxins and other material.†
While there are many sources of charcoal, Purify™ uses only the purest charcoal from coconut shells. Coconut charcoal is processed with additional steps from other sources of charcoal to remove impurities and produce finer grains, which is ideal for detoxification.†
Additional complimentary ingredients like ginger and the enzyme alpha-galactosidase are included to support a gentle, gas and indigestion-free cleanse.†
---
How Does Activated Coconut Charcoal Help with Detoxification?
When we hear the word "charcoal" we usually associate it with a backyard BBQ or a campfire. But the properties in charcoal can also do more than add unique flavor and warmth to the outdoor experience. Inside our bodies, charcoal can play a different role. Its properties cling to toxins and help our bodies to eliminate them before they cause severe damage or health complications. It's the reason emergency rooms use charcoal as on of the first methods of response for drug overdose or poisoning.
On a less life-threatening level, pure activated charcoal, such as coconut charcoal, can alleviate the discomfort of occasional gas or indigestion. Small amounts of toxins (anything that interferes with cell function and structure†) can build up in our digestive system or bodies over time, making it harder to determine the cause of affliction.
These toxins come from the environment as well as what we eat, drink, or take in the form of medications and even supplements. On a case-by-case basis, each person is able to eliminate a certain amount of toxins as a normal and healthy process of detoxifying organs such as the liver. It's when the amount of toxins exceeds our ability to fully detox, that we can experience moderate to severe symptoms.
Examples of everyday toxins:
Food: pesticides, additives, preservatives, food coloring, allergens, food sensitivity†
Environment: personal care products, household cleaners, air pollution, pesticides, indoor air quality†
Medications: additives, binders, stimulants, chemicals, simple over-taxing organs to process and eliminate excess†
Supplements: additives, binders, herbs, possible allergens†
Stress: adds to fatigue, difficulty sleeping, digestive issues, etc. which can inhibit our body's normal detoxification function†
Some of us may not notice the impact of these toxins until after experiencing a cleanse.† No matter your current health or wellness goals, an occasional detox or cleanse can provide many health benefits for our bodies and minds.†
Read the interview with Dr. Michael Murray: Detoxify for Better Health
---
Why Activated Coconut Charcoal for Detoxification?
Activated coconut charcoal comes from coconut shells and has been shown to be extremely effective in absorbing toxins in addition to helping support digestion. The addition of alpha-galactosidase and ginger also assist in relieving digestive discomfort.†
---
Ingredient Highlights for Purify™ Activated Coconut Charcoal
Activated Coconut Charcoal - supports natural detoxification through adsorption, a unique process in which a variety of elements, including toxins, are trapped in pores along the surface of the charcoal for elimination.†


Ginger Extract - is well known for its soothing benefits, and helps to make the cleanse experience gentle and comfortable.


Alpha-galactosidase - is an enzyme that has been shown in studies to reduce gas in the intestines.†
---
Formulated by Dr. Michael Murray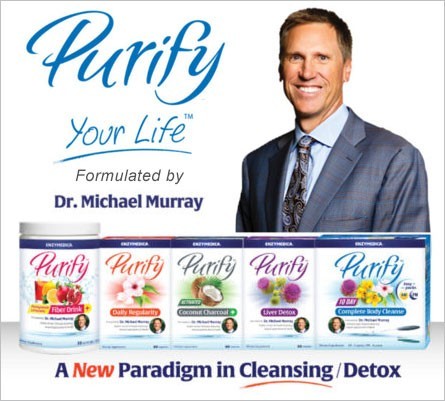 Enzymedica's Purify™ line of products is formulated by Michael T. Murray, N.D., author of over 30 books featuring natural approaches to health.
Dr. Murray has dedicated his life to educating physicians, patients, and the general public on the tremendous healing power of nature. In addition to his books, which have cumulative sales of over five million copies sold, Dr. Murray has written numerous articles for major publications, appeared on hundreds of radio and TV programs, and lectured to hundreds of thousand people nationwide.
"One of the great myths about natural medicines is that they are not scientific. The fact of the matter is that for most common illnesses there is greater support in the medical literature for a natural approach than there is for drugs or surgery." - Dr. Michael Murray
---
---
About Enzymedica
Enzymedica is a Florida company that was founded in 1998 with the purpose of offering their customers the highest-potency enzyme products possible. Today, as one of the leaders in the industry, they still strive for no less.
All of their products are made from only the highest quality enzymes and contain absolutely no fillers to ensure purity. Every product is 100% vegetarian, and they seek out vegan and Kosher ingredients whenever possible. Each product is specifically formulated to provide targeted support for common digestive discomforts, food intolerances, cardiovascular health, proper immune function or healthy inflammatory responses.
Enzymedica's Quality Pledge
They respect consumers' desire to make healthy dietary choices. Enzymedica routinely tests their products for gluten and other ingredients in accordance with cGMP guidelines.
Supplement Facts - Purify™ Coconut Charcoal by Enzymedica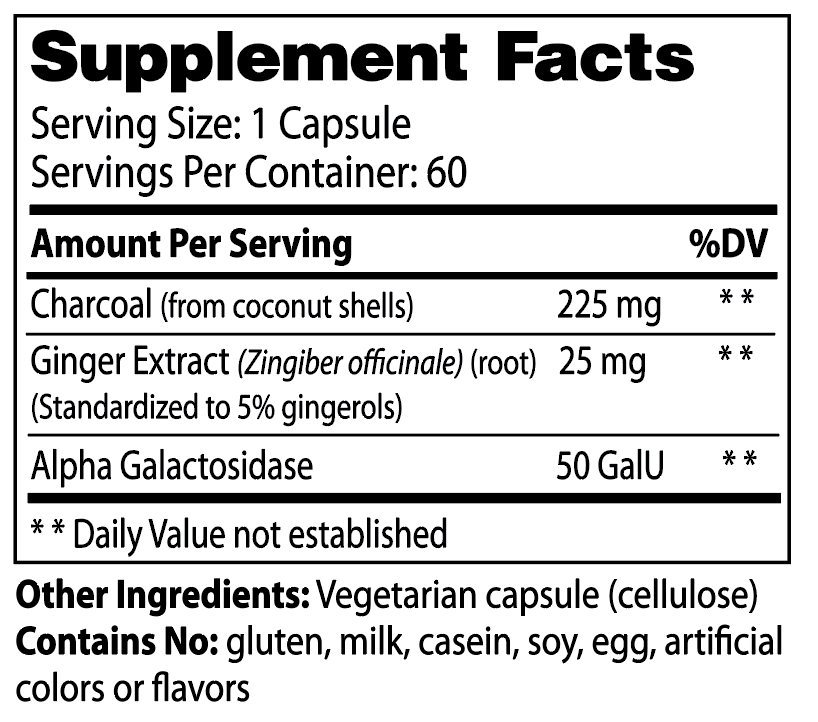 Serving Size: 1 Capsule
Servings Per Container: 60
Other Ingredients: Vegetarian capsule (cellulose).
This product does not contain gluten, milk (dairy), casein, soy, egg, artificial colors or flavors.
NON-GMO & VEGAN. NO FILLERS ADDED.
Storage: Keep tightly closed in a dry place; avoid excessive heat.
CAUTION: Please keep all supplements out of children's reach. Consult a physician prior to use if pregnant or nursing.
Manufactured by Enzymedica, Inc., 771 Commerce Drive, Venice, FL 34292-1731
Click Supplement Facts box to see larger image