Purify™Liver Detox by Enzymedica

Purify™ Liver Detox provides unparalleled support for liver detoxification and function.†
Many natural ingredients are well known for their ability to support the liver. Purify™ takes these ingredients one step further by using premium extracts like Siliphos® and SelenoExcel®, which have been shown to provide benefits superior to standard extracts.†
Additional complimentary ingredients are provided at therapeutic levels to offer comprehensive support for all stages of detoxification.†
---
Ingredient Highlights for Purify™ Liver Detox
N-Acetylcysteine (NAC) - boosts glutathione levels, a critical detoxification agent and antioxidant.


Siliphos® - A unique "phytosome" form of milk thistle extract. Compared to regular milk this extracts, Siliphos exerts greater absorption and efficacy in protecting the liver and aiding its structure and function.


SelenoExcel® - An extract of selenium, which is a key component of the detoxifying enzyme glutathione peroxidase, which can assist the body in reducing oxidative stress.
Additional complementary ingredients like Choline, L-Taurine, Licorice and Shisandra Extract are included to provide critical nutrients to support liver function and detoxification.
---
Formulated by Dr. Michael Murray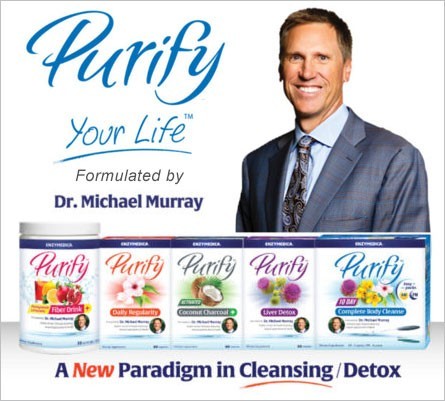 Enzymedica's Purify™ line of products is formulated by Michael T. Murray, N.D., author of over 30 books featuring natural approaches to health.
Dr. Murray has dedicated his life to educating physicians, patients, and the general public on the tremendous healing power of nature. In addition to his books, which have cumulative sales of over five million copies sold, Dr. Murray has written numerous articles for major publications, appeared on hundreds of radio and TV programs, and lectured to hundreds of thousand people nationwide.
"One of the great myths about natural medicines is that they are not scientific. The fact of the matter is that for most common illnesses there is greater support in the medical literature for a natural approach than there is for drugs or surgery." - Dr. Michael Murray
---
---
About Enzymedica
Enzymedica is a Florida company that was founded in 1998 with the purpose of offering their customers the highest-potency enzyme products possible. Today, as one of the leaders in the industry, they still strive for no less.
All of their products are made from only the highest quality enzymes and contain absolutely no fillers to ensure purity. Every product is 100% vegetarian, and they seek out vegan and Kosher ingredients whenever possible. Each product is specifically formulated to provide targeted support for common digestive discomforts, food intolerances, cardiovascular health, proper immune function or healthy inflammatory responses.
Enzymedica's Quality Pledge
They respect consumers' desire to make healthy dietary choices. Enzymedica routinely tests their products for gluten and other ingredients in accordance with cGMP guidelines.
Supplement Facts - Purify™ Liver Detox by Enzymedica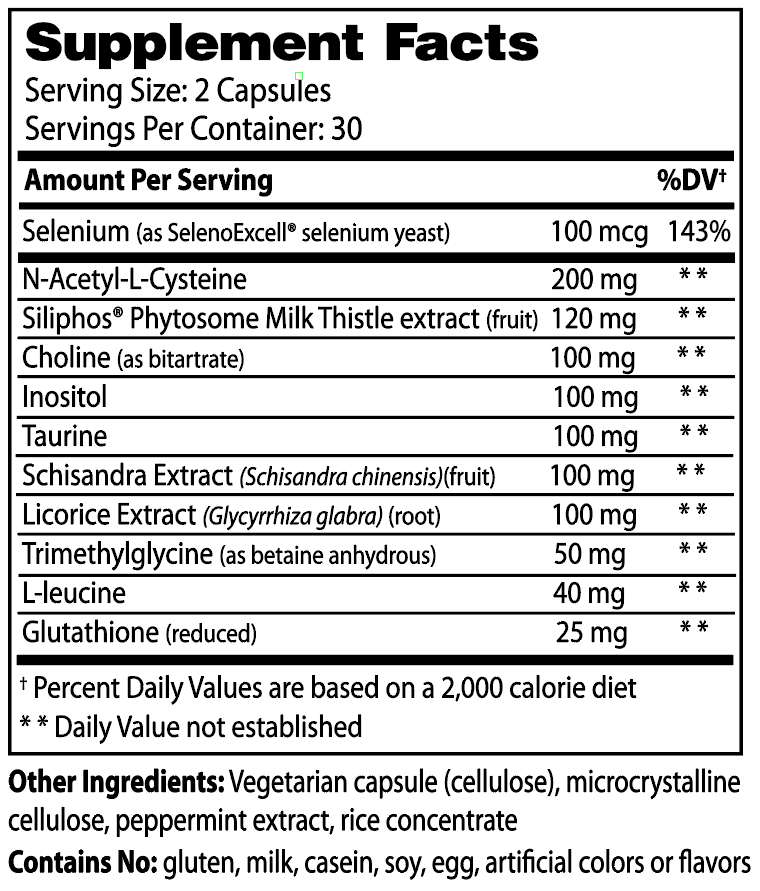 Serving Size: 2 Capsules
Servings Per Container: 30
Other Ingredients: Vegetarian capsule (cellulose), microcrystalline cellulose, peppermint extract, rice concentrate.
This product does not contain gluten, milk (dairy), casein, soy, egg, artificial colors or flavors.
NON-GMO & VEGAN. NO FILLERS ADDED.
Storage: Keep tightly closed in a dry place; avoid excessive heat.
CAUTION: Please keep all supplements out of children's reach. Consult a physician prior to use if pregnant or nursing.
CALIFORNIA RESIDENTS ONLY WARNING: This product contains a chemical known to the State of California to cause birth defects or other reproductive harm.
SelenoExcel® is a registered trademark of Cypress Systems, Inc.
Siliphos® is a registered trademark of Indena S.p.A.
Manufactured by Enzymedica, Inc., 771 Commerce Drive, Venice, FL 34292-1731
Click Supplement Facts box to see larger image
Suggested Use - Purify™ Liver Detox by Enzymedica
Take 2 capsules with or without food once a day for maintenance, or twice a day for advanced support.
Consult a physician prior to use if pregnant or nursing.