Chamae Rose Liver Complex
Chamae Rose Liver Complex is a companion product that is specific for those working with liver conditions.
Chamae Rose Liver Complex is a comprehensive liver reconditioning formula designed to both cleanse and strengthen liver function. It also serves as both a cleansing agent and a tonic to the adrenals and kidneys. In addition to the beneficial properties of Chamae Rose, the Liver Complex includes:
Milk Thistle (Silybum marianum) — Chemical constituents found in seeds of milk thistle, namely silymarin and silibinin have been shown to repair damaged liver cells.† Numerous independent clinical studies show the ability of milk thistle to detoxify the liver and improve liver function, even after years of alcohol abuse.†


Barberry Bark (Berberis vulgaris) — An excellent remedy for dyspepsia and functional derangement of the liver.† It may also improve digestion and normalize bowel movements.† Herbalists use it for jaundice and general debility of the liver. Barberry may also strengthen gallbladder function and increase bile flow. It also compliments Chamae Rose and can improve the beauty of skin.


Wild Yam Root (Dioscorea villosa) — Known more often as a hormonal regulator, Wild Yam is also a valued anti-spasmodic for muscles and tendons, which, according to Traditional Chinese Medicine, are controlled by the liver.† Herbalists have used it for centuries for liver congestion and gallbladder pain. It also acts as a blood purifier.†


Fennel Seed (Foeniculum vulgare) — Primarily known as an aromatic with carminative properties, it reduces hunger and promotes weight loss.† Numerous clinical studies also show that fennel seeds protect the liver from toxins.† Fennel seed has antioxidant, antimicrobial, and antispasmodic properties and may stimulate gastrointestinal motility.†


Ginger Root (Zingiber officinale) — Ginger has a broad range of medicinal benefits, primarily because of its very powerful anti-inflammatory properties. It may also reduce gallbladder and liver inflammation†. Ginger soothes digestive disturbances and may offset nausea.†


Peppermint Leaves (Mentha piperita) — Peppermint has an unusual combination of medicinal properties. It stimulates circulation, yet calms the central nervous system. Peppermint stimulates the production of bile in the liver. It may also reduce liver enzyme (HMG CoA reductase) activity, which helps to lower cholesterol.† Finally, it may disperse congestion and promote a healthy inflammation response in the liver.


---
The Chamae Rose Story
Chamae Rose is at the heart of the Harmonic Innerprizes story. It was researching this amazing herb that lead to the discovery of the Etherium deposit. The natural occurring monatomic elements that have been discovered in Etherium Gold are absorbed into the roots of the Chamae plant, making them available in organic form.
Chamae Rose Benefits
Purifies the blood and assists the body in removing toxins through the kidneys.†
Diuretic properties increase the frequency of urination, and assist in removing toxins.†
A cleansing agent and a tonic to the adrenals and kidneys.†
It cleanses and strengthens liver function and cleanses the lungs.†
The most noticeable effect Chamae Rose has is it beautifies the skin. As toxins leave the body, the skin gains a glow, and blemishes or liver spots begin to disappear. The skin takes on a supple and youthful appearance. However, before noticeable skin changes occur, a significant amount of toxins will generally need to be excreted. This usually takes between two and three months.
Supplement Facts - Chamae Rose Liver Complex
4:1 Double Extract - 2 fl. oz.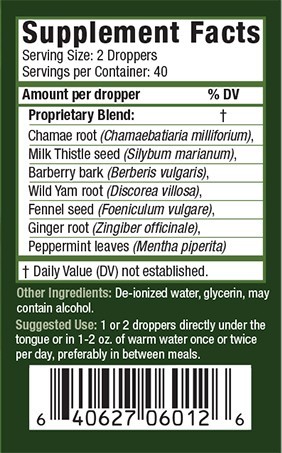 Serving Size: 2 droppers
Servings per Container: 40

Click to see entire label.
Other ingredients: Deionized water, glycerin.
Contains no artificial ingredients, preservatives, coloring or additives. Keep out of the reach of children.
Also available in Starter Kits
Manufactured by Harmonic Innerprizes, Inc.
Suggested Use - Chamae Rose Liver Complex
Recommended Usage: 1 or 2 dropperfuls directly under the tongue or in 1-2 oz. of water once or twice per day, preferably between meals.
Store tightly capped in room temperature out of direct sunlight. Keep out of the reach of children.
† These statements have not been evaluated by the U.S. Food and Drug Administration (FDA) or EnergeticNutrition.com. This product is not intended to diagnose, treat, cure or prevent any disease. The information provided on this site is for informational purposes only and is not intended as a substitute for advice from your physician or other health care professional or any information contained on or in any product label or packaging. You should not use the information on this site for diagnosis or treatment of any health problem or for prescription of any medication or other treatment. You should consult with a health care professional before starting any diet, exercise or supplementation program, before taking any medication, or if you have or suspect you might have a health problem, or are pregnant. When you receive an item, carefully read all labels, warnings, and directions before use. Actual product packaging and materials may contain more and/or different information than shown on this website.