Colloidal DNA Boost
A Powerful and Effective Cellular Regeneration Booster
Colloidal DNA Boost has been a leader in dietary supplements for cellular regeneration for over fifteen years. It helps restore damaged DNA and helps prevent unregulated cell division and cellular mutations.
Colloidal DNA Boost electromagnetically builds life force energy into the cells to help slow cellular senescence (biological aging). It is formulated to the override frequency of DNA, which establishes within the body the harmonic fields necessary for optimal DNA function. Colloidal DNA Boost is an excellent adjunct for any therapy that requires optimal DNA function.
Healthy DNA for Healthy Cell Reproduction
Healthy DNA is the foundation for healthy longevity and avoiding many age-related ailments. Healthy longevity is directly dependent on the health of our cells, and healthy cells are completely dependent on optimal DNA. All life is dependent on our cells replicating themselves and a daughter cell is only as healthy as the mother cell. The aging process begins when cells with damaged DNA replicate themselves and thereby produce weaker cells. As each cellular generation goes on, the cells get weaker and weaker, and eventually we die.
The cell's ability to repair damaged DNA is vital to the integrity of its genome and the proper functioning to the entire organism. Genes that are associated with longer life spans are involved in the protection and repair of DNA. Colloidal DNA Boost electromagnetically creates an optimal intracellular environment for damaged DNA to be repaired.
When the DNA of the cell is vibrating at its optimal frequency, it is a dance no disease can dance to and the body remains in a state of balance and optimal health:
The Bioenergetic repatterning signal of healthy DNA is transferred to the body.
The body entrains to the healthy signal, strengthening and healing at the cellular level.†
Supports regulation of the endocrine system.†
Benefits have been associated with the effects of superconductive elements on DNA function.
DNA Boost raises the overall resonant harmonic frequency of the cell. The elements contained in this formula are Gold, Silver, Iridium, Rhodium, and Platinum. Chromium and Vanadium are added for their role of energy production in the body, and the siliconized water base helps hold and stabilize the electromagnetic frequencies and patterns specific to the product. These elements are NOT absorbed into the body.
People of all ages in a healthy state would be well served to use Colloidal DNA Boost for one month either annually or semi-annually, to give that extra spark of cellular invigoration.
---
Our Superior Colloidal Formulas
Harmonic Innerprizes utilizes the most advanced and sophisticated techniques ever developed for colloidal systems to produce their products. These colloids are superior to any other on the market.
Here are some of the reasons why:
FREQUENCY OF HEALTHY DNA - Our deionized water medium is electronically charged with the composite frequency of the 54 mineral elements known to be necessary for normal DNA function, according to European research.


PARTICLES POSITIVELY CHARGED - We use only 99.999% pure minerals. These minerals are then electrostatically prepared into ultra fine positively charged particles that stay in suspension. These particles are up to 7,000 times smaller than red blood cells.


PARTICLES NOT ABSORBED - Because Harmonic Innerprizes' colloids are positively charged, no absorption takes place. Its effectiveness is dependant upon its electromagnetic frequencies and patterns, not absorption into the body. Therefore, the product is 100% non-toxic.


BIOENERGETIC TRANSFER - Each formula is tuned to a specific electromagnetic frequency that enhances its performance. This facilitates the desired state of balance and health within the body and enhances immune function.†


100% SAFE & EFFECTIVE - May be used safely during pregnancy and for children of any age.†


ECONOMICAL - Only 1/4 teaspoon daily at bedtime for complete health maintenance.


NO STABILIZERS OR DYES - Etherium Technology uses absolutely NO stabilizers or dyes in any of their products.
ENERGY FIELD FORMULATIONS
Harmonic Innerprizes has developed an evolutionary product formulation concept based on energy fields and biological compatibility. We measure the biological usefulness of a product by utilizing high technology equipment that measures energy fields. The products, by being more harmonically aligned with our biological systems, provide nutrients that may be metabolized more effectively by the body.
BIOENERGETIC REPATTERNING
A tremendous breakthrough beyond both conventional and alternative biochemical therapies. Formulated through Harmonic Innerprizes' Energy Field Formulation process, the colloids serve as a medium for transferring healthy bioenergetic signals to the body. The body is reminded to heal itself naturally through the repatterning and entrainment of resonant fields which direct normal cellular expression.†
---
How to Test for Colloidal Quality
With so many colloidal silver and colloidal gold products flooding the market, how is the consumer to determine which is the best? First, when it comes to colloids, more is not better. Some colloidal products are now being produced containing 50 to 500ppm (parts per million)! A quality colloid only requires less than 10ppm to be most effective. Higher potencies can kill friendly bacteria and be quite toxic to the system.
Our colloids are less than 10ppm, so there is no potential of toxicity. And remember - it's all in the frequency. That's what makes this product an exclusive.
Testing for Colloidal Quality
Here is a simple test consumers can do to assure that they have a high quality colloidal silver:
Pour one or two ounces of colloidal mineral product into a test tube or small clear glass container. Observe the color. Quality electrostatic colloidal silver should be clear, with a very faint hint of amber/gray color. Colors, ranging from yellow to dark brown indicate that the size of silver particles is getting larger and/or a dye has been added.


In a darkened room, take a bright penlight and shine it through the glass. You should see a cloudy beam of light that fans out into a cone shape. This is known as the Faraday-Tyndall cone effect. The cloudier the beam of light, the wider the angle of cone, the more particles there are in suspension. If the beam of light is not cone shaped, but continues along a straight path, you do not have a true colloidal product.


Next, let the product sit undisturbed for at least 24 hours. If sediment occurs in the bottom, particles have fallen out of solution and you have an inferior or damaged product. A high quality colloid uses only 99.999% pure minerals that are electrostatically processed into ultra fine, positively charged particles. This process keeps particles suspended because of their small size, from .01 to .001 microns. The positive charge keeps them repelled against each other and they remain suspended.
Colloidal DNA Boost Testimonials
"A scratch on my front tooth developed into a deep cavity. After taking your DNA Boost for 2 weeks for general purposes, I noticed the cavity seemed to be going away. Now, after several months, the enamel has completely grown back!" - S.C, New Orleans, LA
"After just two weeks on your DNA Boost, my tennis elbow is completely gone. Great products!" - J.S., Duluth, GA
Supplement Facts - Colloidal DNA Boost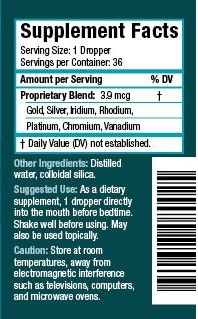 Click to see entire label.
Other Ingredients: Deionized water, colloidal silica.
Manufactured by Harmonic Innerprizes, Inc.
Suggested Use - Colloidal DNA Boost
Instructions for Use: Two droppers (only fills 1/2 full) daily. Best taken at bedtime. Do not take within one hour of eating food, or within one hour of taking other health products (okay to take with other Harmonic Innerprizes colloidal formulas).
Children: 1/2 adult dosage.
Topical Use: Excellent for skin irritations and eruptions caused by toxicity from within. Safe for applications with eyes and ears. Put contents of dropper on cotton and apply to affected skin. Repeat every three or four hours until improvement is noticed.
For more acute conditions, more doses initially for a short period of time may be appropriate. Always consume at times of relaxation.
Special Instructions: Shake well before using. Store at room temperatures, away from electromagnetic interference such as televisions, computers, and microwave ovens.
Additional Comments: Some clinical observations show the benefits of colloids can be extended if, after a month of taking the product on a daily basis in accordance with label instructions, the dosage is alternated to a cycle of three days on and three days off.