Etherium Red - Decision Power
Etherium Red energetically integrates the analytical brain with the emotional heart. The differences between what the brain thinks and what the heart desires is often the root cause of feeling scattered, confusion, and having difficulty making decisions.
For some people, struggling with making decisions is chronic to their nature. They agonize over simple choices that others would not have trouble making. But even good decision makers experience times when a difficult decision needs to be made, and there is no apparent best or right solution.
When the mind and heart integrate, feelings of confusion and doubt dissipate and are replaced by confidence and self actualization. As a result, the stress caused by feelings of being scattered and confused, is typically reduced. By integrating the thinking of the brain with the emotional energy in the heart, Etherium Red brings heightened clarity to the situation that requires a decision. Once clarity is experienced, making a decision becomes easy because the best solution becomes obvious.
Interestingly enough, customers have reported normalization of blood pressure after being on Etherium Red for awhile. While factors such as genetics and diet play a part, stress contributes significantly to high blood pressure. Once the stress from indecision making is removed, a positive response in blood pressure may be realized. †
---
Releasing Stress with Cleansing Forces
Etherium Red can facilitate an awakening of the kundalini forces in the root chakra. As kundalini energy begins to ascend the inner paths through the spinal cord, it cleanses impurities and removes blockages that hold emotional stresses. As life-long emotional stresses are released from the chakras, life enhancing changes begin to take place.
For human beings, the progress of spiritual growth is intimately tied to the proper alignment and normal functioning of the major chakra centers of the body. When all of the major chakras are open and active, there is ample etheric vitality in the body.
In the meditative state, this produces pleasure and bliss. In the awakened state, we begin to live in perfect health and higher states of consciousness.
Etherium Red amplifies this gradual process of spiritual awakening.
It promotes changes in the body normally associated with long-term meditation by accelerating the opening of the chakras and aligning the physical with the etheric bodies.
This is especially true when used in conjunction with prayer and meditation.
Over time, a resonant vibrational link between the heart and the brain evolves. Sonic vibrations are created in the brain by pulsations transmitted from the heart. This causes stimulation of the corpus callosum, leading to greater integration of right-brain, left-brain activity. Greater interplay and coordination between the two hemispheres has also been associated with increased psychic ability.
Customers indicate that Etherium Red is indeed excellent for meditation. Also, they find that it enhances sex on a physical and spiritual level. They experience definite psychic enhancement, in addition to that which Etherium Gold gives.
Supplement Facts - Etherium Red
Powder and Capsules Contain: Monatrace™, a naturally occurring deposit from an ancient seabed that supplies monatomic and other minerals elements. Approximately 1/3 monatomic elements (gold, silver, iridium, rhodium, chromium, and platinum), 1/3 silica, and 1/3 trace minerals (60+ different trace minerals).
---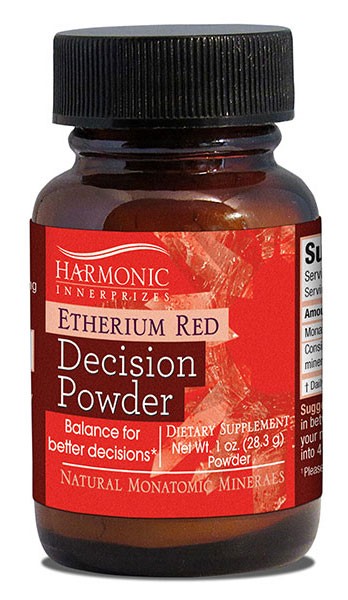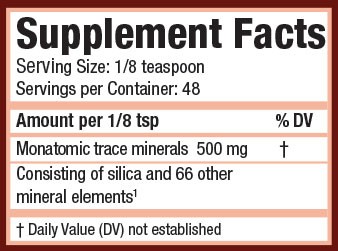 Powder - For body weight 110lbs or more, take one serving daily at least one hour after eating. Place 1/8 tsp powder directly under the tongue. You may desire to take a sip of pure water. An alternative is to dilute 1/8 tsp in pure water and drink slowly, holding in the mouth until absorbed. 36 servings per container. Amount per 1/8 tsp: 600 mg.
Click to see entire label
PROP 65 WARNING: This product may contain one or more chemicals known to the State of California to cause cancer, birth defects, or other reproductive harm.
---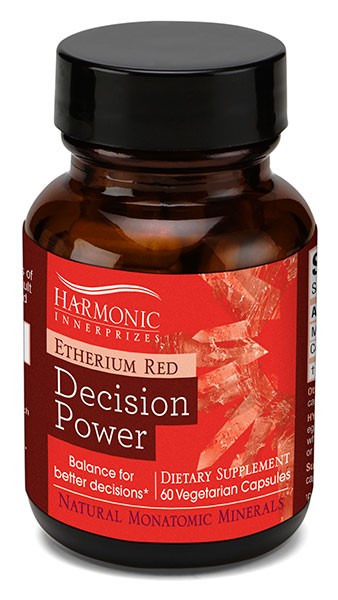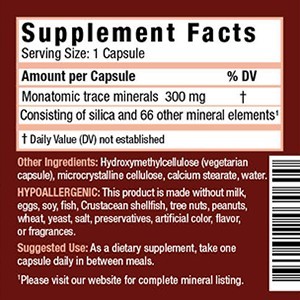 Capsules - Take 1 capsule 1-2 times per day. 60 vegetarian capsules per container. 300 mg per capsule.
Other Ingredients: hydroxypropylmethylcellulose (vegetarian capsule), microcrystalline cellulose, calcium stearate, water.
Click to see entire label
PROP 65 WARNING: This product may contain one or more chemicals known to the State of California to cause cancer, birth defects, or other reproductive harm.
---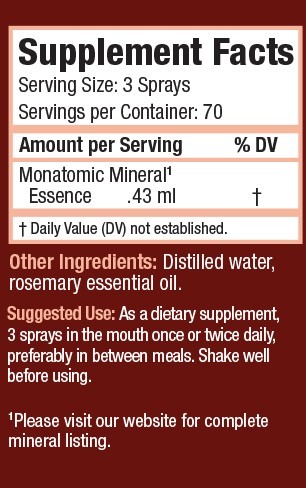 Homeopathic Spray - Deionized water, 1M dilution Etherium Red trace minerals, rosemary. With conscious intention, 3 sprays directly into mouth, once or twice daily preferably between meals. Or 3 sprays into a glass containing 1 teaspoon of pure water. Swirl clockwise several moments before consuming. Hold the water in your mouth until absorbed.
Contains 70 servings
Click to see entire label
Read about the Etherium Homeopathic Essences.
---
Additional Comments
It is recommended you start with one dose per day until you develop a relationship with Etherium Red. After that, take it when you are guided to do so. This may be two or three times a day, or you may not take it for a day or two, or weeks at a time.
Etherium Red is not recommended during pregnancy or lactation.
See How to Use the Etherium Sacred Powders for further instruction.
Manufactured by Harmonic Innerprizes, Inc.