N-Fuzed Candida - Candida Overgrowth Remedy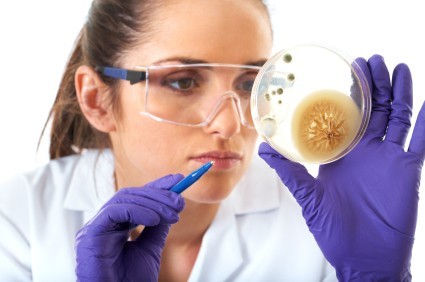 N-Fuzed Candida is an evolutionary new natural concept for eliminating systemic Candida albicans from the blood and soft tissues of the body. It also helps restore the natural balance of candida in the colonic tract, and can help with thrush and surface yeast infections.
In vitro laboratory tests, done on every batch, confirm that N-fuzed Candida kills Candida albicans in as little as 3 days, and eliminates it entirely in 7 days.
The energy of candida albicans is infused into the crystalline structure of water and works synergistically with two antimicrobial botanicals known for their effectiveness in assisting the body to control the spread of candida; Pau d'Arco and Black Walnut hulls. Using the same principle as "like treats like," N-fuzed Candida triggers the immune system to eliminate systemic candida.
---
Candida Overgrowth Can Ruin Your Life!
Candida albicans is a naturally occurring genus of yeast that normally resides in the intestinal tract, mouth, throat and genitals along with other organisms. However, problems begin to happen when something upsets the balance of these organisms and candida begins to multiply and over populate. It can even burrow holes in the intestinal tract, enter the bloodstream and then make its way into any organ of the body. To make matters worse it emits over 70 different toxins into the body. Some people may even become allergic to the yeast itself.
What typically triggers this is the use of pharmaceutical antibiotics and/or birth control pills. A diet dominated with processed foods, sugar, and alcohol will exacerbate this condition significantly.
Candida overgrowth is epidemic in our society and it is the underlying cause of many chronic disease conditions. While millions of people deal with it every day, millions more get no help since it is often misdiagnosed and people who have it don't even know they have it. It is very difficult to treat something if the cause is not properly identified.
There is no agreed upon method for diagnosing candida. The best way is to identify all of your symptoms and evaluate your diet. If you are experiencing many of the symptoms listed below and your diet consists of a relatively high amounts of processed foods, sugar, yeast, and alcohol, chances are excellent you have a candida overgrowth. Even those who feel they eat a good diet can have candida.
---
Typical Candida Symptoms
There are dozens of symptoms that may occur as a result of candida. The following list covers many, but possibly not all, of them:
abdominal gas and bloating
acid reflux
acne
anxiety
athlete's foot
brain fog
chronic pain
cognitive impairment
constipation
cravings for alcohol
cravings for sweets
depression
diarrhea
dizziness
earaches
eczema
excessive fatigue
headaches
hyperactivity
inability to think clearly
inability to concentrate
indigestion
irritability
itching
learning difficulties
low sex drive

migraines
mood swings
muscle weakness
persistent cough
poor memory
pre-menstrual syndrome
rectal itching
sensitivity to fragrances
sensitivity to chemicals
sinus inflammation
sore throat
thrush
vaginitis
---
Candida Overgrowth is a Causal Factor in Many Debilitating Conditions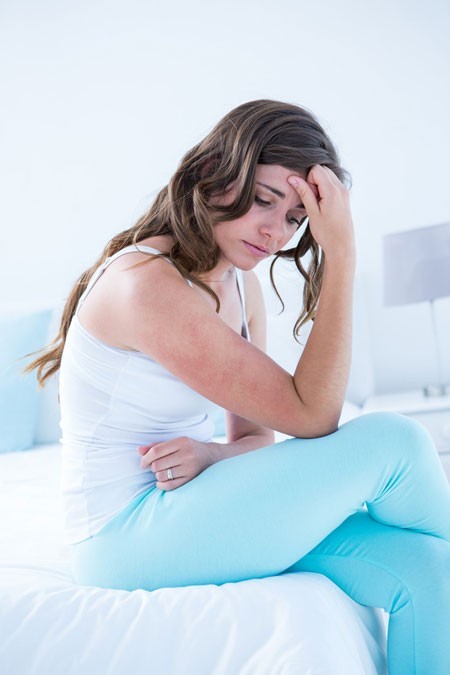 While one of the most well known occurrences of candida overgrowth is the vaginal yeast infection, it may play a role in just about any chronic illness or mental health condition.
People with a weakened immune system can develop a systemic illness caused by candida. These infections can affect various internal organs and cause pain or dysfunction of the organ. Candida infections often enter into the bloodstream through breakdowns or cuts in the skin or mucous membranes. Candidal organisms may overgrow due to the frequent use of antibiotics, which kill the bacteria that normally keep them under control.
Candida yeast overgrowth is considered to be a leading contributor in these and many other conditions:
Addison's disease
alcoholism
anxiety disorders
asthma
attention deficit disorder
autism
chronic pain
clinical depression
Crohn's disease

difficult menopause
digestive disturbances
endometriosis
fibromyalgia
food allergies
hormonal imbalances
irritable bowel syndrome
leaky gut syndrome
lupus
migraines
multiple chemical sensitivities
multiple sclerosis
muscle and joint pain
pre-menopause symptoms
prostatitis
psoriasis
repeated urinary tract infections
Rheumatoid arthritis (RA)
Tourette's syndrome
---
How n-fuzed Candida Works
Many candida therapies have antifungal properties. These products can be effective but they have unpleasant side effects since dying candida cells give off toxins which the immune system reacts to.
N-fuzed Candida works in a principle similar to a vaccination, or "like treats like," by getting the immune system to recognize candida as a foreign invader and eliminating it from the soft tissues and blood system of the body and restoring proper balance in the colonic tract. This process of elimination typically reduces the unpleasant side effects that are a natural by-product of any candida therapy.
N-fuzed Candida is a liquid, taken by mouth 4 times per day for two weeks, then twice a day for another two weeks. Two 8 oz bottles are needed for the full treatment. Most people will notice an improvement in symptoms in those first two weeks, if not the first few days. Changes in diet and perhaps environment are encouraged to keep candida at bay. In the future, if you find symptoms returning, another round with N-fuzed Candida may be necessary.
Supplement Facts and Suggested Use - N-Fuzed Candida
8-ounce Full Size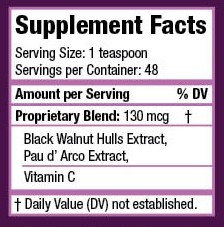 Other Ingredients: Distilled water, alcohol, may contain lactose. Less than .01% of alcohol and/or lactose are used in the production of this product.
Suggested Use: Take one teaspoon 3 times per day in between meals: mid-morning, mid-afternoon, and before bedtime. Hold in mouth 1 - 2 minutes before swallowing. For best results, maintain a candida free diet while using this product.
TWO 8 oz. bottles are needed to supply the 84 teaspoons suggested for the full treatment.
Click to view entire label
---
4-ounce Travel Size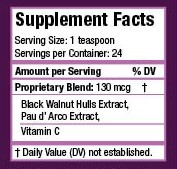 Other Ingredients: Distilled water, alcohol, may contain lactose. Less than .01% of alcohol and/or lactose are used in the production of this product.
Suggested Use: Take one teaspoon 3 times per day in between meals: mid-morning, mid-afternoon, and before bedtime. Hold in mouth 1 - 2 minutes before swallowing. For best results, maintain a candida free diet while using this product.
The 4 oz. bottle is suggested for travel, carrying in your purse or case, or keeping at work or school so that you may continue with your treatment. Two 8 oz. bottles are suggested for the full treatment.
Click to view entire label
---
A safe and holistic treatment. Each batch of n-fuzed Candida is laboratory tested to kill candida in vitro in just 3 days.
SHAKE WELL BEFORE USE. Store at room temperature, away from electromagnetic interference such as televisions, computers, and microwave ovens.
CAUTION: Consult your physician before use if you are pregnant, lactating, have a medical condition, or are taking any medication. Keep out of the reach of children
Frequently Asked Questions About n-Fuzed Candida
Q. I have used other Candida products before and I always get a severe healing crisis, or Herxheimer reaction. Will I also have a healing crisis with n-fuzed Candida?
A. A healing crisis, or Herxheimer reaction, happens because large quantities of toxins are released into the body from the Candida die-off faster than the body can remove them. It is impossible to say for sure, but many customers report to us that either their healing crisis was much less severe with N-fuzed Candida than other therapies they had tried in the past, or they experienced none whatsoever. This may be due to the fact that N-fuzed Candida stimulates the immune system to eradicate the Candida, rather than anti-fungal agents or enzymes that leave toxic residue from the dying yeast cells.
The Herxheimer Candida die-off symptoms usually include; fever, chills, headache, myalgia (muscle pain), and exacerbation of skin lesions. Other die-off symptoms include brain fog, fatigue, headaches, gas or other gastrointestinal distress, sweet cravings, itching, irritability, and more. The intensity of the reaction reflects the intensity of inflammation present. Drinking lots of fluids, taking a good quality probiotic, and dietary supplements such as Harmonic Innerprizes Paractin®MSM will help get you through this discomfort.
Q. How long do I need to take N-fuzed Candida before I feel results?
A. This is a difficult question to answer definitively because there are many factors involved in eradicating candida overgrowth and from the blood and internal tissues of the body. One factor is your diet. To be successful, most will require to do what is known as the "Candida Diet". The general premise of this diet is to avoid simple carbohydrates and sugars, which obviously includes fruits and sodas, alcoholic beverages, and yeasts. Avoid fermented foods and foods that are susceptible to mold. These foods will feed the candida.
Your environment is another factor. Due diligence must include eradicating any mold and mildew in your home and place of work. Yes, it is probably easier to get rid of candida in the desert than it is in a rainforest. N-fuzed Candida inhibits candida in vitro in just 3 days. But that only proves it can kill candida. A petri dish is vastly different than your body. In most situations, and depending on the factors stated above, highly significant relief may take several weeks.