Pronova Fish Oil
Pronova Omega-3 Fish Oil is your high-quality choice for this important supplement. Harmonic Innerprizes, Inc. uses a refining process that is a unique and patented system. It removes contaminants often present in fish—a main source of Omega-3 fatty acids that many avoid due to possible toxins from polluted oceans.
The Pronova Process
Typically, the process of formulating an Omega-3 supplement can result in oxidation and compromise freshness. However, the Pronova process inhibits oxidation, which results in maximum freshness and ultimate health benefits. In addition, each batch is tested for radiation exposure, a strict practice taken all the more seriously given the Fukashima disaster.
If you are concerned about the potential toxins present in regularly consuming fish, consider adding Pronova Fish Oil to your supplement regimen. Consuming fish is still recommended for the complete nutritional benefits of Omega-3 from a whole food source.
However, pairing both the supplement and the food source can minimize exposure to potential toxins while maximizing the benefits of a pure and safe intake of essential fatty acids
---
Benefits of Omega-3 Fish Oil
Scientific studies and organizations such as the American Heart Association have long recognized the need for and potential benefits of including a source of Omega-3 oil in a healthy diet. Omega-3 oil helps support healthy cholesterol levels, maintains the function of the cardiovascular system, and may improve brain health on various levels.
Additional benefits include:
Provide a healthy inflammation response
Support healthy joints and muscles
Boost and regulate mood fluctuations associated with everyday stress
Support healthy respiratory function
May improve cognitive function, memory, and focus
---
Further Reading
(Energetic Nutrition is providing the following links for informational purposes only. We are making no health or medical claims in reference to or connection with the specific product listed above.)
Omega-3 Fatty Acids and Asthma
Health Effects of Omega-3 Fatty Acids and Cardiovascular Risk Factors
Omega-3 Fatty Acids and Child & Maternal Health
Supplement Facts - Pronova Fish Oil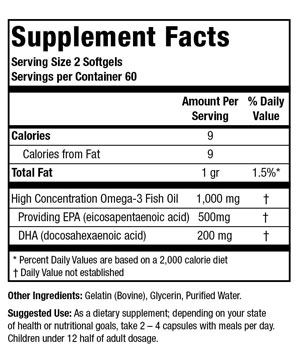 HYPOALLERGENIC: This product does not contain milk, eggs, Crustacean shellfish, tree nuts, peanuts, wheat, yeast, salt, artificial color, flavor, or fragrances.

Click here to see larger label.
Manufactured by Harmonic Innerprizes, Inc.
Suggested Use - Pronova Fish Oil
As a dietary supplement and depending on your state of health or nutritional goals - take two to four softgels with one or more meals per day. For children less than 12 years, take one or two softgels with one or more meals per day.
† These statements have not been evaluated by the U.S. Food and Drug Administration (FDA) or EnergeticNutrition.com. This product is not intended to diagnose, treat, cure or prevent any disease. The information provided on this site is for informational purposes only and is not intended as a substitute for advice from your physician or other health care professional or any information contained on or in any product label or packaging. You should not use the information on this site for diagnosis or treatment of any health problem or for prescription of any medication or other treatment. You should consult with a health care professional before starting any diet, exercise or supplementation program, before taking any medication, or if you have or suspect you might have a health problem, or are pregnant. When you receive an item, carefully read all labels, warnings, and directions before use. Actual product packaging and materials may contain more and/or different information than shown on this website.