EaseFemin - Menopausal Support
EaseFemin™ is the first all natural dietary supplement containing Isoƒactor™ a premium extract from exotic Brazilian Red Propolis that helps women reduce the difficult symptoms that often accompany menopause including hot flashes†, night sweats†, and irritability†. This is the first product in decades to offer a new source of isoflavones (or phytoestrogens), a great antioxidant for a younger you! EaseFemin™ can relieve symptoms even for women who have tried everything*! You no longer have to suffer.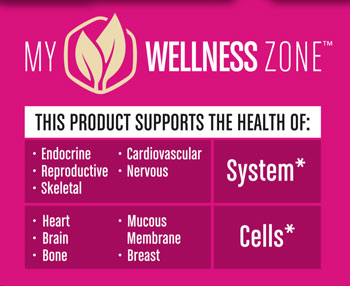 Relief for night sweats† , hot flashes† , and irritability†
Calming herbal blend – for a better night of sleep†
Bone support† – calcium & high potency Vitamin D3†
Estrogen free, 100% natural menopausal support
Contains a 1-month supply with 30 clear vegetable capsules, no fillers, safe, all natural.
Daily dosage is only one capsule a day!
Scientific studies support the superior absorption of aglycone isoflavones as compared to common isoflavones normally found in the majority of menopausal supplements and over the counter products.
May increase longevity†. Contains NaturaNectar's IsoƒactorTM from red propolis flavonoids with a stunning Total ORAC of 3,540 μmol TE/g. This is the highest score when compared to all foods on the USDA Database for ORAC. Fights free radicals!
---
Marilu Henner's "The Art of Living" Features EaseFemin™ Menopausal Support and Red Bee Propolis on WEtv!
NaturaNectar's EaseFemin Menopausal Support and its exclusive ingredient, the Brazilian Red Bee Propolis, are featured at Marilu Henner's "The Art of Living" show. It is a 5-minute documentary highlight.
NaturaNectar's EaseFemin Menopausal Support and its exclusive ingredient, the Brazilian Red Bee Propolis, are featured at Marilu Henner's "The Art of Living" show. It is a 5-minute documentary highlight.
---
Five Easy to Understand Benefits!
Of the five benefits, two are exclusive to EaseFemin™! Our ground-breaking Isoƒactor™ Flavonoids and Isoflavones from the extremely healthy Brazilian Red Propolis, and a proprietary calming herbal blend (valerian root, chamomile, and passionflower) especially formulated to help you deal with the mood swings associated with this stage of life, are only available in our product.† It also contains a high quality fermented soy that is not genetically engineered. A high potency Vitamin D3† plus calcium for bone support, complete this premium formula!†
Exclusive Isoƒactor™
Exotic Antioxidant
Standardized Aglycone Isoflavones
Proprietary Calming Herbal Blend*
Bone Support with High Potency Vitamin D3
The benefits of EaseFemin™ are great! Simple to understand, they are divided in 5 categories, with each one of them addressing a specific need for this important time of your life. The bottom line: The ONLY menopausal support supplement with the power of Brazilian Red Propolis AGLYCONE isoflavones combined with effective Soy AGLYCONE Isoflavones, a Proprietary Calming Herbal Blend, and HIGH POTENCY Vitamin D3 and Calcium for bone support!†
---
About NaturaNectar
NaturaNectar understands the nature and science behind the beehive and find their inspiration there. With the same focus and dedication of the honeybees to build sustainable and productive hives with their propolis, NaturaNectar is dedicated to bringing you wellness products imbued with the same protective propolis to help you live an active and healthy life. They commit their corporate resources to the vital research needed to ensure that honeybees continue to be nature's true marvels as well as supporting the surrounding communities that help harvest their bee propolis in a sustainable way.
Quality from the Source
NaturaNectar's sister company, ALMAR Apiary, is located in beautiful Brazil, the home of the verdant rain forests where the world's finest and purest bee propolis is harvested. Their ground breaking and effective products are sourced for you directly from the Brazilian honeybees and their bio diverse forests!
30+ Years Perfecting the Most Advanced Standardized Propolis Extracts
Through their partnership with PRC-Propolis Research Center, NaturaNectar's standardized, 100% water-based pure propolis extracts have become the foundation of their extensive product line. The mission of NaturaNectar is to protect and activate wellness naturally through their commitment to developing trusted, science-based, doctor-formulated products while being socially and environmentally responsible.
---
Supplement Facts - EaseFemin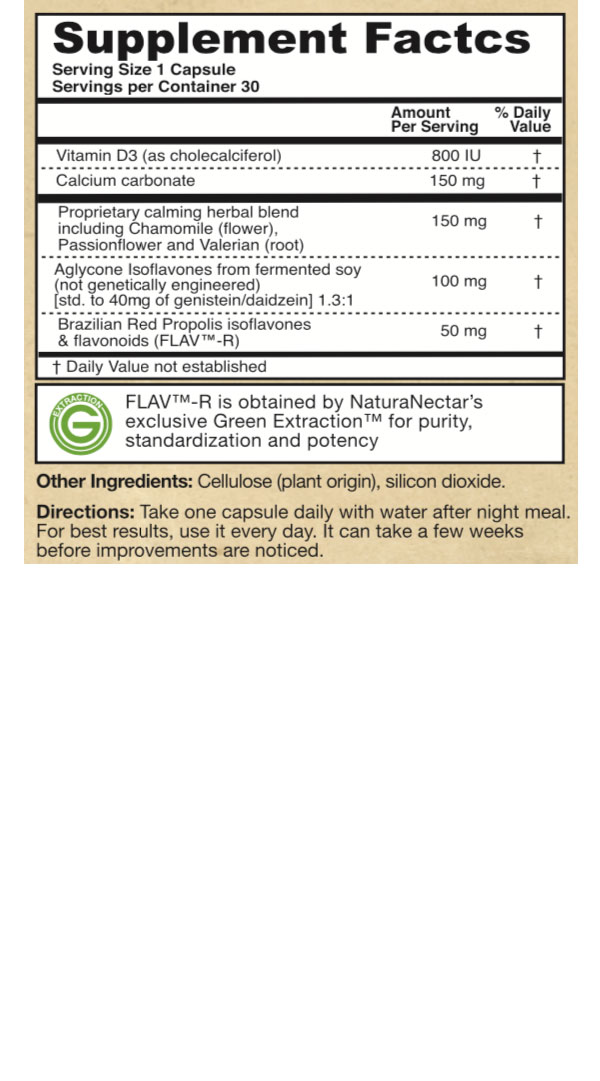 Quantity per Container: 30 vegetable capsules
Serving Size: 1 capsule
Servings per Container: 30
Other Ingredients: Cellulose (plant origin), silicon dioxide.
Contains: Fermented soy and bee propolis.
NaturaNectar EaseFemin contains no fillers. It is free of sugar, starch, wheat, gluten, yeast, milk (lactose), egg, shellfish, artificial preservatives, flavors, dyes or colors.
Directions: Take one (1) capsule daily with water after night meal. For best results use it every day. It can take a few weeks before improvements are noticed.
Caution: As with any nutritional supplement, it is advised to consult your physician before taking, especially if pre-existing conditions are present. Do not take if pregnant or breastfeeding. Use with caution if allergic to soy or bee products. Do not use if allergic to soy.
Store in a cool, dry place. Keep out of reach of children.
Developed and distributed in the USA by Natura Nectar LLC.