Throat Guardian - A Top Choice in Natural Oral Care
Bee Propolis for Oral and Respiratory Health
Nobody likes the occasional irritated throat or raspy voice while you get through your day. NaturaNectar Throat Guardian†™ provides natural soothing and delicious relief and supports respiratory, oral and dental health.†
NaturaNectar Throat Guardian†™ is an original time proven Scandinavian formula from Salomon Propolis® now brought to you by NaturaNectar in a convenient spray. Bee Propolis have been used by generations for the promotion of oral health. The exclusive PWE™-M (phenolic acids from Brazilian bee propolis) is a gentle yet effective water based all natural spray that provides the whole family with all the protection of bee propolis without the need of alcohol or other substances that may harm the mucous membrane.
Throat Guardian's PWE is Clinically Studied to:
Effectively support lung and bronchial health †
Promote a healthy inflammation response †
Be well tolerated with no adverse effects †
Reduces incidence of gast †
NaturaNectar Throat Guardian also delivers these added benefits:
Supports respiratory system health †
Gently supports oral health† not damaging the mucous membrane
Natural companion for daily oral hygiene
100% alcohol free. Good for the entire family (including seniors and children ages 2 and older)
---
First Clinically Studied Mouth Spray to Support Oral Health and Respiratory System
NaturaNectar's exclusive PWE-M™ water based extract is made of pure and standardized phenolics from a blend of the highest quality Brazilian bee propolis including Brazilian brown, green and red propolis.
A double blind, placebo controlled Clinical Study published in 2003 demonstrated that the exclusive PWE (Propolis Water Extract) is beneficial to respiratory health† as it supports lung and bronchial health†, promotes a healthy inflammation response†, and is well tolerated with no adverse effects.†
Throat Guardian is the first bee propolis based throat spray free of alcohol that can be enjoyed by the whole family in delicious natural Bee Berry flavor.
---
About NaturaNectar
NaturaNectar understands the nature and science behind the beehive and find their inspiration there. With the same focus and dedication of the honeybees to build sustainable and productive hives with their propolis, NaturaNectar is dedicated to bringing you wellness products imbued with the same protective propolis to help you live an active and healthy life. They commit their corporate resources to the vital research needed to ensure that honeybees continue to be nature's true marvels as well as supporting the surrounding communities that help harvest their bee propolis in a sustainable way.
Quality from the Source
NaturaNectar's sister company, ALMAR Apiary, is located in beautiful Brazil, the home of the verdant rain forests where the world's finest and purest bee propolis is harvested. Their ground breaking and effective products are sourced for you directly from the Brazilian honeybees and their bio diverse forests!
30+ Years Perfecting the Most Advanced Standardized Propolis Extracts
Through their partnership with PRC-Propolis Research Center, NaturaNectar's standardized, 100% water-based pure propolis extracts have become the foundation of their extensive product line. The mission of NaturaNectar is to protect and activate wellness naturally through their commitment to developing trusted, science-based, doctor-formulated products while being socially and environmentally responsible.
---
Supplement Facts - Throat Guardian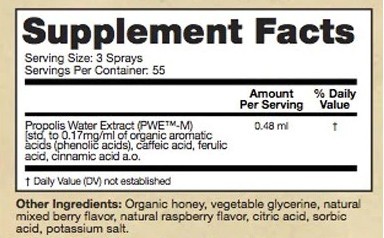 Amount per Container: 1 fluid ounce
Serving Size: 3 Sprays
Servings per Container: 55
Ingredients: Organic honey, vegetable glycerin, natural mixed berry flavor, natural raspberry flavor, citric acid, sorbic acid, potassium salt.
NaturaNectar Throat Guardian does not contains alcohol, sugar, starch, wheat, gluten, yeast, milk (lactose), egg, shellfish, artificial preservatives, flavors, dyes or colors.
Directions: Shake well before use. Apply three pumps two to four times a day into the throat and swallow. May be taken in conjunction with our other unique life solutions daily, or as recommended to help protect and activate your wellness naturally.†
To be used within one month of first use.
Caution: As with any nutritional supplement, it is advised to consult your physician before taking, especially if pre-existing conditions are present. Do not take if pregnant or breastfeeding. Use with caution if allergic to bee products.
Store in a cool, dry place. Keep out of reach of children.
Developed and distributed in the USA by Natura Nectar LLC.