Glow Matrix - Advanced Skin Hydrator by NeoCell
Glow Matrix™ provides scientifically advanced ingredients designed to internally hydrate the skin. This premium formula supports the skin's lipid barrier which helps to lock in moisture and smooth the skin. Like all NeoCell products, Glow Matrix™ is standardized to be both bio-available and bio-active for maximum absorption and efficacy. †
NeoCell's Platinum Matrix Collection is a premium line of neutraceuticals scientifically crafted to support collagen health on a system level, targeting specific wellness concerns for total body vitality. This premium line also includes Derma Matrix, a collagen skin complex, and Move Matrix, an advanced joint hydrator.
---
Ceramosides™ Ceramides
Ceramides are specific lipids naturally present in the skin essential to the lipid barrier or moisture barrier. Ceramides are a clincially-tested multi-functional nutricosmetic that fortify the skin's outermost layer and act as a water barrier to prevent the evaporation of moisture through the epidermis, keeping the skin hydrated and supple.
Cermaides also prevent the breakdown of the skin's collagen matrix by inhibiting collagenase, an enzyme that degrated collagen. † Ceramosides™ ceramides are clinically tested to increase smoothness, moisture and elasticity in just 15 days. †
Rapid Action Ceramosides™
Help improve skin moisture & elasticity †
Help reduce signs of aging in just 15 days † *
* Based on a randomized double blind vs placebo clinical study held on women.
---
Glow Matrix Blend™
A scientifically crafted blend of nutrients promoting hydration in the skin while combating free radicals for hydrated and glowing skin and a healthy collagen matrix. †
Key Ingredients: Hyaluronic Acid, Pine Bark Extract, Astaxanthin, Lutein & Coconut Water Powder
---
Video: NeoCell's Glow Matrix: Advanced Skin Hydrator
Do you want hydrated, youthful looking skin? Glow Matrix internally hydrates the skin and promotes a smooth, even complexion. This master formula works through multiple mechanisms of action. Clinically proven Cermosides® lock in moisture at the skin's surface and increases skin's elasticity.
---
About NeoCell
NeoCell has been developing and manufacturing all natural, premium anti-aging formulas for over 20 years and is the leading collagen brand in the world. Their products are naturally based, not synthetic, and are designed to promote youthful health, beauty and total body wellness. They manufacture their own products using carefully sourced food-grade raw materials and their facility exceeds all GMP standards. They strive to continuously bring the best to their customers – products that they and their own families are proud to use, made with Nutrients You Can Trust®.
Supplement Facts - Glow Matrix by NeoCell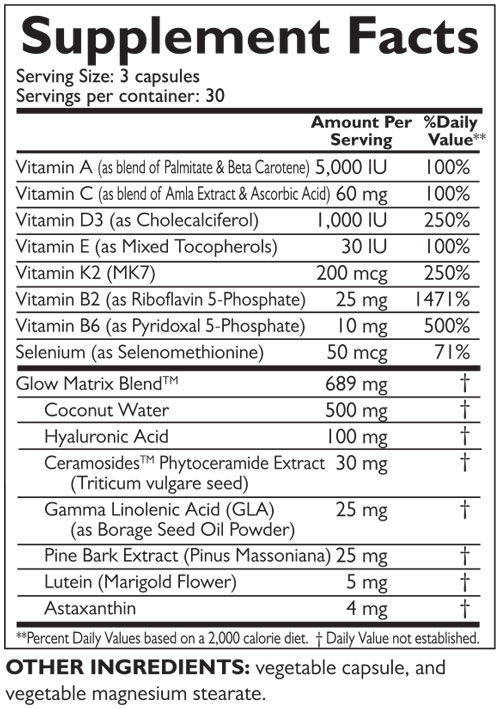 See FULL LABEL
Other Ingredients: Vegetable capsule and vegetable magnesium stearate.
Does Not Contain: Lactose, starch, yeast, or artificial flavors. GLUTEN FREE and NON-GMO.
ALLERGY WARNING: Contains wheat.
Warning: If you are pregnant, nursing, or have a medical condition, consult your physician before using this product. KEEP OUT OF REACH OF CHILDREN.
Store in a cool, dry place.
Manufactured by NeoCell Corporation.
Suggested Use - Glow Matrix by NeoCell
Take three (3) capsules daily.