Move Matrix™ - Advanced Joint Hydrator by NeoCell
Move Matrix™ provides scientifically advanced ingredients that work synergistically in the body to promote healthy joints. This premium formula supports joint flexibility, range of motion, and a healthy inflammatory response. Like all NeoCell products, Move Matrix is standardized to be bioactive for potent absorption and efficacy.†
Interlinked Type 2 collagen fibrils provide the structural framework of cartilage which, in turn, supplies the tensile strength to resist compression of the tissue. An inadequate or unhealthy Type 2 collagen matrix may weaken cartilage and increase the risk of damage, excessive wear or inflammation, and pain.†
NeoCell's Platinum Matrix Collection is a premium line of neutraceuticals scientifically crafted to support collagen health on a system level, targeting specific wellness concerns for total body vitality. This premium line also includes Derma Matrix, a collagen skin complex and Glow Matrix, an advanced skin hydrator.
---
Move Matrix Ingredient Highlights
Bioactive NeoCell Collagen™ Type 2
The key structural protein of joint cartilage, 60% of joint cartilage is made of Collagen Type 2. Bioactive NeoCell Collagen™ Type 2, derived from chicken sternum, provides numerous benefits. It has peptides that serve as building blocks for triggering natural collagen production, and is specific to cartilage tissue function, reproduction and maintenance. Naturally present hyaluronic acid and chondroitin provide all the components to encourage healthy cartilage and joint lubrication.† It has virtually no side-effects and is highly tolerable by most individuals.†
Hyaluronic Acid
A water-loving molecule that provides joint cushioning and lubrication, due to its ability to hold 1,000 times its weight in water. This helps to promote hydration inside tissues as well as the transportation of water between cells.†
Glucosamine, Chondroitin & MSM
A combination of building block nutrients that contribute to the formation of healthy connective tissue and are key components of supporting and maintaining healthy joint function.†
Move Matrix Blend™
A blend of antioxidants and herbal extracts that support a healthy inflammatory response in the joints.† The key ingredients include Turmeric, Resveratrol, Boswella Extract, Ginger, and Pine Bark.
---
Video: NeoCell's Move Matrix: Advanced Joint Hydrator
Anyone wanting an all-in-one joint formula should look no further than NeoCell's Move Matrix™!
---
---
About NeoCell
NeoCell has been developing and manufacturing all natural, premium anti-aging formulas for over 20 years and is the leading collagen brand in the world. Their products are naturally based, not synthetic, and are designed to promote youthful health, beauty and total body wellness. They manufacture their own products using carefully sourced food-grade raw materials and their facility exceeds all GMP standards. They strive to continuously bring the best to their customers – products that they and their own families are proud to use, made with Nutrients You Can Trust®.
Supplement Facts - Move Matrix by NeoCell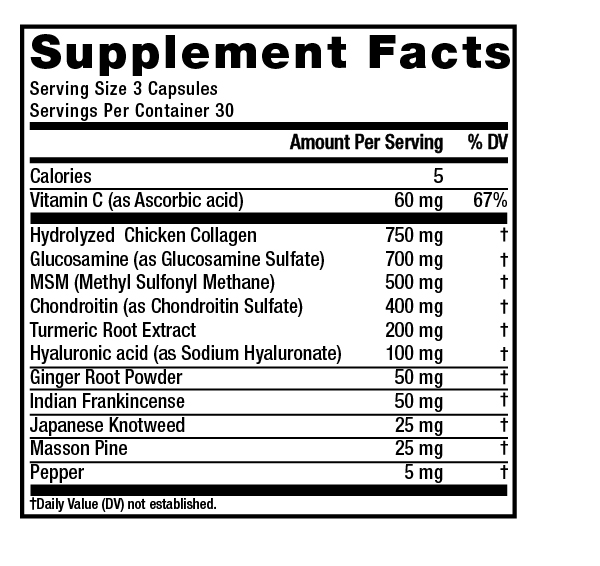 Other Ingredients: Vegetable magnesium stearate, silicon dioxide, and gelatin capsule.
Does Not Contain: Soy, wheat, lactose, or artificial flavors. Also does not contain common GE genes or proteins. GLUTEN FREE and NON-GMO.
MAY CONTAIN: May contain trace amounts of naturally occurring sulfite reside.
Warning: If you are pregnant, nursing, or have a medical condition, consult your physician before using this product. KEEP OUT OF REACH OF CHILDREN.
Store in a cool, dry place.
Manufactured by NeoCell Corporation.
Suggested Use - Move Matrix by NeoCell
Take five (5) capsules daily.
If you are also taking a Collagen Type 1 & 3 supplement, be sure to take it at a different time of day than Collagen Type 2 and don't take either with other types of protein. Taking collagen on an empty stomach or with a little juice will prevent your body from getting confused by the different proteins in food, and will ensure the collagen protein travels to cartilage effectively.