Super Collagen™ Powder - NeoCell
SUPPLY IS LIMITED. ONLY 4 PER CUSTOMER.
Collagen: The Body's Anti-Aging Protein
Collagen is a complex structural protein that maintains strength and flexibility throughout the body. As we age, collagen depletion can lead to common signs of aging in the skin, hair, nails, muscles, tendons, ligaments, and bones. NeoCell Collagen™ has been shown to increase skin hydration by an average of 21% and up to 50%, with 92% of test subjects experiencing increased skin hydration and 60% experiencing firmer, softer skin.
Collagen supplementation is one of the most fundamental things a person can do to prevent premature aging and promote youthful vitality. Understanding collagen begins with knowing that it's truly the glue that holds the body together; it is the building block for all our body's major systems.
Although abundant in our youth, the body's natural collagen production typically slows at a rate of 1.5% per year after the age of 25. As this collagen production slows, the collagen fibers in the body become brittle and begin to break down resulting in many of the tell-tale signs of aging, such as loose, flaccid skin, wrinkles, ligament and tendon injuries and osteoarthritis.†
Once taken orally, it can produce peptides that stimulate fibroblast cells to produce and reorganize new collagen fibers which, upon bundling, can build the mechanical strength of the connective tissues and strengthen the extracellular matrix.†
---
Collagen Types 1 & 3 Potential Benefits†
Super Collagen™ from NeoCell utilizes Collagen Types 1 & 3, which comprise 90% of the body's total collagen supply that makes up in the skin, hair, nails, ligaments, tendons, bones and muscles.† More specific benefits include:
Provides specific amino acids necessary to replenishing the body's collagen supply†
May help minimize fine lines & wrinkles†
May improve elasticity in the skin†
May correct weak, broken, split and damaged nail beds†
May thicken fine hair, add body and slow down hair loss†
May build and support bone matrix†
May repairs connective tissues for improved elasticity†
May improve circulation†
Promotes glycine to help build lean muscle to help burn fat while you sleep†
---
Collagen and Hyaluronic Acid's Role in the Body
This narrated presentation discusses collagen's role in the body and introduces NeoCell's potent collagen and hyaluronic acid supplements.
---
Super Collagen's™ Advanced Bio-availability
Super Collagen™ contains clinically studied BioActive NeoCell Collagen™ derived from pasture raised, grass fed, pharmaceutical food grade bovine collagen. It supports healthy collagen formation throughout the body. Using NeoCell's technologically advanced hydrolyzation process, large collagen molecules are enzymatically hydrolyzed into small, low molecular-weight peptides that are both bio-available and bio-active in the body.

† Based on 2014 NeoCell Collagen Study
Super Collagen™ Powder is water-soluble, neutral tasting, and mixes easily with water or juice. Taking Vitamin C with collagen is absolutely essential to collagen formation. Mixing the powder with a liquid containing Vitamin C, or using with a Vitamin C supplements is highly recommended. For your convenience, Super Collagen + C™ tablets are formulated with Vitamin C included.
---
The Science of Collagen
Super Collagen™ 1 & 3 is composed of nineteen amino acids and is a rich source of glycine, proline, alanine, hydroxyproline, and hydroxylysine. Hydroxyproline and hydroxylysine are two amino acids specific to collagen. These are not regularly found in amino acid supplements and are especially important to collagen production. Super Collagen™ genetically parallels the amino acid structure of the body's collagen and it's been shown that persons taking hydrolyzed Collagen Type 1 & 3 will experience 90% absorption into the blood stream where cellular changes occur. †
The amino acids listed below are for informational purposes only. They are the natural makeup of collagen, not added or combined.
These values represent average grams of amino acid per 100 grams of edible portion and may vary.

---
The Difference Between Collagen Type 1 & 3 and Collagen Type 2
Scientific studies show that more than 90% of the collagen found in the body is Collagen Type 1 & 3. The protein composition consists of nineteen amino acids responsible for the growth and maintenance of the body with unusually high percentages of glycine, proline, and hydroxyproline, which are all found in the skin and muscle.
For maximum benefits Collagen Type 1 & 3 and Type 2 should not be combined at the same time. Each type has different amino acid profiles and is produced by different cells in the body - Types 1 & 3 by fibroblasts and osteoblasts, and Type 2 by chondrocytes.
Research has shown that combining Type 1 and Type 2 collagens may reduce the stimulatory effects at the cellular level. While combining the types is not dangerous, taking the different types of collagen separately throughout the day for the supplements to be as bio-active and effective as possible. This gives each type of collagen the opportunity to stimulate the correct cells without interference by the incorrect type of collagen. Example: take Types 1 & 3 in the morning and Type 2 at night, or vice versa.
---
5 Reasons to Supplement with Collagen Types 1 & 3
Collagen Types 1 & 3 comprise 90% of the body's collagen


By age 40, collagen production is down by 25% and by age 60, it's down by 50%. In addition to age, lifestyle choices like consuming high amounts of sugar, exposure to environmental factors (smoke and unfiltered sunlight), and chronic stress can also deplete collagen reserves.†


One third of your body's protein comes from collagen, and that collagen production steadily decreases after the age of 25. So, taking your daily dose of collagen may be just as important as your multivitamin.†


Collagen is vital in the repair and maintenance of connective tissues. This improves elasticity in tendons and ligaments, increases circulation, and adds to improvements on the skin's surface, such as the promotion of wound healing.†


High-quality, hydrolyzed collagen supplements increase the body's ability to absorb and assimilate, which helps to stimulate natural collagen production.†
---
---
About NeoCell
NeoCell has been developing and manufacturing all natural, premium anti-aging formulas for over 20 years and is the leading collagen brand in the world. Their products are naturally based, not synthetic, and are designed to promote youthful health, beauty and total body wellness. They manufacture their own products using carefully sourced food-grade raw materials and their facility exceeds all GMP standards. They strive to continuously bring the best to their customers – products that they and their own families are proud to use, made with Nutrients You Can Trust®.
Supplement Facts - Super Collagen Powder by NeoCell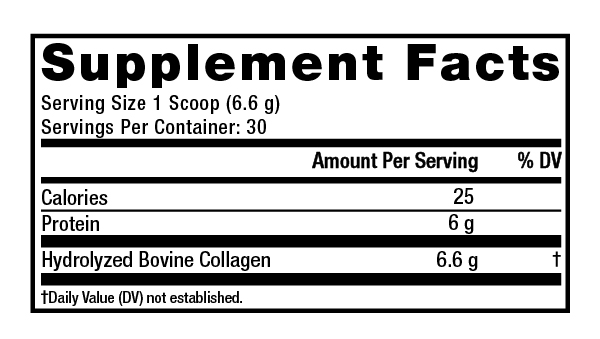 Ingredients: Super Collagen Type 1 & 3 derived from Grass Fed pharmaceutical food grade bovine collagen.
Does Not Contain: Soy, wheat, lactose, starch, corn, or artificial flavors. Also does not contain common GE genes or proteins. GLUTEN FREE. NON-GMO.
MAY CONTAIN: May contain trace amounts of naturally occurring sulfite residue.
Warning: If you are pregnant, nursing, or have a medical condition, consult your physician before using this product. KEEP OUT OF REACH OF CHILDREN.
Store in a cool, dry place.
Manufactured by NeoCell Corporation.