Total Care Probiotic by Probulin
Probulin® Total Care Probiotic For Adults is a unique combination of broad-spectrum digestive support. Each capsule of probiotics includes prebiotics and postbiotics for optimum digestive care. Features and benefits include:
Patent pending MAKTrek® 3-D Delivery System
12 Billion cfu† plus 8 Billion cfu† from fermented fruits and vegetables per capsule
15 probiotic strains
Prebiotic Inulin – food for the probiotic's survival
Shelf stable
Supports digestive health†
Supports digestive balance†
---
What are PREbiotics, PRObiotics, and POSTbiotics?
When you are looking for a PRObiotic, it is vital to make sure that it contains a PREbiotic & a PRObiotic with a scientifically validated delivery system such as the MAKTrek 3-D Probiotic Delivery system. If you really want to step it up and make sure that your PRObiotic will be most effective, make sure that it not only contains the PREbiotic, PRObiotic, and proven delivery system, but also POSTbiotics.

Probulin's Total Care Probiotic is a great choice for those who seek PRE-, PRO-, and POSTbiotics together. Live a healthier and more balanced you by making a well formulated PRObiotc part of your daily routine.
What is a PREbiotic?
A PREbiotic is a fraction of soluble fiber that is a food source for the PRObiotics. You may have heard how important fiber is in the diet. Well, the fact that PRObiotic bacteria need this PREbiotic fiber as a food source is a big reason for this importance. If PRObiotics are properly nourished, then they are healthier. And their health is important to your health.
What is a PRObiotic?
A PRObiotic is a microorganism (such as Lactobacilli or Bifidobacteria) that, when consumed as a food or dietary supplement, helps maintain and restore beneficial bacteria to the digestive tract. PRObiotics have been linked, by countless clinical studies, to support immune health, motility function, proper digestion of the food we eat, and so much more.
What is a POSTbiotic?
A POSTbiotic is defined as the compounds that are created by PRObiotics as they live and thrive in the digestive system. These POSTbiotic compounds created by the PRObiotics may include such things as vitamins like Vitamin K and B012, Amino Acids, Bacteriocins (natural compounds that destroy harmful organisms), Short Chain Fatty acids (that can become nourishment to the body and help to promote growth of beneficial probiotic bacteria in the body), other organic acids and metabolites that are vital to overall health, and so much more.
---
Why Do I Need a Probiotic?
Lifestyle challenges, such as diet, normal aging, overuse of medications, stress, environment, alcohol consumption, and much more may all contribute to digestive imbalance of essential beneficial bacteria such as bifidobacteria. Taking a daily probiotic is an important part of your routine. Research shows probiotics may support:
Gas and bloating challenges†
Occasional loose bowels and constipation challenges†
Better digestion†
Immune health†
Overall well-being†
---
MAKTrek® 3-D Probiotic Delivery System

All Probulin® Digestive Probiotics Ensure Optimal Delivery & Survival in the Gut
The MAKTrek® 3-D three-step system has scientifically demonstrated an ability to ensure a greater number of surviving beneficial probiotic bacteria — beyond other probiotic delivery systems.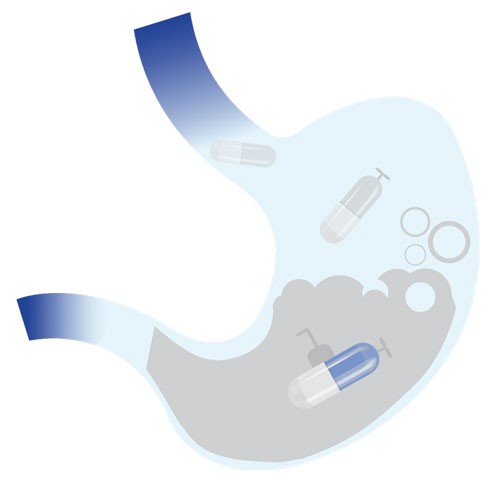 STEP #1 - Stomach Acid Protection
Using a sustainably harvested extract of brown seaweed, we have created a secondary barrier to protect the beneficial probiotic bacteria. We like to refer to this as our Seaweed Submarine. Even after the probiotic powder is exposed to 1.5pH stomach acid for 60 minutes, the probiotic bacteria inside the Seaweed Submarine are still dry and protected.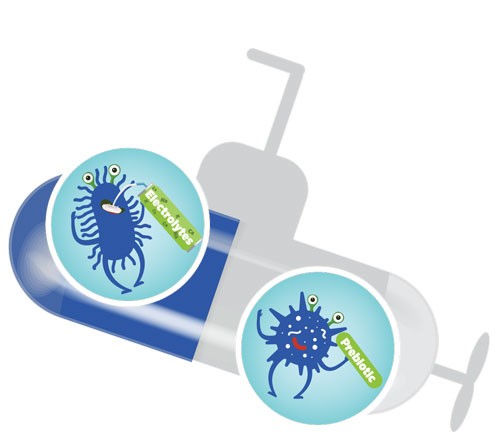 STEP #2 - Isotonic Delivery/Protection
Before activation, the beneficial probiotic bacteria are in a dormant state. These bacteria are activated by exposure to moisture, but once active, they can over-hydrate and die. Using our proprietary isotonic delivery step, we acheive activation with a more balanced hydration. This supports higher survival rates in probiotic bacteria.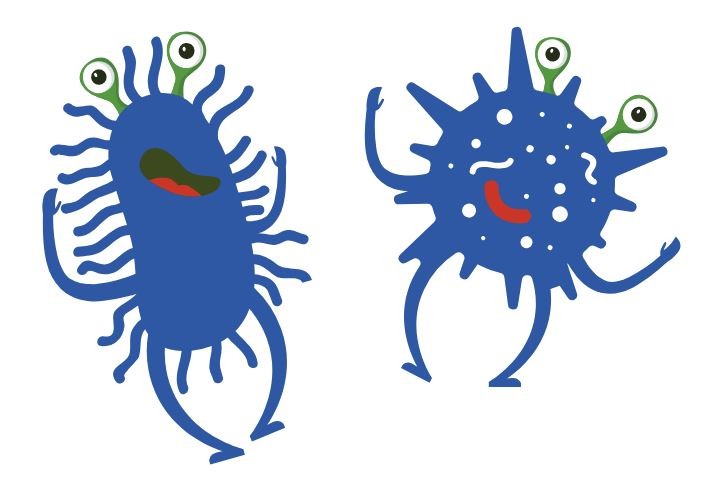 STEP #3 - Environmental Safeguards
All strains of probiotic bacteria used in Probulin® probiotics are resistant to many pressures created by environmental exposure to common everyday elements.
---
What Ingredients are in Probulin® Digestive Probiotics?
Seaweed Extract (Complex Marine Polysaccharides)
Sustainably harvested Brown Seaweed (Lessonia nigrecens) which in used to form our proprietary "Seaweed Submarine" which protects the valuable probiotics from stomach acid and bile.
Electrolytes Minerals
Key to the success of our MAKTrek 3-D Probiotic Delivery System, important electrolyt​e minerals help to support survival of our beneficial probiotic bacteria by helping create an isotonic ("balanced") water environment.
Lactobacilli Bacteria
Lactobacilli Bacteria are important beneficial probiotic bacteria that primarily live in the small intestines (Upper Gastrointestinal Environment). The most well-know is Acidophilous which has been studied in areas like immune support.
Bifidobacteria
Bifidobacteria are important beneficial probiotic bacteria that live primarily in the large intestines (Lower Gastrointestinal Environment. These particular type of probiotic bacteria have been studied in the area of support for challenges such as occasional loose bowels and constipation.
Prebiotics
Prebiotics are portions of soluble fiber that are the favorite food for beneficial probiotic bacteria. Prebiotics are important food resources for probiotics to ensure better survival. Prebiotic fiber can be found in Inulin as well as many other fruits, vegetables, seed & legumes.
---
How Do You Choose the Best Probiotic?
If you're looking for the ideal probiotic dietary supplement, you've probably noticed the broad array of brands and ingredients available in forms that include capsules, powders, and liquids. Trying to make direct comparisons between them can be confusing – unless you know what to look for. Here are some tips on what to look for:

Prebiotics Included
You want your probiotic to include a PREbiotic fiber. PREbiotics, like Inulin, are food for the probiotics and necessary for their survival.

More is Not Better
Taking more billions CFU (colony forming units) is NOT more effective. Evidence suggest more than 10-20 billion CFU may be unnecessary, especially if delivered properly.

Delivery is Critical
Effective delivery of probiotics to the gut is significantly more important than the CFU count. This is why Probulin® uses the scientifically validated MAKTrek® 3-D Probiotic Delivery System.
At Probulin, we understand the importance of delivering the most effective probiotic products to our customers. That's why we safeguard our products by using:
The correct CFU's (between 10 to 20 Billion CFU is all that is truly needed)
Only the most robust probiotic strains
Prebiotics, Like Inulin, that nourish our probiotics during transit and storage
---
About Probulin Products

All Probulin® products are formulated by board certified Naturopathic Doctor Jason Mitchell in conjunction with prominent gastroenterologist, founder of Kansas Medical Clinic and award winning author of Probiotics For Dummies, Dr. Shekhar Challa. At Probulin® we pride ourselves in producing the highest quality probiotic supplements on the market. Probulin® represents "The Next Generation in Probiotics.™"
Our products proudly feature the following:
Non-GMO
Shelf stable
A minimum of 7 to 12 strains of beneficial probiotic bacteria in every product
Includes the patent pending MAKTrek® 3-D Probiotic Delivery
Free of gluten, wheat, soy, dairy, and magnesium stearate
Vegetarian capsules
Environmentally friendly
Meets ASTM D-6400 test for biodegradability
Made with recycled materials
All beneficial probiotic strains used are documented strains. All formulations are created, and based, on scientific research. Each Probulin® product is designed to support digestive health and digestive balance.
Supplement Facts - Total Care Probiotic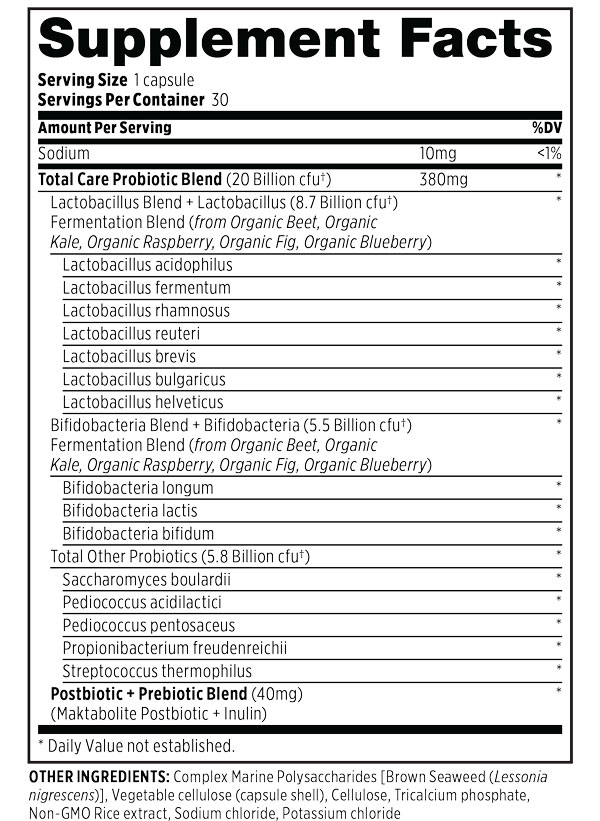 Serving Size: 1 Capsule
Servings Per Container: 30
Other Ingredients: Complex Marine Polysaccharides [Brown Seaweed (Lessonia nigrescens)], Vegetable Cellulose (capsule shell), Cellulose, Tricalcium phosphate, Non-GMO Rice extract, Sodium chloride, Potassium chloride
Does Not Contain: GMOs, Wheat, Gluten, Milk, Dairy, Eggs, Magnesium Stearate, Soy, Artificial Flavors, Artificial Colors, Artificial Sweeteners or Shellfish.
*CFUs at Best By Date as long as recommended storage conditions are maintained. Refrigeration is not required but may extend shelf life. Store in a cool, dry place at 72°F (22ºC) or below.
CAUTION: Do not exceed recommended dose. Pregnant or nursing mothers, children under 18, and individuals with a known medical condition should consult a physician before using this or any dietary supplement. Please keep all supplements out of children's reach.
Manufactured in the USA for Probulin, 3820 NW 14th Street, Suite A & B, Topeka, KS 66618
Click Supplement Facts box to see larger image.