Read Website Reviews

---
Read Product Reviews

To read product reviews written by our customers, find the product that you want to read about using our SEARCH feature, or our MENU system. Click on the "Reviews" link next to the picture of the product.

---
Write a Review
Thank you for placing an order with Energetic Nutrition. Your opinion counts - we want to know what you think about our products. Please take a few minutes to rate our products - available on each product page. It's fast and easy, and you don't have to log into your account.
Follow these simple tips for writing an effective review:
Be honest when you share your opinion.
Focus on the product and your individual experience using it
Write a title that reflects your review
Choose the number of stars that best reflects your opinion
Let people know if the product is a good value
Let others know if you would buy the product again
Describe what you liked or did not like about the product you purchased
Feel free to comment about other reviews when you agree or disagree with them
Step 1
Find the product that you want to review using our
SEARCH
feature or MENU system. Click on the "Review" link next to the picture of the product.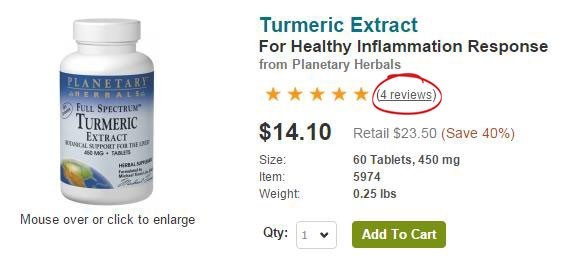 Step 2
Once you are in the Reviews tab, click on the "Add Your Own Review" button.

Step 3
Once the review page displays, make sure that you complete all the fields. Your email is only for verification purposes, and will never be displayed or shared.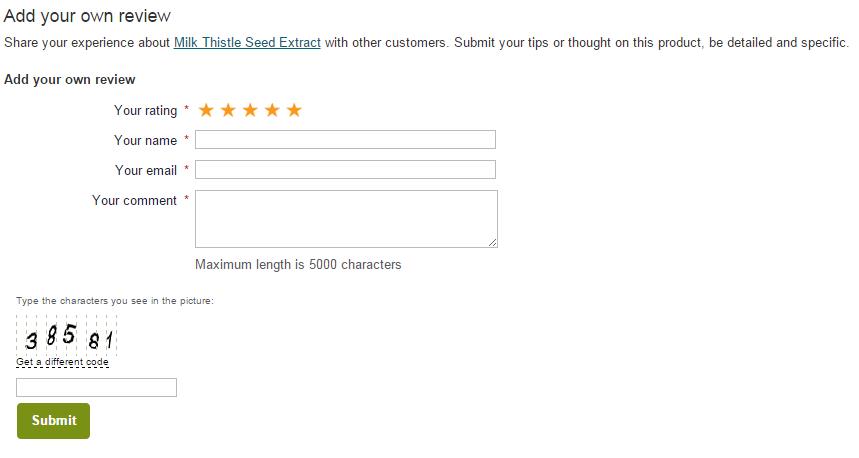 Step 4
After you fill out the required fields, enter the characters showing the CAPTCHA picture and click on the SUBMIT button at the bottom of the page. A staff member at Energetic Nutrition will review and approve your post within 48 hours.
Thank you for your review!
---
Review Publishing Policy
All submitted reviews are subject to the terms set forth in our Terms and Conditions and Privacy Policy
We reserve the right not to post your review if it contains any of the following types of content or violates other guidelines:
Obscenities, discriminatory language, or other language not suitable for a public forum
Advertisements, "spam" content, or references to other products, offers, or websites
Email addresses, URLs, phone numbers, physical addresses or other forms of contact information
Critical or spiteful comments on other reviews posted on the page or their authors
Unsubstantiated medical claims
If you have any issues related to your order or other customer service concerns, please do not submit this feedback through a product review. Instead, please Contact Us directly so that we may correct the problem. Thank you!