AllerFree from Pure Essence
In most traditional healing systems there is a strong link between healthy digestion and overall respiratory health.†
AllerFree™ is a combination of key enzymes and herbs that promote healthy digestion while also supporting healthy respiratory function. When taken between meals, the protease enzymes digest foreign proteins before the immune system can react to them.
AllerFree Enzyme Highlights
Amylase (vegetarian) - breaks down carbohydrates and may support a healthy inflammation response†
Protease (vegetarian) - breaks down proteins which in turn maximizes bioavailability and energy†
Cellulase (vegetarian) - breaks down plant fiber walls
Lipase (vegetarian) - breaks down fats, optimizing overall digestive health in combination with amylase and protease
AllerFree Herb Highlights
For added support, burdock root and stinging nettle leaf are included. Both are known to help support a healthy respiratory system. Plant histamines in stinging nettle are known for reducing seasonal symptoms†. Burdock root supports lymphatic drainage, an important factor for strengthening immune health†. In addition, quercetin helps to sustain a balanced immune response.†
AllerFree™ is designed to give your body the tools to naturally support healthy respiration. It is a safe, natural, and highly effective solution.†
---
About Pure Essence Labs
Pure Essence Labs was founded to offer high quality, safe and effective dietary supplement formulas to benefit human health, while demonstrating a firm commitment to planetary ecology. Pure Essence Labs strives to promote both holistic health and a holistic lifestyle. They create their formulas using an ideal balance of East-meets-West traditions and practices to work in synergy to support all body systems.
Pure Essence Labs Formula Check List
Hand-selected raw materials
Ingredients backed by sound science to serve a solid purpose in a particular formula
Acceptable to holistic health disciplines such as Ayurvedic and Traditional Chinese Medicine
Each ingredient tested 3x for identity, heavy metals, and toxins to ensure purity and safety
---
Further Reading
Supplement Facts - AllerFree from Pure Essence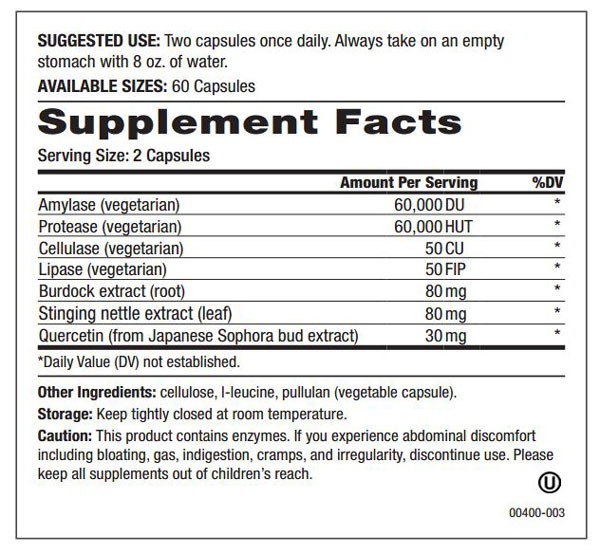 Serving Size: 2 capsules
Ingredients:
Amylase (vegetarian), Burdock extract, Cellulase (vegetarian), cellulose, Lipase (vegetarian), l-leucine, Protease (vegetarian), Quercetin (from Japanese Sophora bud extract, Stinging nettle extract
Other Ingredients: cellulose, l-leucine, pullulan (vegetable capsule)
This product does not contain artificial colorings or flavorings, GMOs, sugar, soy, yeast, dairy, gluten, or wheat and is suitable for vegetarians.
Storage: Keep tightly closed at room temperature
CAUTION: This product contains enzymes. If you experience abdominal discomfort including bloating, gas, indigestion, cramps, and irregularity, discontinue use. Please keep all supplements out of the children's reach.
Distributed by Pure Essence Labs, Las Vegas, NV
Suggested Use - AllerFree from Pure Essence
Two capsules once daily. Always take on an empty stomach with 8 oz of water.
† These statements have not been evaluated by the U.S. Food and Drug Administration (FDA) or EnergeticNutrition.com. This product is not intended to diagnose, treat, cure or prevent any disease. The information provided on this site is for informational purposes only and is not intended as a substitute for advice from your physician or other health care professional or any information contained on or in any product label or packaging. You should not use the information on this site for diagnosis or treatment of any health problem or for prescription of any medication or other treatment. You should consult with a health care professional before starting any diet, exercise or supplementation program, before taking any medication, or if you have or suspect you might have a health problem, or are pregnant. When you receive an item, carefully read all labels, warnings, and directions before use. Actual product packaging and materials may contain more and/or different information than shown on this website.