Energy Plus - Clean Lasting Energy
Each day, millions of Americans turn to caffeine, guarana, yohimbe and other stimulants to wake them up and get them through their day, unaware that such stimulants are further depleting their system. Stimulants do not build energy. They drain it while placing stress on the adrenal glands and cardiovascular systems.With this in mind, Pure Essence Labs created Energy Plus.
Energy Plus reflects the holistic reality that the body can produce abundant energy only when all its systems—and all its cells—work in perfect harmony. Through its blend of Superior Tonic Herbs, Energy Plus energizes and helps repair cells throughout the body, so that they can more efficiently make energy of their own.†
Traditional Chinese Medicine approaches energy more sustainably. Rather than providing frequent jolts to the adrenal system, it seeks to enhance the body's ability to extract the nutrients from which the body makes ATP, and to renew supplies of the "vital energies" known as Qi, Shen, and Essence. This is done by using specific herbs, called Superior herbs, which nourish the various organ systems and provide these vital energies.
EnergyPlus™ combines many of these Superior Herbs into an exquisite formula to simultaneously nourish all five of the major organ systems and the blood, and to provide the vital energies mentioned above. There is 1 gram of spirulina in each serving. The premade glycogen in spirulina is the molecule that the human body makes to store energy. The short-term effect is clean, clear energy you'll enjoy for hours with none of the jittery feeling or inevitable crash that follows when using stimulants. In the long term, this energy will continue to build as the whole food nutrition in EnergyPlus™ continues to support all your major systems, so that they can work together to produce, distribute, and store energy as nature intends.&dagger
---
Winner of the 2017 Vity Awards for Best Energy Formula!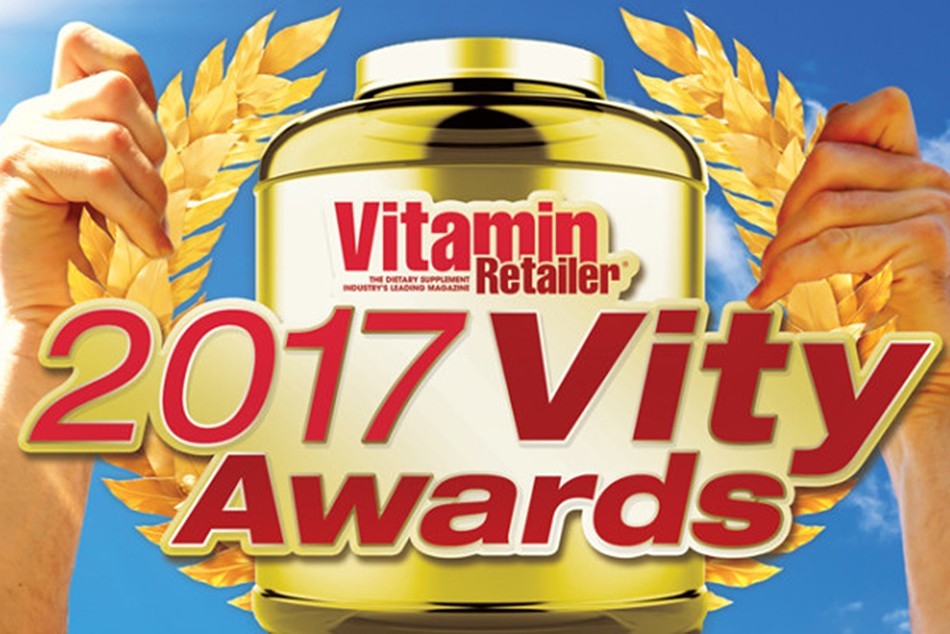 Each year, Vitamin Retailer Magazine polls retailers across the country in a random sampling to determine their best selling products in a variety of categories.
This is the third year Energy Plus has won the award.
---
Energy Plus: What it IS and What it ISN'T
While many people report they feel Energy Plus as a powerful energy surge, others say they experience it more by what it permits them to do. In other words, they note that when they would normally be "wearing down," they are instead good to go for at least several more hours. One of the most frequent characterizations reported are folks who say that before using Energy Plus they felt like a car that was "missing" on some of its cylinders, but after using Energy Plus they feel like a finely tuned engine.
What you will NOT notice is any stimulating effects. You will not feel the clammy perspiration or the "jitters" that often accompany caffeine, and you won't stay up all night cleaning the house three times because you can't sleep. You'll simply feel more vital, more vibrant, and more productive, yet also more relaxed. You might find that sleep comes more easily, and that you'll sleep more soundly. You'll also see improvements in many problems related to hair, skin and/or nails within weeks.†
Energy Plus is perfect for those who study or work into the wee hours. Ideal for those on the night shift, or for anyone who wears out before their work is done. Outstanding for construction workers, or for anyone else whose work is physically demanding. A real blessing for those with an energy sapping health challenge. It is also amazing for housewives or working mothers, for whom there are never enough hours in the day.
---
Why Do I Lack Energy?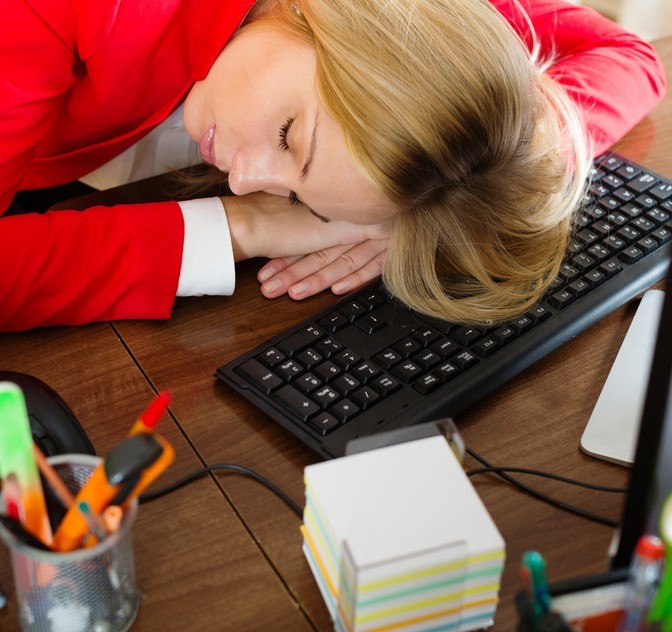 Energy is produced in cells throughout your body. Thus, if you are energy deficient, it is because your cells are not working as they should.
This means, of course, that the best way to increase energy levels is to improve cellular function. Yet, virtually all "energy" supplements (and many weight loss products) are made from stimulants that degrade cellular efficiency, while also taxing the heart, the kidneys, the adrenal glands, etc. Such stimulants include caffeine, sugar, guarana, and ephedra (ma huang).
Naturally, when you lack energy, you experience it as a problem in its own right—as something that keeps you from completing your daily routine. But, it's also a warning that more serious problems are on the way.
You see, every biological function depends on the actions of cells. Thus, it is impossible for digestion, circulation, elimination, detoxification, immunity, neurotransmissions or any other metabolic process to occur as it should unless the cells that drive it have the energy they need. So, obviously, energy is more than a convenience. It is an absolute requirement for future health.
Our capacity to produce energy is weakened when our cells are damaged by free radicals, trans-fatty acids, saturated fats, glycation, calcification, heavy metals, toxic chemicals, and so on. Thus, the key to restoring normal energy levels is to repair as much of the damage as possible, and to prevent further damage from being done.
---
What is Inherent Energy?
The "nutritional" energy the body makes from food is stored in a molecule called ATP (adenosine triphosphate). But, there is another, less obvious type of energy that holistic medical systems call vital, or inherent energy. In China, this energy is called Qi. In India, it is known as Prana. The ancient medical systems of Greece, Persia, and Judea knew it as Pneuma, Baraka, and Ruach.
By definition, inherent energy must exist before nutritional energy (ATP) can be made. Thus, lacking inherent energy compromises the body's entire energy production process.
In Traditional Chinese Medicine, any lack of inherent energy is called a deficiency, and is one of two types of imbalances that diminishes cellular efficiency. The other type is called excess, and occurs when cells are engorged with too much heat, cold, dryness, dampness, phlegm or toxins. Since excesses are more likely to occur when we lack inherent energy, it should be clear just how vital this energy is. Note: Free radicals, glycation, calcification and so on are Western terms for what Traditional Chinese Medicine calls excesses.
According to the world's great holistic traditions, every ache, pain, and discomfort we feel stems from either deficiency or excess, with the specific discomforts depending on the types of cells in which the deficiency or excess occurs. Because all cells produce energy, the first symptom most of us feel when these imbalances occur is a lack of energy. Thus, as mentioned, if we do not renew the cells' abilities to produce energy, we are in for worse problems in the future.
---
About Pure Essence Labs
Pure Essence Labs was founded to offer high quality, safe and effective dietary supplement formulas to benefit human health, while demonstrating a firm commitment to planetary ecology. Pure Essence Labs strives to promote both holistic health and a holistic lifestyle. They create their formulas using an ideal balance of East-meets-West traditions and practices to work in synergy to support all body systems.
Pure Essence Labs Formula Check List
Hand-selected raw materials
Ingredients backed by sound science to serve a solid purpose in a particular formula
Acceptable to holistic health disciplines such as Ayurvedic and Traditional Chinese Medicine
Each ingredient tested 3x for identity, heavy metals, and toxins to ensure purity and safety
---
Supplement Facts - Energy Plus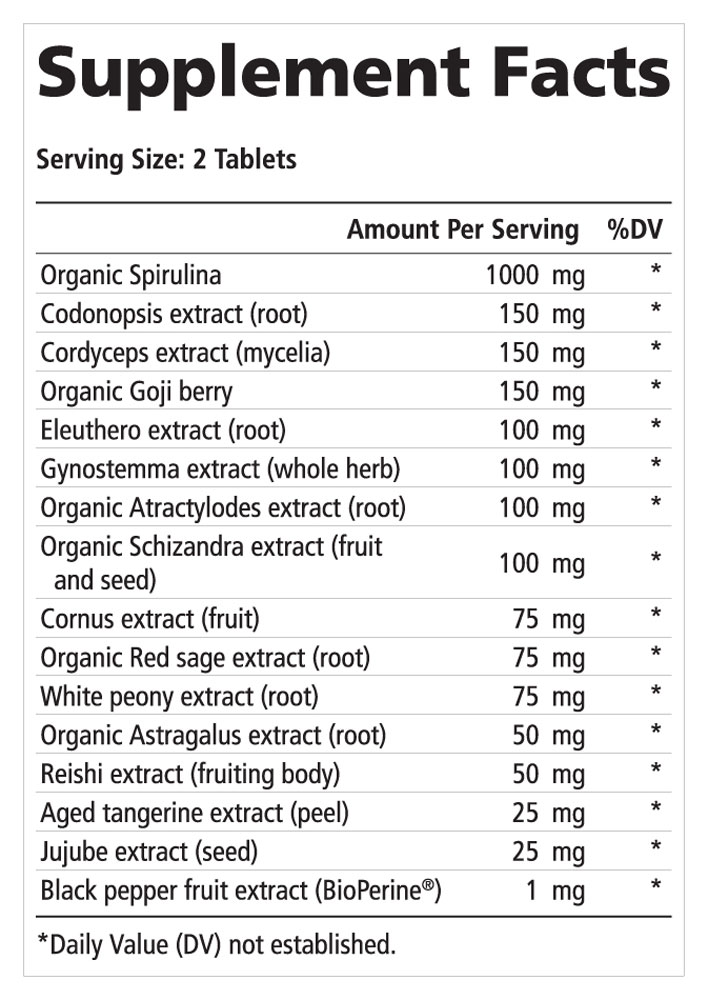 Serving Size 2 Tablets
Suggested Use: Two tablets, once daily.
Ingredients:
Aged citrus extract, Astragalus extract, Atractylodes extract, Black pepper fruit extract, Codonopsis extract, Cordyceps extract, Cornus extract, croscarmellose sodium, Eleuthero extract, Gynostemma extract, Jujube extract, l-leucine, Organic Goji berry, Organic Spirulina, Red sage extract, Reishi extract, Schizandra extract, silicon dioxide, stearic acid, White peony extract
Other Ingredients: silicon dioxide, croscarmellose sodium, stearic acid
Storage: Keep tightly closed at room temperature in a dry place.
Caution: Please keep all supplements out of children's reach.
BioPerine® is a registered trademark of Sabinsa Corp.
Distributed by Pure Essence Labs, Las Vegas, NV