MyPure Reishi 4X from Pure Essence
2250 mg Mushroom Nutrition - Minimum 25% Beta-Glucans
Reishi (Ganoderma lucidum) is often called the "King of Mushrooms." It is considered an adaptogen, meaning that it helps the body cope with stress, tension and fatigue, and to promote natural body balance. Its main immune enhancing compounds are Beta-D-glucans and Ganoderic acids. These Ganoderic compounds are unique to Reishi and may inhibit the release of histamines, support liver function, and serve as antioxidants.
Holistic health systems have long recommended Reishi to calm the mind, ease tension, sharpen concentration, and build willpower. Traditional Chinese Medicine regards it as one of the few foods/herbs that impart wisdom, and many people report that it promotes a sense of peaceful wellbeing.†
Herbalists consider Royal Red Reishi and Purple Reishi to be top of the line. MyPure™ Reishi 4X provides 250 mg of our regular 1:1 extract and 250 mg of our 8:1 extract. Both extracts are 100% non-GMO, certified organic Royal Red Reishi mushrooms that are hot water treated to rupture the mushroom cell walls and maximize nutrient bioavailability. The 1:1 powder provides rich levels of Beta-D-glucans while the 8:1 portion maximizes Ganoderic acids and other valuable compounds.†
Each capsule provides the equivalent of 2250 total milligrams of raw Reishi powder, or 4.5 times more than the 500 mg present in a capsule of our original, MyPure™ Reishi product. You simply cannot find a better Reishi product. †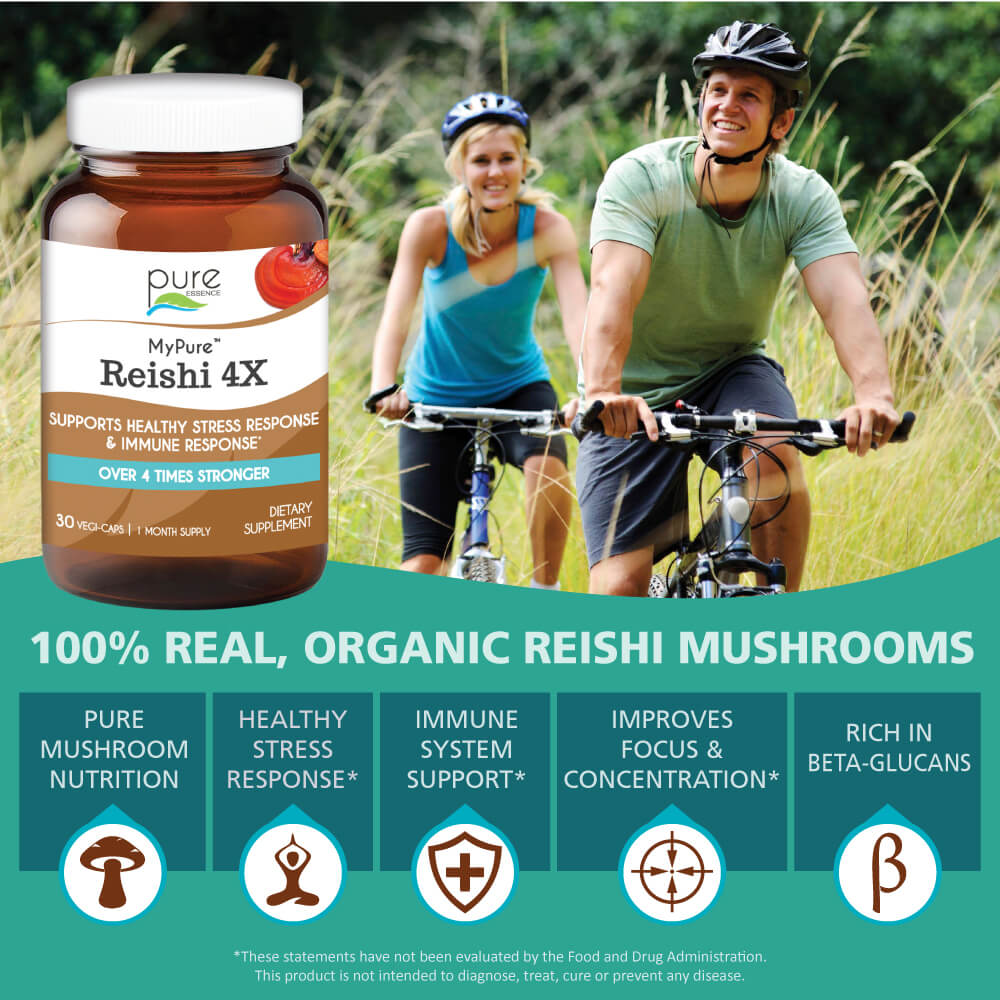 ---
MyPure™ Mushrooms
MyPure™ Mushrooms, from Pure Essence, are non-GMO, 100% certified organic whole mushroom fruiting body extracts, and nothing else. They contain guaranteed levels of Beta-(1,3)(1,6)-D-glucans and are rich in other whole mushroom nutrients. Every lot is lab tested for identity, potency, heavy metals, and pesticides.
MyPure™ Mushrooms are made in cGMP compliant facilities and meet even the most exacting regulatory standards. They are 100% compliant with California's Proposition 65. They contain no fillers, binders, flavorings, colorings, or common allergens of any kind. They are 100% pure mushroom extracts.
Our original formulas use only 1:1 hot water treated extracts. These provide maximum Beta-(1,3)(1,6)-D-glucans content. Our 4X formulas combine 1:1 extracts with stronger extracts. These provide lower (but still highly beneficial) levels of Beta-glucans, but with richer concentrations of other important nutrients.
The recommended usage for pure mushroom powder is 500 to 5000 mg per day. The low end is for those who use mushrooms to maintain general wellbeing. If you are in this group, our original MyPure™ Mushroom formulas are perfect. Keep in mind that because real mushrooms provide far more mushroom nutrition than mycelia grown on grain, each capsule of MyPure™ Mushrooms equals at least two capsules of mycelium grown on grain.†
The higher usage range is for those who want maximum mushroom benefits. If this is you, you'll want our MyPure™ 4X formulas. Each capsule of these formulas provides the equivalent of 2250 to 2400 mg of whole mushroom nutrition (up to 10 capsules of mycelia on grain).†
No matter which formula you choose, you can be sure you are getting the cleanest, purest mushroom nutrition available anywhere.†
---
The Power of Mushrooms
Throughout history, mushrooms have been important foods and folk medicines. Today, science is confirming that they support immune function, cholesterol modulation, cell protection, nerve growth stimulation, and major organ function.
Mushroom benefits stem from the phytochemical nutrients they contain. The most prominent of these are Beta-(1,3)(1,6)-D-glucans. Ergothioneines, antioxidants, ergosterol, anti-inflammatory sterols, lipids, glycosides, chitins, diterpenes, and triterpenes are also important. As the popularity of holistic health systems has spread across America and Europe, the demand for mushroom supplements has grown exponentially. Most "mushroom" supplements, however, are not mushrooms at all.
MUSHROOMS OR MYCELIUM?
Plants have many parts. Among these are roots, bark, leaves, flowers, and fruits. Mushrooms are like the "fruits" of organisms called basidiomycetes. The "root like" parts of basidiomycetes are mycelia. These mycelia grow beneath the ground, but are extremely fragile. For this reason, they are nearly impossible to harvest.
Just as an orange is different from the root of the tree on which it grows, mushrooms differ from mycelia. Mushroom and mycelia supplements are both common in the United States. They are often confused because, until recently, supplement manufacturers were not required to list on the label the part of an organism their supplement contains. In those years, many mycelia supplements were labeled as "mushrooms." Unfortunately, it gets worse.
Mycelia products, as sold in the United States, are not even all mycelia. They are, instead, as little as 30% mycelia with up to 70% rice, wheat, corn, or rye. This is because American mycelia is grown on grain and cannot be separated from it at harvest.
SO, WHICH IS BETTER?
The only reason to use a mushroom supplement is to obtain the nutrients it contains. Real mushrooms provide extremely high levels of Beta-(1,3)(1,6)-D-glucans. Mycelia supplements contain only fractions of these amounts. Instead, they contain alpha glucans, better known as common starch. The table to the right shows the results of laboratory studies that measured levels of Beta-glucans and starch from samples of several species of real mushrooms and the same species of mycelia grown on grain. These studies provide striking evidence of the superiority of real mushrooms. Real mushroom extracts are better absorbed than simple mushroom powders.
SIMPLE POWDERS OR EXTRACTS?
The table shows that real mushrooms, also known as "mushroom fruiting bodies," are nutritionally superior to mycelia. However, nutritional content is only one part of the equation. Most mushroom nutrients are locked within the mushroom's cell walls. Because of this, the best mushroom products use special extraction processes that rupture the cell walls and make the nutrients available. This means that, just as real mushrooms are more nutritious than mycelia, real mushrooms extracts are better than simple mushroom powders.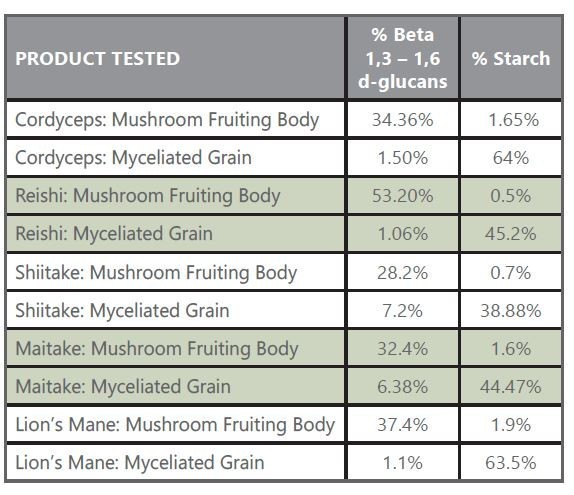 HOW DO I KNOW WHAT I'M BUYING?
Until recently, it was nearly impossible to know from a label whether a product contains real mushrooms or mycelium. Federal regulations solved that by requiring companies to list the part(s) of the organism their products contain. Most mycelium products now list their ingredients as "mycelium," "mycelia," "myceliated rice," "myceliated grain," etc. You'll also see labels that say, "mycelium and fruiting bodies," "full spectrum" or "full life cycle." What you want is 100% mushroom extract, or 100% mushroom fruiting body extract. This assures that you have a real mushroom product with maximum nutrient bioavailability.
---
About Pure Essence
Pure Essence was founded to offer high quality, safe and effective dietary supplement formulas to benefit human health, while demonstrating a firm commitment to planetary ecology. Pure Essence strives to promote both holistic health and a holistic lifestyle. They create their formulas using an ideal balance of East-meets-West traditions and practices to work in synergy to support all body systems.
Pure Essence Formula Check List
Hand-selected raw materials
Ingredients backed by sound science to serve a solid purpose in a particular formula
Acceptable to holistic health disciplines such as Ayurvedic and Traditional Chinese Medicine
Each ingredient tested 3x for identity, heavy metals, and toxins to ensure purity and safety
---