Real-Zymes PALEO from Pure Essence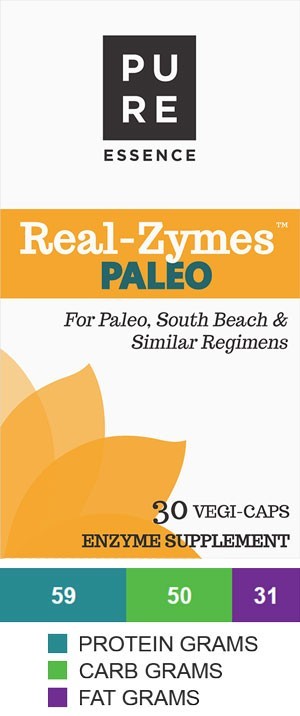 Real-Zymes™ Paleo digestive enzymes are specifically for those eating a Paleo diet. The Paleo Real-Zymes™ are paleo enzymes formulated with 26 ingredients including enzymes and other nutrients to improve digestion for Paleo diets. Digestive enzymes are not interchangeable. Proteases digest only proteins, carbohydrases break down only carbohydrates, and lipases reduce only fats. Thereby, there is simply no way that "one size fits all" can work.
Real-Zymes™ are the most advanced enzyme supplements ever offered. They are the world's only diet specific enzyme supplements customized to your own personal needs. Our paleo digestive enzymes break proteins, carbohydrates, and fats down in every way that digestive enzymes can, and thus assure the quickest, most complete and most efficient digestion possible. They work at pH levels throughout the digestive tract. They are the best possible replacement for the lack of enzymes in foods and for those we might no longer make enough of ourselves and specifically designed to be the best paleo digestive enzymes which address how you eat. †
---
Real-Zymes™: Your Personalized Enzyme Solutions
From Paleo to Keto to Vegan to Omnivore (and about a hundred others), Americans follow many eating plans. Fortunately, each of these fits into one of nine major, macronutrient profiles. By applying proprietary enzyme activity algorithms to these profiles, we've perfected the world's first personalized digestive enzyme supplements. This means that you can now enjoy an enzyme supplement built specifically for the foods you actually eat. They are called Real-Zymes™, and one is perfect for you.
Personalization, however, is only the beginning of the Real-Zymes™ story. Real-Zymes™ are also state of the art in every other way, providing:
Every enzyme required for complete digestion of proteins, carbs, and fats. †


TotalTrac™ protease, amylase, lipase and cellulase blends, which function at the widest possible range of pH levels and combine several enzymes for the most efficient digestion possible. †


Activ8™ trace mineral complex, because trace minerals may increase enzyme activity. †


ATPower, featuring ATP with zinc and magnesium to energize your digestive process. †


Bacillus subtilis, a remarkably hardy probiotic that survives the digestive process.


Both "endo" and "exo" proteases for the fastest possible protein digestion.


L-Glutamine to nourish the brush border villi of the small intestine. †
---
About Pure Essence
Pure Essence was founded to offer high quality, safe and effective dietary supplement formulas to benefit human health, while demonstrating a firm commitment to planetary ecology. Pure Essence strives to promote both holistic health and a holistic lifestyle. They create their formulas using an ideal balance of East-meets-West traditions and practices to work in synergy to support all body systems.
Pure Essence Formula Check List
Hand-selected raw materials
Ingredients backed by sound science to serve a solid purpose in a particular formula
Acceptable to holistic health disciplines such as Ayurvedic and Traditional Chinese Medicine
Each ingredient tested 3x for identity, heavy metals, and toxins to ensure purity and safety
---
Supplement Facts - Real-Zymes PALEO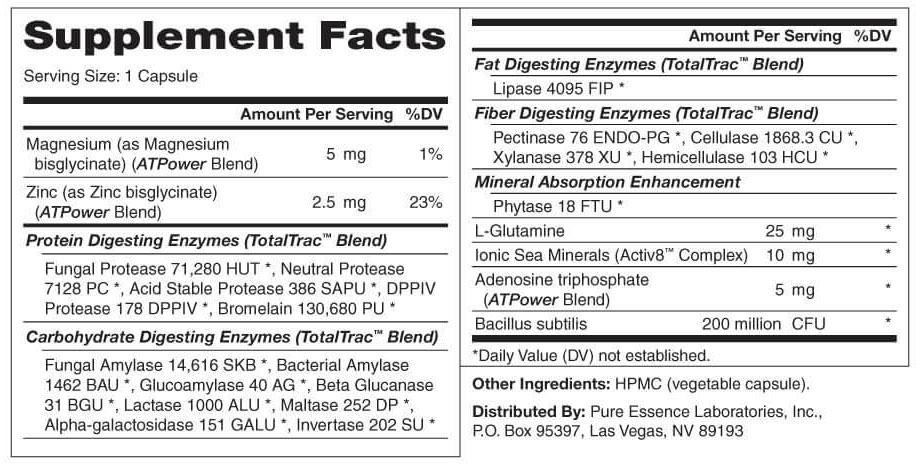 Serving Size: 1 Capsule
Ingredients: Real-Zymes™ Paleo Enzymes Ingredients, Acid Stable Protease, Adenosine Triphosphate (Atpower Blend), Alpha-galactosidase, Bacillus Subtilis, Bacterial Amylase, Beta Glucanase, Bromelain, Cellulase, Dppiv Protease, Fungal Amylase, Fungal Protease, Glucoamylase, Hemicellulase, Invertase, Ionic Sea Minerals (Activ8™ Complex), Lactase, L-glutamine, Lipase, Magnesium (as Magnesium Bisglycinate, Atpower Blend), Maltase, Neutral Protease, Pectinase, Phytase, Tapioca Dextrin, Xylanase, Zinc (as Zinc Bisglycinate, Atpower Blend)
Other Ingredients: HPMC (vegetable capsule)
Contains No: artificial colorings or flavorings, GMOs, sugar, soy, dairy, gluten, wheat, peanuts, tree nuts, or shellfish, and is suitable for vegetarians and vegans.
Storage: Store tightly closed in a cool, dry place.
CAUTION: Please keep all supplements out of children's reach.
Distributed by Pure Essence Labs, Las Vegas, NV
Suggested Use - Real-Zymes PALEO
One capsule once daily. Preferably 15 minutes before a meal.