At Ease PM - Redd Remedies

Promotes Restful Sleep
The stressors and activity of our daily lives can sometimes disrupt a good night's sleep. Sleep plays an important role in your physical health. Getting a restorative night's sleep helps both the body and the mind. Lack of sleep can negatively affect the body during the day and disrupt focus, concentration, hormone balance, appetite, and even the immune system. The key to restful sleep begins with balance during the day.
At Ease PM™ is designed to support relaxation and calm before bedtime and to help you fall asleep and stay asleep during times of occasional sleeplessness. You will wake up renewed, refreshed, and ready to tackle your day.
At Ease PM™ has 3 key functions:
Supports relaxation and calm at bedtime†
Supports healthy brain function†
Promotes restful sleep for occasional sleeplessness†
---
Key Ingredients of At Ease PM
Vitamins B1, B6 and niacin support healthy neurotransmitter function.†
B Vitamins are necessary for the production and function of neurotransmitters.† Nearly all B vitamins are involved in brain function and emotional health.
Magnesium supports normal muscle relaxation and brain function.†
Chronic stress depletes magnesium in the body, and 50% of Americans do not meet the RDI of 400mg daily. Magnesium is a critical co-factor in many metabolic reactions, including neurotransmitter production.
GABA, a calming neurotransmitter, supports restful sleep.†
L-Theanine promotes relaxation and reduces stress.†
5-HTP supports healthy neurotransmitter function.†
The carefully balanced amino acid profile of 5-HTP, GABA and L-Theanine in At Ease PM™ supports healthy neurotransmitter balance, promotes relaxation and supports restful sleep during times of occasional sleeplessness.
California Poppy, Hops and Lemon Balm support relaxation and calm at bedtime.†
California poppy, hops and lemon balm have a long tradition as botanicals used for restful sleep.†
---
About Redd Remedies
Redd Remedies carefully chooses herbs, plants, vitamins, and minerals used in Traditional Chinese Medicine, Ayurvedic medicine, and European traditions which are also supported by modern day research and science to deliver natural solutions to health. They use wholesome clean food, targeted high quality supplements, and qualified doctors with expertise in natural medicine to address health from a whole body perspective. Redd Remedies offers:†
Quality, purity, and potency guaranteed through expiration
All-natural ingredients
Superior quality control
Supplement Facts - At Ease PM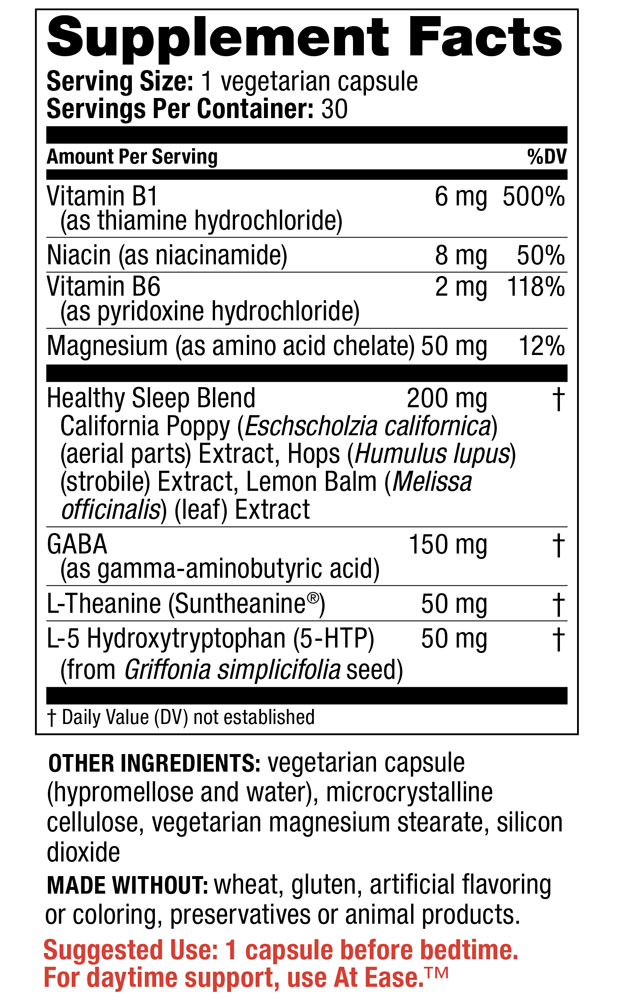 Other Ingredients: vegetarian capsule (hypromellose and water), mycrocrystalline cellulose, vegetarian magnesium stearate, silicon dioxide
Contains No: Sugar, sodium, yeast, wheat, gluten, artificial flavoring or coloring, preservatives or animal ingredients.
Warning: If you are pregnant, nursing, have a medical condition, or are taking prescription drugs, consult your physician before using this product. KEEP OUT OF REACH OF CHILDREN.
Store in a cool, dry place.
Manufactured by Redd Remedies.
Suggested Use - At Ease
Suggested Use: 1 capsule before bedtime.
For daytime support use
AtEase