At Ease

Naturally Relaxing and Uplifting†
At Ease™ is a naturally relaxing blend of herbs and minerals that promote focus and concentration while reducing stress and nervous tension.The stress of a busy lifestyle, endless to do lists, and everything you need to keep track of can take a toll on your body and mind. Imagine being able to navigate through your day with a sense of calm, clarity and focused thoughts with your brain functioning at its very best.
When our bodies must respond to ongoing stress, we don't have a chance to rest in between natural, fight-or-flight responses. The result can lead to feelings of nervousness, lack of focus, fear, and difficulty concentrating. You may also experience symptoms like a racing heart, shakiness, and physical annoyances. Even the simplest of tasks can feel overwhelming. It can also affect your ability to fall and stay asleep.
At Ease™ is a calm and relaxing formula that doesn't dull the senses with side effects that are harmful to your body. Formulated with powerful, balancing, non-sedative ingredients, supercharged with amino acids, adaptogens, B vitamins and magnesium, At Ease™ reduces stress, promotes relaxation and alertness creating a long lasting resistance to emotional stressors.
Alert Relaxation With 4 Key Outcomes:
promotes neurotransmitter balance†
promotes healthy brain function†
supports adrenal health†
addresses the physical issues that go along with anxiety†
---
Key Ingredients
AMINO ACID PROFILE
The 5-HTP, GABA, and L-Theanine amino acid profile supports brain and body with neurotransmitters that improve mood, reduce stress, and increase relaxation and alertness.
GABA (as gama-aminobutyric acid) - amino acid and key neurotransmitter, controlling mood changes, concentration, attentiveness, and relaxation.†
L-Theanine (Suntheanine®*) - amino acid indicated in research to promote a state of relaxation while maintaining daytime alertness.†
L-5 Hydroxytryptophan (5-HTP from Griffonia simplicifolia seed) - amino acid which promotes proper brain serotonin levels.†
OTHER KEY NUTRIENTS AND HERBS
Bacopa (Bacopa monnieri) Leaf Extract - a traditional Ayurvedic herb clinically studied to support healthy emotions.†
Choline Bitartrate - necessary for brain health and function.†
Schizandra Berry Extract - an adaptogenic herb that promotes increased resistance to physical and emotional stress.†
B-Vitamins - crucial to thousands of metabolic reactions related to brain function and emotional health, including the production of neurotransmitters.†
Magnesium - chronic stress depletes the body's magnesium stores. Studies suggest a correlation between low magnesium levels and anxiety and depression. Magnesium helps promote relaxation of the skeletal muscles and smooth muscles of the blood vessels.†
*Suntheanine® - a patented form of L-Theanine, is a trademark of Taiyo International, Inc.
---
About Redd Remedies
Redd Remedies carefully chooses herbs, plants, vitamins, and minerals used in Traditional Chinese Medicine, Ayurvedic medicine, and European traditions which are also supported by modern day research and science to deliver natural solutions to health. They use wholesome clean food, targeted high quality supplements, and qualified doctors with expertise in natural medicine to address health from a whole body perspective. Redd Remedies offers:†
Quality, purity, and potency guaranteed through expiration
All-natural ingredients
Superior quality control
Supplement Facts - At Ease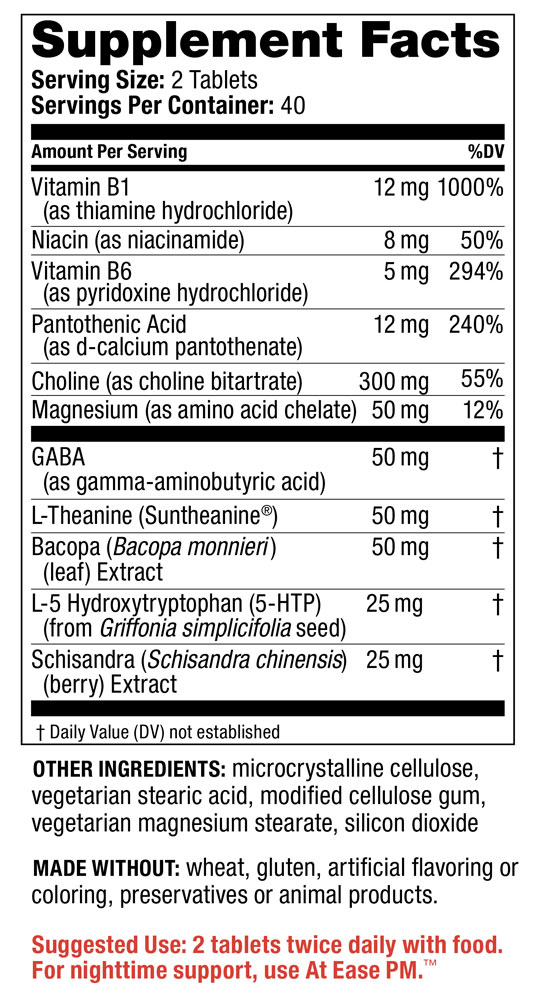 Contains No: Yeast, wheat, gluten, dairy products, artificial flavoring or coloring, preservatives, or animal ingredients.
Warning: If you are pregnant, nursing, have a medical condition, or are taking prescription drugs, consult your physician before using this product. KEEP OUT OF REACH OF CHILDREN.
Store in a cool, dry place.
Manufactured by Redd Remedies.