Children's Sinus Support by Redd Remedies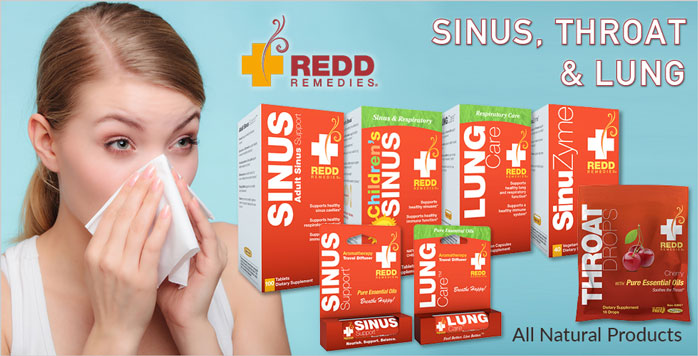 Children's Sinus Support™ helps address and support sinus and bronchial health in children with easy to digest chewable tablets. It doesn't contain potentially harmful stimulants found in many over-the-counter drugs. This chewable tablet is sweetened only with xylitol, which is natural, safe and has been shown in research to promote healthy teeth.†
Children's Sinus Support addresses the 3 body systems involved in sinus and bronchial health:
Immune System - modifies the release of histamine, which results in normal mucosal secretions and healthy immune function.†


Respiratory System - works to balance the function of the sinus and bronchial systems and clears and soothes the mucus membranes of the sinuses and the lungs.†


Digestive System - helps to restore the balance of good bacteria in the digestive tract and to maintain healthy immune function.†
---
Key Ingredients
Children's Sinus Support™ ingredients are supported by thousands of years of tradition and backed by science to support healthy sinus, bronchial and immune function.†
Vitamin C - As the most abundant antioxidant found within airway surfaces, it promotes a normal histamine response and healthy immune function.†


Quercetin - Shown to promote normal histamine levels while supporting immune health in the body.†


Bromelain - A proteolytic enzyme from pineapple that thins mucus secretions and helps clear the airways.†


Marshmallow Root Extract - Used for centuries for soothing throats and tummies, this gentle root-based herb is non-stimulating and effective†


Stinging Nettle - supports a healthy inflammatory response and promotes sinus health during all seasons.†


Barberry - promotes a healthy digestive system and promotes healthy immune system function.†


Eyebright - soothes occasionally irritated eyes.†


Ivy Leaf - promotes healthy mucus membranes and defends the bronchial and lung passageways against occasional irritation.†


Xylitol - is a natural sweetener shown in research to promote healthy teeth.†
---
---
About Redd Remedies
Redd Remedies carefully chooses herbs, plants, vitamins, and minerals used in Traditional Chinese Medicine, Ayurvedic medicine, and European traditions which are also supported by modern day research and science to deliver natural solutions to health. They use wholesome clean food, targeted high quality supplements, and qualified doctors with expertise in natural medicine to address health from a whole body perspective. Redd Remedies offers:†
Quality, purity, and potency guaranteed through expiration
All-natural ingredients
Superior quality control
Supplement Facts - Children's Sinus Support by Redd Remedies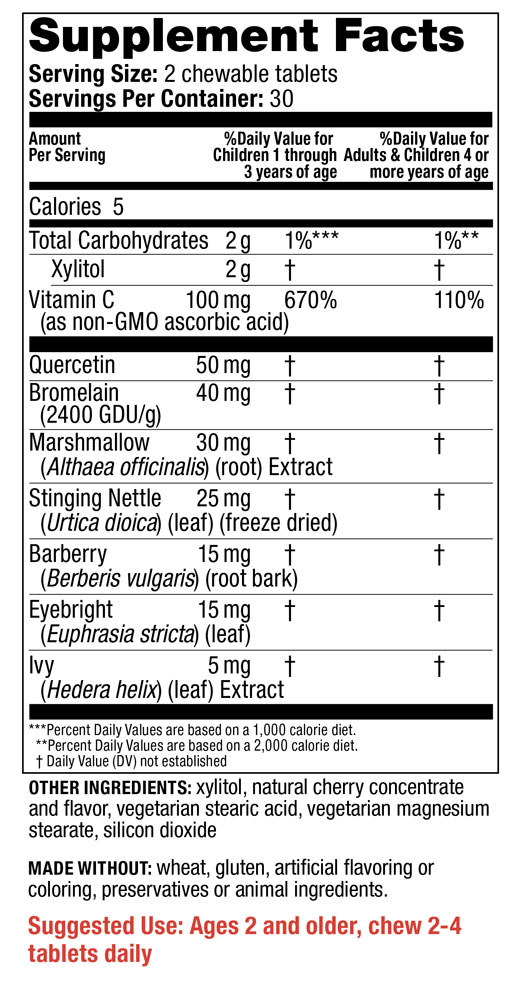 Other Ingredients: Xylitol, natural cherry concentrate and flavor, vegetarian source stearic acid, vegetarian source magnesium stearate, silicon dioxide.
Contains No: Yeast, wheat, gluten, dairy products, artificial flavoring or coloring, preservatives or animal ingredients.
Warning: If you are pregnant, nursing, have a medical condition, or are taking prescription drugs, consult your physician before using this product. KEEP OUT OF REACH OF CHILDREN.
Store in a cool, dry place.
Manufactured by Redd Remedies.
Suggested Use - Children's Sinus Support by Redd Remedies
Suggested Use: Ages 2 and older, chew 2-4 tablets daily.
† These statements have not been evaluated by the U.S. Food and Drug Administration (FDA) or EnergeticNutrition.com. This product is not intended to diagnose, treat, cure or prevent any disease. The information provided on this site is for informational purposes only and is not intended as a substitute for advice from your physician or other health care professional or any information contained on or in any product label or packaging. You should not use the information on this site for diagnosis or treatment of any health problem or for prescription of any medication or other treatment. You should consult with a health care professional before starting any diet, exercise or supplementation program, before taking any medication, or if you have or suspect you might have a health problem, or are pregnant. When you receive an item, carefully read all labels, warnings, and directions before use. Actual product packaging and materials may contain more and/or different information than shown on this website.