Circulation VA

Supports Healthy Veins and Arteries†
Maintaining the health of your entire cardiovascular system requires more than taking care of your heart. Our bodies are complex, and even though the heart is the central organ of the cardiovascular system, it's the circulatory system that is constantly under attack from busy lifestyles.
The foods we eat, environmental toxins, stressors, and more can really put a drain our cardiovascular system. Circulation VA™ supports the structural health and integrity of the veins and arteries to help maintain normal blood circuit patterns to and from the heart, delivering nutrients, and energy-creating resources throughout the body.
Utilizing targeted nutrition and plant-based antioxidants, Circulation VA™ creates a line of defense on the cellular level for the heart and blood vessels while adaptogenic herbs and mushrooms shield the heart muscle and the arteries against the negative effects of stress.
Combined with the crucial nutrient, Vitamin K2 to promote the health of the cardiovascular system and MenaQ7®, the only vitamin K2 clinically supported for arterial and cardiovascular health, Circulation VA™ can deliver the circulatory system support you need.†
Circulation VA™ Addresses Circulation By:
Promoting arterial flexibility†
Providing food-based antioxidants†
Promoting vascular strength, tone and health†
Supporting healthy inflammation management†
---
Key Ingredients
Antioxidant Blend - supports the healthy structure of veins and arteries.† The antioxidant blend of grape vine leaf extract, organic grape juice powder and blueberry fruit powder provide a broader range of antioxidant protection for veins and arteries with food-based ingredients.
Horse Chestnut - known for its ability to support and strengthen the veins and blood vessel walls.† Studies have shown that horse chestnut extract provides a similar effect to compression socks and helps to contract veins and arteries making it beneficial for vein health.
MenaQ7® - a soy-free natural Vitamin K2 ingredient proven in clinical research to reduce arterial plaque, increase arterial flexibility, and promote cardiovascular health according to some studies.†
Ginger Root - among many well known health and healing benefits, ginger root promotes healthy circulation and inflammation management and helps to remove blood stagnation.†
---
About Redd Remedies
Redd Remedies carefully chooses herbs, plants, vitamins, and minerals used in Traditional Chinese Medicine, Ayurvedic medicine, and European traditions which are also supported by modern day research and science to deliver natural solutions to health. They use wholesome clean food, targeted high quality supplements, and qualified doctors with expertise in natural medicine to address health from a whole body perspective. Redd Remedies offers:†
Quality, purity, and potency guaranteed through expiration
All-natural ingredients
Superior quality control
Supplement Facts - Circulation VA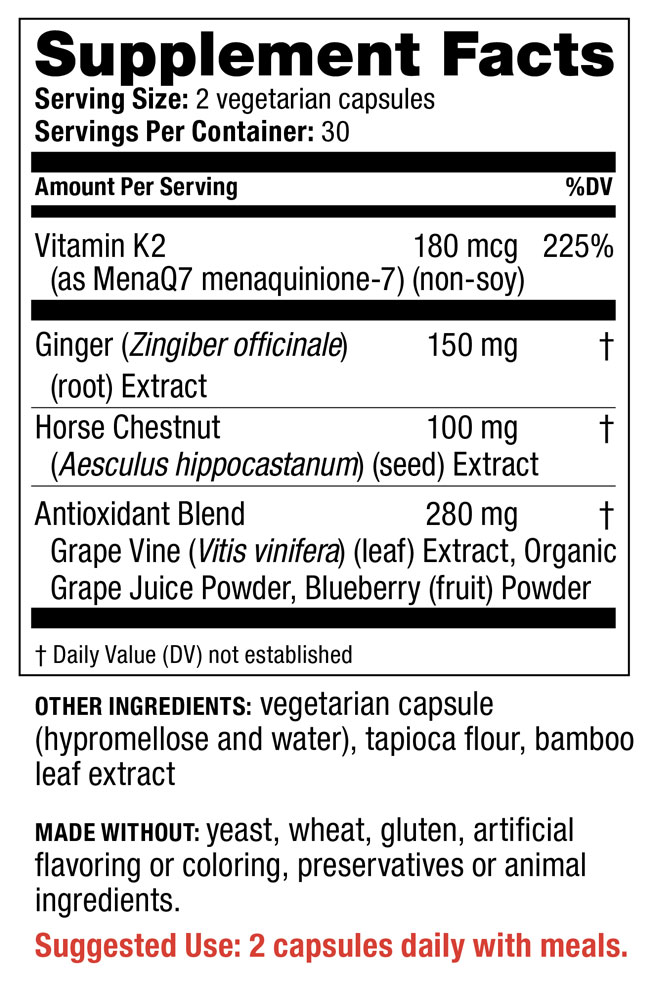 Contains No: Sugar, yeast, soy, wheat, gluten, dairy products, artificial flavoring or coloring, preservatives, or animal ingredients.
Warning: Vitamin K2 may counteract the effects of anticoagulation therapy and therefore not recommended for patients on blood-thinning medications.
Warning: If you are pregnant, nursing, have a medical condition, or are taking prescription drugs, consult your physician before using this product. KEEP OUT OF REACH OF CHILDREN.
Store in a cool, dry place.
Manufactured by Redd Remedies.
Suggested Use - Circulation VA
Suggested Use: 2 capsules daily with meals. Best taken in divided doses.