Curcumin T4
Advanced Turmeric Formula
Curcumin T4™ is Redd Remedies revolutionary, award-winning formula for occasional discomfort.
The goal in creating this product was to recognize the unique individuality of your various challenges and dismiss the single-action approach, all while providing a completely all-natural solution.
Curcumin T4™ is the completely all-natural, innovative and powerfully effective formula. It works to restore balance between your body and your mind by supporting each of your vulnerable areas.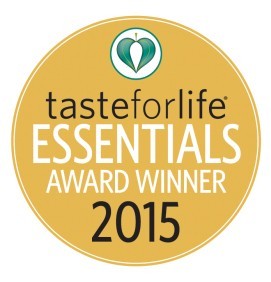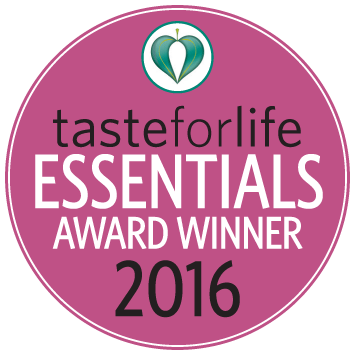 ---
Key Ingredients
The combination of botanicals in Curcumin T4 represent the results of decades of research and development in botanical innovation.
---
Target 1: Flexibility & Movement
Curcumin C3 Complex is a patented turmeric extract that represents turmeric roots' natural ratio of curcuminoids. This balanced approach to turmeric increases the bioavailability of the active constituents, which makes Curcumin C3 Complex a powerful whole body bioprotectant. Curcumin C3 Complex supports healthy connective tissue and healthy immune system function, and supports healthy liver function.†
---
Target 2: Muscles
Huang Bai, Cang Zhu, and Corydalis are rooted in the time-honored practice of Traditional Chinese Medicine. In that perspective, huang bai, cang zhu, and corydalis support the flow of energy throughout the body, invigorates the blood and harmonizes the body with the mind. By promoting balance, healthy circulation, and nutrient delivery, these three Traditional Chinese herbs promote healthy muscle function.†
Huang bai (Phellodendron) and Cang zhu (Atractylodes) - also known as Two Marvels Powder, are warming herbs used to reduce stagnation and increase circulation. The result: better blood flow = better oxygen and nutrient delivery
Corydalis - used in several TCM formulas to invigorate the blood and increase movement of Qi. It helps reduce stagnation. Interestingly to note, Corydalis is NEVER used alone in TCM. It is always combined with other herbs, such as Two Marvels Powder.
Together, these ingredients are key in our effort to support and maintain blood flow to the joints and the muscle tissue (and other tissues).
---
Target 3: Stress
Stress and discomfort are intertwined.
Ashwagandha (Withania somnifera) - one of the most revered plants in Ayurvedic Medicine, as an adaptogen, it supports a healthy stress response and helps the brain and the body manage the many complex causes of daily stress.†
---
Target 4: Brain
Ashwagandha and Corydalis - both play a role in harmonizing the brain's perceptions of physical sensations with the physical body itself, without dulling the senses.†
---
About Redd Remedies
Redd Remedies carefully chooses herbs, plants, vitamins, and minerals used in Traditional Chinese Medicine, Ayurvedic medicine, and European traditions which are also supported by modern day research and science to deliver natural solutions to health. They use wholesome clean food, targeted high quality supplements, and qualified doctors with expertise in natural medicine to address health from a whole body perspective. Redd Remedies offers:†
Quality, purity, and potency guaranteed through expiration
All-natural ingredients
Superior quality control
Supplement Facts - Curcumin T4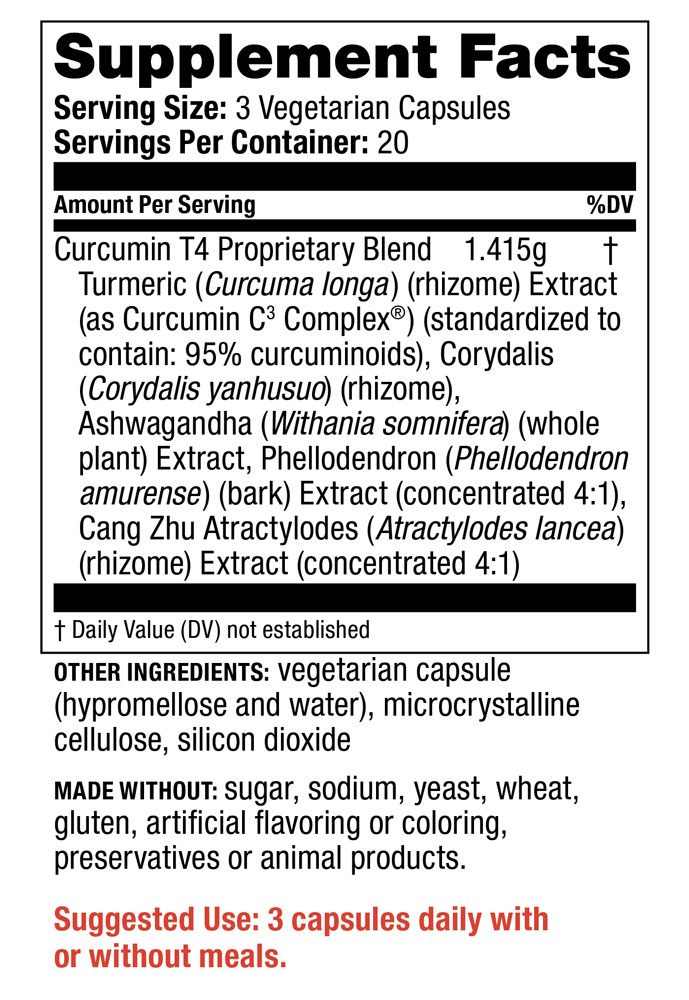 Ingredients:
Tumeric Root Extract (as Curcumin C3 Complex) – 500 mg
Corydalis Rhizome – 375 mg
Ashwagandha Root Extract – 240 mg
Phellodendron (Huang Bai) Bark Extract – 150 mg
Cang Zhu Rhizome Extract – 150 mg
Other Ingredients: Vegetarian capsule (hypromellose and water), microcrystalline cellulose, silicon dioxide.
Contains No: Sugar, sodium, yeast, wheat, gluten, dairy products, artificial flavoring or coloring, preservatives, or animal ingredients.
Warning: If you are pregnant, nursing, have a medical condition, or are taking prescription drugs, consult your physician before using this product. KEEP OUT OF REACH OF CHILDREN.
Store in a cool, dry place.
Manufactured by Redd Remedies.