Immune Advanced - by Redd Remedies
Whole System Wellness
Immune Advanced™ offers deep, long-term immune support for whole system wellness.† This targeted formula goes beyond the surface and re-establishes harmony between the body and the immune system with a powerful blend of fermented mushrooms, detoxifying herbs and adaptogens to support healthy liver and lymph system function and a balanced stress response.†
Immune Advanced™ provides whole system wellness by:
Supporting healthy immune system function†
Promoting balance and a healthy stress response†
Supporting healthy lymph system function†
Promoting healthy liver function†
---
Key Ingredients
Fermented Mushroom Blend of reishi, turkey tail, and cordyceps is adaptogenic, custom extracted and fermented to support immune system wellness.† Custom extracted Reishi, Turkey Tail and Cordyceps support healthy liver and immune system function.† Reishi, an adaptogen, also supports overall balanced wellness and helps reduce stress and fatigue. The fermentation process breaks down the cell walls of the mushrooms and releases the full immune-harmonizing potential of the polysaccharides – the active compounds found in these mushrooms.
Detoxifying Herbal Blend supports healthy liver function and the lymphatic system.† A blend of Dandelion, Cleavers and Burdock helps support detoxification by promoting healthy liver and lymphatic system function.
Schisandra an adaptogen herb, supports stress reduction.† Naturally occurring substances in Schisandra help the body adapt to stress and normalize the effects it has on the body.
---
Formulated For Whole Body Immune System Function
The Liver - the liver is the second largest organ in the body and is best known for its primary functions in metabolic, detoxification and nutrient storages activities. Beyond these functions, the liver is also an immunological organ. A healthy liver is a crucial part of the immune system and has a profound impact on immune system wellness.
The Lymphatic System - the lymphatic system and the lymphoid organs and tissues are overlapping systems. The lymphoid organs and tissues provide the structural foundation of the immune system. These include: the thymus gland, tonsils, spleen, lymph nodes and Peyer Patches, which are in the gut and mucosal tissue. It is within this system where immune components are programmed and the lymph is cleansed of debris and other unwanted materials.
---
About Redd Remedies
Redd Remedies carefully chooses herbs, plants, vitamins, and minerals used in Traditional Chinese Medicine, Ayurvedic medicine, and European traditions which are also supported by modern day research and science to deliver natural solutions to health. They use wholesome clean food, targeted high quality supplements, and qualified doctors with expertise in natural medicine to address health from a whole body perspective. Redd Remedies offers:†
Quality, purity, and potency guaranteed through expiration
All-natural ingredients
Superior quality control
Supplement Facts - Immune Advanced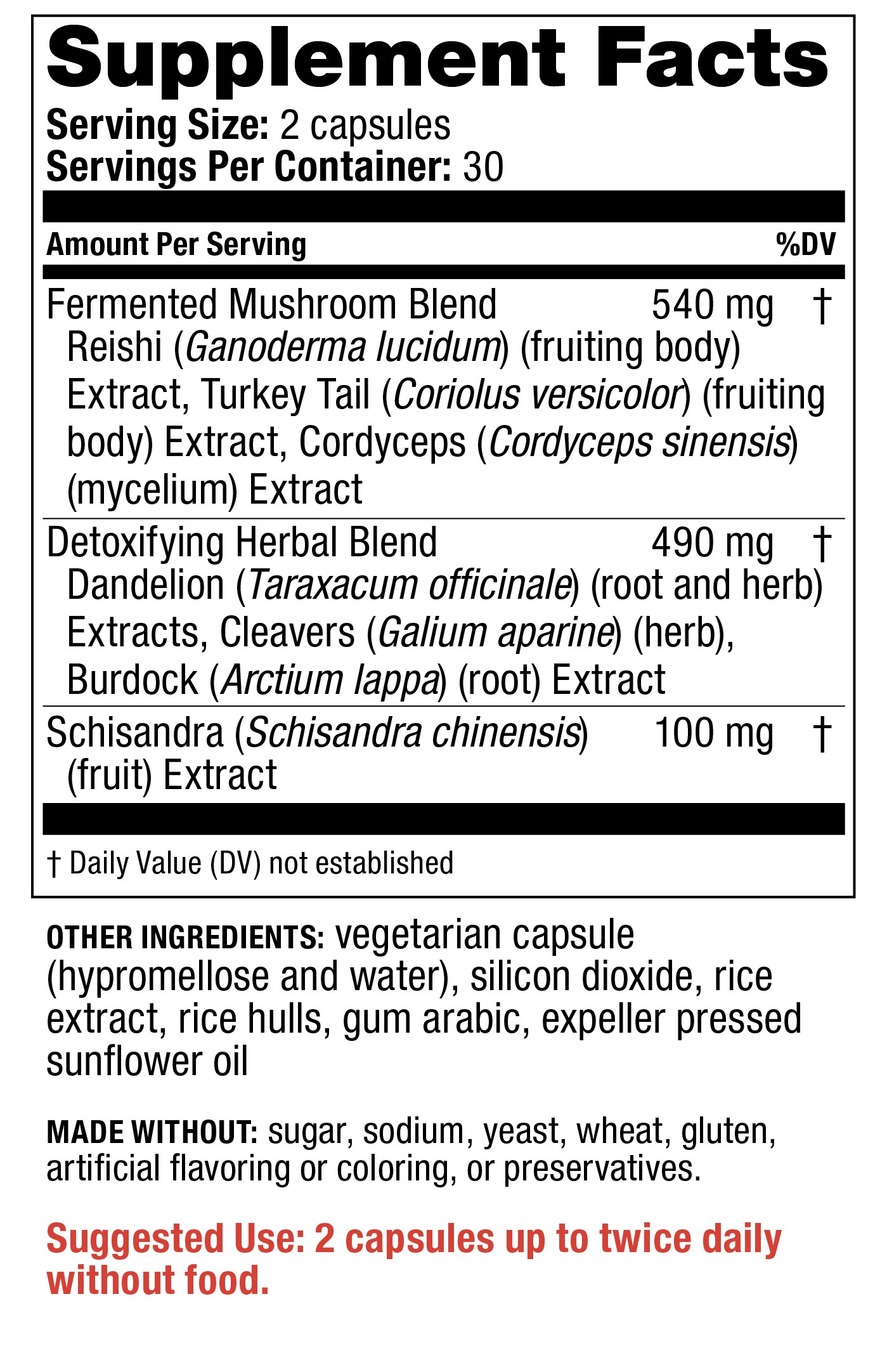 Other Ingredients: vegetarian capsule (hypromellose and water), silicon dioxide, rice extract, rice hulls, gum arabic, expeller pressed sunflower oil
Contains No: Sugar, sodium, yeast, wheat, gluten, artificial flavoring or coloring, or preservatives.
Warning: Do not use if you are pregnant or nursing. If you have a medical condition, or are taking prescription drugs, consult your physician before using this product. KEEP OUT OF REACH OF CHILDREN.
Store in a cool, dry place.
Manufactured by Redd Remedies.
Suggested Use - Immune Advanced
Suggested Use: 2 capsules up to twice daily taken without food.