Lung Care - by Redd Remedies
The health of your respiratory system is dependent upon more than just the lungs. To fully support breathing, the entire system needs to be addressed with supportive nutrients, herbs and adaptogens. Lung Care™ is a complete respiratory health system designed to support healthy breathing capacity and respiratory wellness.† Formulated with a combination of vitamins, minerals and supportive botanicals, Lung Care™ is targeted care to further promote healthy lungs and easy breathing.
Lung Care™ includes nutrients that:
Provide powerful antioxidant activity†
Support healthy lung function, breathing capacity and clear respiratory passages†
Promote healthy muscle function within the respiratory system†
Support healthy, balanced immune system function†
---
Key Ingredients
Vitamin C supports the respiratory system with potent antioxidant activity.† Vitamin C is one of the most abundant antioxidants found in the airways, making it a natural first line of defense for the respiratory system against environmental irritants.† Vitamin C also supports a healthy immune system.†
Vitamin B6 supports healthy lung function.† Vitamin B6 is an important nutrient for creating cellular energy, and it supports healthy breathing.†
Magnesium promotes healthy muscle function within the respiratory system.† Magnesium is such a crucial mineral for the entire body, and it is very well known for its ability to support muscle tissue. It plays a crucial role in this formulation to support the muscles of the respiratory system.* Magnesium provides support on many levels, as it is well known for its heart health benefits. The health of the heart and function of the lungs go hand-in-hand.
Reishi supports healthy immune system function.† Reishi mushroom, an adaptogen, supports the body's natural defense against stress. This treasured mushroom also supports a healthy, balanced immune system.†
Healthy Lung Blend supports respiratory wellness by supporting healthy breathing capacity and clear respiratory passages with Ayurvedic and Traditional Chinese herbs:†
The Ayurvedic tradition is rich in botanicals to support the respiratory system. Our Healthy Lung Blend, which includes Adhotado and Tylophora, supports healthy breathing capacity and clear respiratory passages.†


Based on Traditional Chinese herbal formulas for healthy lung function, our Healthy Lung Blend includes Zheijiang fritillary and ginger root, to free the lungs and clear stagnation.† Mullein provides soothing emollient properties for the mucus membranes of the respiratory tract.†
---
About Redd Remedies
Redd Remedies carefully chooses herbs, plants, vitamins, and minerals used in Traditional Chinese Medicine, Ayurvedic medicine, and European traditions which are also supported by modern day research and science to deliver natural solutions to health. They use wholesome clean food, targeted high quality supplements, and qualified doctors with expertise in natural medicine to address health from a whole body perspective. Redd Remedies offers:†
Quality, purity, and potency guaranteed through expiration
All-natural ingredients
Superior quality control
Supplement Facts - Lung Care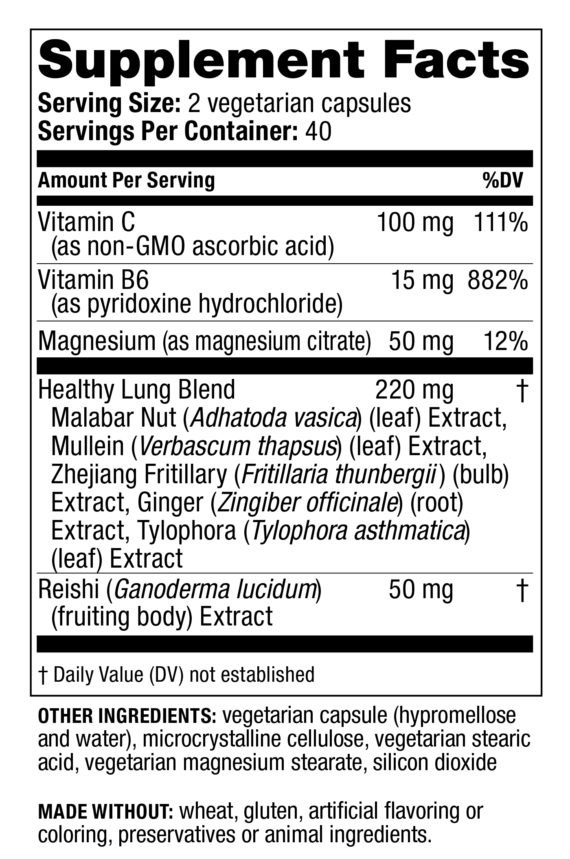 Other Ingredients: vegetarian capsule (hypromellose and water), microcrystalline cellulose, vegetarian stearic acid, vegetarian magnesium stearic, silicon dioxide.
Contains No: Wheat, gluten, artificial flavoring or coloring, preservatives, or animal ingredients.
Warning: Do not use if you are pregnant or nursing. If you have a medical condition, or are taking prescription drugs, consult your physician before using this product. KEEP OUT OF REACH OF CHILDREN.
Store in a cool, dry place.
Manufactured by Redd Remedies.
Suggested Use - Lung Care
Suggested Use: Adults 2 capsules twice daily; children ages 6 and older 2 capsules daily.