Thyroid Strong - Redd Remedies
Supports Healthy Thyroid Function
Your thyroid gland controls metabolism in every organ, tissue and cell in your body and is very important to your overall health. When the thyroid system is thrown off balance, the negative effects can ripple throughout the body.
The thyroid system is complex and intricate, and it involves more than the thyroid gland alone. The brain, the adrenal glands, the HPA axis and the liver all play a role in this system, and support requires more than kelp and L-tyrosine. Award-winning Thyroid Strong™ is a blend of proven adaptogen herbs, minerals and other nutrients that provide a comprehensive answer to supporting healthy thyroid function by:
Supporting healthy thyroid function†
Promoting a balanced stress response†
Supporting healthy liver function†
Supporting healthy antioxidant levels†
---
Key Ingredients
Zinc, Copper and Selenium support healthy metabolism and thyroid function.
Kelp and L-Tyrosine support a healthy thyroid gland.
N-Acetyl-Cysteine and Resveratrol have antioxidant properties and support healthy liver function.
Thyroid Nourishing Blend supports thyroid health and supports relief from occasional stress.
Nutrients For Thyroid Health
Kelp is a food-source of iodine, a mineral that, along with the amino acid L-tyrosine, is necessary for healthy thyroid function.†

Zinc, copper and selenium play a critical role as co-factors necessary for the metabolism of thyroid hormones in the body.†
Liver Support
Liver health has a significant impact on thyroid function, because the liver has a significant role in the thyroid system. N-Acetyl-L-Cysteine has antioxidant properties, required for healthy liver function.
Adaptogenic Herbs
Adaptogens are an elite class of botanicals that help the brain and body adapt to everyday stress. Holy basil and Ashwagandha, both revered herbs in Ayurveda, support relief from occasional stress and support thyroid health. Codnopsis, also known as 'poor man's ginseng,' supports the body's natural resistance to stress.†
---
About Redd Remedies
Redd Remedies carefully chooses herbs, plants, vitamins, and minerals used in Traditional Chinese Medicine, Ayurvedic medicine, and European traditions which are also supported by modern day research and science to deliver natural solutions to health. They use wholesome clean food, targeted high quality supplements, and qualified doctors with expertise in natural medicine to address health from a whole body perspective. Redd Remedies offers:†
Quality, purity, and potency guaranteed through expiration
All-natural ingredients
Superior quality control
Supplement Facts - Thyroid Strong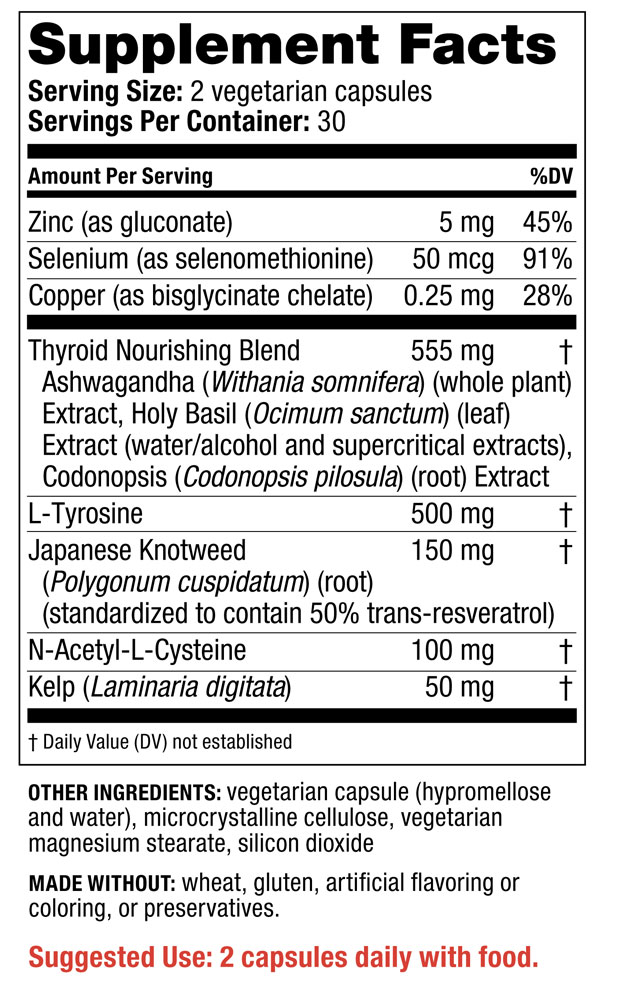 Other Ingredients: Vegetarian capsule (hypromellose and water) microcrystalline cellulose, vegetarian magnesium stearate, silicon dioxide.
Contains No: Sodium, yeast, wheat, gluten, corn, dairy products, artificial flavoring or coloring, preservatives, or animal ingredients.
Warning: If you are pregnant, nursing, have a medical condition, or are taking prescription drugs, consult your physician before using this product. KEEP OUT OF REACH OF CHILDREN.
Store in a cool, dry place.
Manufactured by Redd Remedies.
Suggested Use - Thyroid Strong
Suggested Use: 2 capsules daily. Best taken in divided doses with food.