Neroli Therapeutic Hydrosol
Neroli hydrosol tones and hydrates all skin types and is excellent for oily, overactive or sensitive skin. Use for calming, daily face mist, sensitive skin, oily / overactive skin, stress, & emotional soothing. Hydrosols are pure floral waters created from the steam distillation of fresh, aromatic plants. Naturally gentle, moisturizing and soothing, hydrosols are a perfect addition to holistic skincare.
Contains Citrus aurantium (Neroli) Hydrosol (100%).. True neroli orange blossom is a rich, delicate, warm floral with deeply soothing effects. Tonifying for most skin types, but especially mature skin lacking vitality as well as oily and overactive skin.
Mist face and body any time throughout the day. Excellent when used after cleansing and before moisturizing. Hydrosols can be used as a skin toner, in the hair, and as a delicate perfume.
Skin Types: oily, sensitive, overactive skin; may be too astringent for dry skin.
Properties: astringent, rejuvenating, anti-stress, calming.
Considerations: overactive skin, broken capillaries, stress, during detox programs.
Applications: use as a facial toner for oily and overactive skin, apply to overly-oily scalp or itchy skin, add to a cold or hot compress or spray on abdomen for soothing effect, spray onto face and chest for calming effect.
---
Therapeutic Aromatic Hydrosols
Hydrosols are pure floral waters created during the steam distillation of fresh, aromatic plants. Milder than essential oils, they are rich in water-soluble elements of plant medicine. Most aromatic sprays on the market are not pure hydrosols, but rather essential oils or fragrance added to water with an emulsifier. True hydrosols are naturally soothing and moisturizing, and may help support the skin's natural defenses. A wonderfully fragrant addition to holistic skin care, hydrosols are a safe and gentle way for children, elders, those with sensitive skin, and highly-allergic individuals to enjoy the benefits of aromatherapy.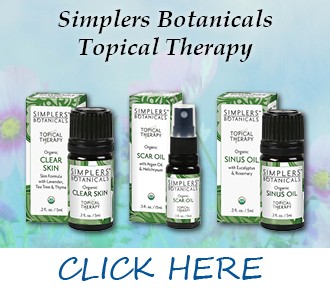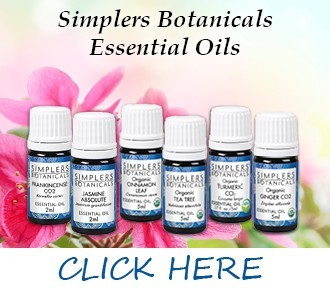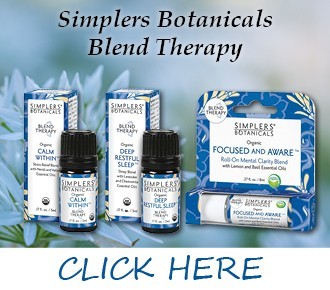 ---
Simplers Botanicals™
Since 1981, Simplers Botanicals™ has led the way in therapeutic quality, certified organic essential oils and herbal extracts. They deliver aromatherapy products the way that nature intended—using effective extraction techniques and quality plants in order to provide true and pure therapeutic-grade essential oils.
They source only the highest quality oils from artisan distillers all over the world, and offer certified organic oils whenever possible. Their oils come from France, Germany, Egypt, Nepal, Madagascar, Albania, Sri Lanka, Morocco, Indonesia, Guatemala, El Salvador, Argentina, Croatia, Australia, Canada and the United States. They are proud to support the farmers in these regions as they work together to provide a superior product to their customers and distributors.
Graduates of the California School of Herbal Studies in Forestville, California, their experienced staff use their reverence for plants, the environment and the planet to blend and bottle each oil with care.
---
Further Reading
Energetic Nutrition does not necessarily agree with or condone the ideas or suggestions expressed in the following external links. We are providing them for informational purposes only.
Aromatherapy Safety Information (National Association for Holistic Aromatherapy)
Risks and Uses of Essential Oils
Is Ingesting Essential Oils Safe?
Essential Oil Safety for Use with Children and Babies