FMB: Feed My Brain for Children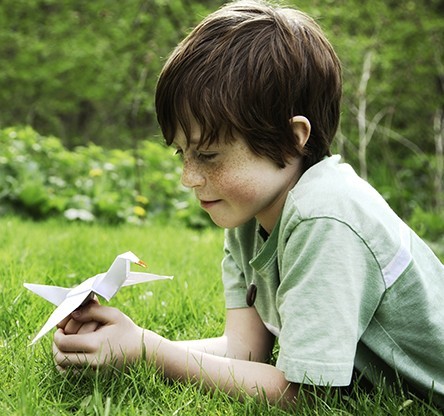 Parents want their child to have every opportunity to learn and achieve their potential. It's said that education and learning are the keys to success. So what does nutrition have to do with it? Over the last 40 years, numerous studies have been conducted around the world to demonstrate a correlation between a child's diet and their intellectual, physical, and social development.
Feed My Brain from Trace Minerals Research, is an exclusively formulated dietary supplement developed by Alexander Schauss, PhD., a Fellow of the American College of Nutrition (FACN) and a Certified Food Scientist (CFS), based on decades of research.
Research and studies dating back to 1983 have suggested there is a direct correlation between nutrition and brain function. Based on this and other research Feed My Brain (FMB) has been scientifically formulated to maximize a child's ability to concentrate, problem-solve, improve memory, and experience overall productivity at school and during other cognitive tasks.†
FMB May Help Children Achieve Academic Success By:†
Improving short-term memory†
Enhancing concentration†
Improving language skills and the ability to learn additional languages†
Helping to control impulsive behavior†
Providing proficiency improvements in science and math†
Promote abstract thinking†
---
Feed My Brain Ingredient Highlights
By avoiding "super-sized" tendencies, the developers of FMB included moderate levels of key vitamins, minerals and more to provide needed levels without excess that could potentially cause more stress to eliminate.
Vitamins
Over 10 specific vitamins were included to help support the manufacture and utilization of carbs, protein, and fat, and the production of RNA/DNA which all help support memory, energy production, and healthy nerve function.†
Minerals for Brain Function and Metabolism
Over 10 essential minerals, plus over 72 naturally-occurring ionic trace minerals as found in seawater were included to help support hormonal regulation, the production of brain neurotransmitters and critical enzyme reactions, which together contribute to brain metabolism and healthy brain function.
Probiotics for Biotin Production
Acidophilus contributes to maintaining healthy gut bacteria involved in the production of biotin, an important nutrient manufactured by gut bacteria in the intestine.† Biotin is needed to synthesize the fatty acids required for certain brain functions.†
Digestion Enzymes for Nutrient Absorption
Natural enzymes faciliate digestion of macronutrient components found in food, some of which facilitate the absorption of nutrients in the gut.†
Food and Food Concentrates Blend for Cell Health and Recovery
Certain fruits, vegetables, and food concentrates were carefully chosen to compliment a balanced diet and to provide important nutrients and micronutrients like proanthocyanidins, carotenoids, retinoids, bioflavonoids, and amino acids. These nutrients support healthy cardiovascular function, cell formation, and the body's ability to reduce the adverse and potentially damaging effects associated with stress.†
---
Further Reading and Resources
3 Ways Nutrition Influences Students Learning Potential and School Performance
Vitamin B-12 and Cognition in Children
Brain foods: the effects of nutrients on brain function
Nutritional psychiatry: Your brain on food
Feeding the brain – The effects of micronutrient interventions on cognitive performance among school-aged children: A systematic review of randomized controlled trials
Int J Biosoc Res., 1986; 8: 185-195. | Int J Biosoc Res., 1986; 8: 196-203. | Lancet, 1988; 1: 140-144. | Lancet, 1990; 335: 1158-1160. | Pers Ind Diff., 1991: 12; 351-362. | Pers Ind Diff., 1991; 12: 1151-1158.| Brit Med J., 1991; 302: 1021. | J Orthomol Med., 1992; 7: 31-38. | J Alt Comp Med., 1999; 5: 125-134. | J Alt Comp Med., 2000; 6: 7-17. | J Alt Comp Med., 2000; 6: 31-35. | Am J Clin Nutr., 2007; 86: 1082-1093. | Indian J Pediatr., 2008; 75: 671-678. | Br J Nutr., 2009; 101: 1378-1387. | Br J Nutr., 2013; 110: 2271-2284.
---
About Trace Minerals Research
For over 35 years Trace Minerals Research® has been providing high quality nutritional supplements to the Natural Products Industry. Compare and see how Trace Minerals Research® provides you with the best absorption, value, flexibility and quality. Every product is backed by their money back guarantee - "Feel the Difference or Your Money Back" - one of the best guarantees in the industry.

Supplement Facts - FMB: Feed My Brain

Serving Size: 2 Wafers - Fruit Punch Flavor
Servings per Container: 30
Other Ingredients: Natural flavors blend (fruit punch, pineapple), stevia leaf extract (Stevia rebaudiana), citric acid, silica, Non-GMO maltodextrin, stearic acid, magnesium stearate, microcrystalline cellulose, hypromellose, potassium citrate.
Allergen Info: Contains no known allergens. Gluten Free.
Gluten Free. Certified Vegetarian.
Manufactured by Trace Minerals Research.
Click Supplement Facts box to see larger image