Greens Pak - 50 Superfoods Strong!
Greens Pak from Trace Minerals Research is a great-tasting, easy-to-mix phytonutrient powder that is loaded with energy-packed whole foods, super fruits, antioxidant foods, vegetables, enzymes, probiotics, fiber and plant extracts to help energize your body.† These "Super-Foods" are the foods we should eat daily for optimum health and wellness.† However, most of us don't get them in our standard diet.
The organic green plants, healthy herbs and spices, natural food concentrates, and antioxidant rich fruits and vegetables in Greens Pak provide the necessary nutrients your body needs to help fight against roaming free radicals and to balance out a diet that is typically missing these key nutrients.†
---
6000 ORAC Value!
ORAC stands for Oxygen Radical Absorbance Capacity - or in other words, it's the antioxidant (free-radical-fighting) ability of any given food.
---
Greens Pak Includes:
Green Foods
Vegetables
Fruits and Super Fruits
Antioxidants†
---
Superior Greens, Vegetable, Fiber, and Antioxidant Blends
This super blend helps to provide your body with added energy, increased metabolism, efficient digestion and detoxification, and helps strengthen your body's natural defenses for heightened rejuvenation and longevity.†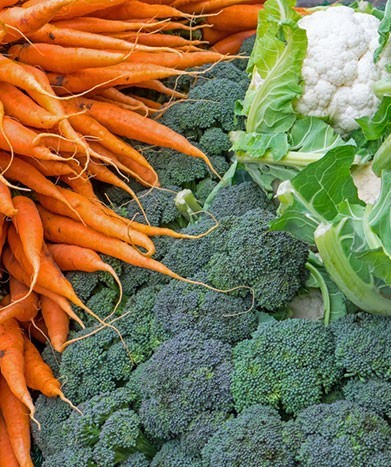 Greens Blend features barley grass juice powder, spirulina, chlorella, and ContenTrace® Alfalfa Ionic Trace Minerals Complex.
Vegetable Blend features carrot rhizome powder, broccoli herb powder, cauliflower bulb powder, spinach leaf powder, and parsley herb powder.
Fiber Blend features whole oat bran, apple fiber pectin, sprouted barley malk, and SDG flax lignans.
Antioxidant Blend has all the antioxidant sources in Reds Pak like milk thistle, aloe very leaf and turmeric rhizone extract plus the addition of grapefruit peel and cassia (cinnamon) bark powder.
---
Fruit and Vegetable Antioxidant Blend
This specialized combination of over a dozen fruits and vegetables delivers incredible antioxidant support that promotes cardiovascular, immune health, and much more.
Green Tea Leaf Extract with catechins for healthy cholesterol support†
Quercetin may support cardiovascular health†
Blueberry, Cranberry, Strawberry, Pomegranate, Raspberry antioxidant combination
Broccoli Leaf with thiamine, niacin, pantothenic acid, calcium, iron, and selenium
Carrot Root with Vitamins A, C, K, B8, and other minerals and nutrients
Kale for its combination of flavonoids and carotenoids plus iron, fiber, folate and magnesium
Resveratrol to support healthy blood flow and reduce oxidative stress†
Spinach Leaf benefits of Vitamins K and A, folate, zinc and more
Tomato Fruit offering Vitamin C, biotin, molybdenum, and Vitamin K
Wild Blueberry Fruit known for promoting brain, gut, and heart health†
---
Supercharged With Trace Minerals
Additionally, Greens Pak is supercharged with over 72 ionic trace minerals and elements from ConcenTrace®, an ionic mineral complex from Utah's inland sea, the Great Salt Lake.† Take Greens Pak every day and your body will love you!
Contains over 50 different super foods
6000+ ORAC Units per serving
Antioxidant ORAC score equal to more than 15 servings of organic fruits and vegetables in every packet†
Contains certified organic raw foods
Great-tasting berry or chocolate flavor
Certified Vegan
Preservative free
---
About Trace Minerals Research
For over 35 years Trace Minerals Research® has been providing high quality nutritional supplements to the Natural Products Industry. Compare and see how Trace Minerals Research® provides you with the best absorption, value, flexibility and quality. Every product is backed by their money back guarantee - "Feel the Difference or Your Money Back" - one of the best guarantees in the industry.

---
Supplement Facts - Greens Pak
BERRY FLAVOR
Serving Size:
1 Packet (7.5 g)
Servings per Container:
30
Other Ingredients: Stevia, citric acid, natural flavors.
Allergen Info: Contains soy and gluten.
CERTIFIED VEGAN. Contains no artificial colors, flavors, preservatives, dairy or MSG. Contents sold by weight not volume.
ConcenTrace® is a trade name for concentrated sea minerals from the Great Salt Lake.
Manufactured by Trace Minerals Research.