Mega-Mag Liquid Magnesium from Trace Minerals Research
Mega-Mag Liquid Magnesium from Trace Minerals Research is a rich, natural source of concentrated magnesium ions with other minerals and trace elements that act as natural co-factors.
Magnesium is the fourth most abundant mineral in the human body. About half of it is found in the bones while the other half is predominantly found in the cells, tissues and organs. It is responsible for over 300 biochemical responses in the human body and fuels digestive enzymes, helping the body effectively utilize carbohydrates, proteins, and fats. Magnesium ions (charged magnesium atoms) play a key role in energy metabolism, nerve conduction, muscle contraction, immune function, bone and tooth formation, and are particularly important to heart and circulatory health.† Research has shown many American diets to be deficient in magnesium†.
Mega-Mag 400 mg Features
Non-GMO Project Verified
400 mg per serving
Ionic form for quick absorption
Liquimins™ liquid minerals
Vegan and Kosher
Liquimins, ionically charged liquid minerals from Trace Minerals Research. Containing over 72 minerals and trace elements that your body needs for optimal health, Liquimins are absorbed quickly because they're liquid. And because the minerals are ionically charged, they increase the absorption of other nutrients, too.
They're perfect for those who prefer taking liquid supplements rather than tablets. And with Liquimins you get all the health benefits of minerals and trace elements with the ease, convenience, and speed of a liquid supplement. Look for the Liquimins drop on the label and feel the difference a full spectrum of ionically charged minerals can make.
---
About Trace Minerals Research
For over 35 years Trace Minerals Research® has been providing high quality nutritional supplements to the Natural Products Industry. Compare and see how Trace Minerals Research® provides you with the best absorption, value, flexibility and quality. Every product is backed by their money back guarantee - "Feel the Difference or Your Money Back" - one of the best guarantees in the industry.

---
Supplement Facts - Mega-Mag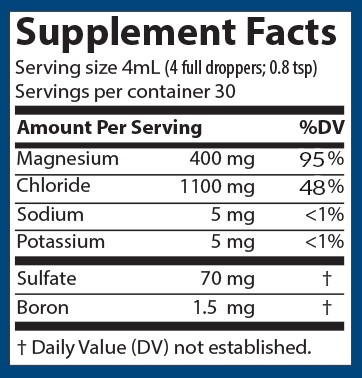 Ounces per Container: 4
Serving Size: 4 ml (0.8 tsp)
Servings per Container: 30
Suggested Use: ¼ to 0.8 teaspoon (1 to 4 mL) daily with juice or food to mask the highly concentrated mineral flavor. To top off or fully supplement your diet with magnesium, we recommend starting with ¼ teaspoon and increasing as needed, ideally spread throughout the day. We also recommend taking Mega-Mag with a large glass of fluid. Excess magnesium may cause a laxative effect.
Ingredients: A high magnesium, low sodium concentrate from Utah's inland sea, the Great Salt Lake. Contains no other added ingredients.
Allergen Info: Contains no known allergens. Gluten Free.
Non-GMO. Certified Vegan.
Manufactured by Trace Minerals Research.
† These statements have not been evaluated by the U.S. Food and Drug Administration (FDA) or EnergeticNutrition.com. This product is not intended to diagnose, treat, cure or prevent any disease. The information provided on this site is for informational purposes only and is not intended as a substitute for advice from your physician or other health care professional or any information contained on or in any product label or packaging. You should not use the information on this site for diagnosis or treatment of any health problem or for prescription of any medication or other treatment. You should consult with a health care professional before starting any diet, exercise or supplementation program, before taking any medication, or if you have or suspect you might have a health problem, or are pregnant. When you receive an item, carefully read all labels, warnings, and directions before use. Actual product packaging and materials may contain more and/or different information than shown on this website.