Ojio Shilajit Extract Powder
Shilajit is a type of organic mineral pitch. It forms from the terrain in the Himalayas and other mountainous regions around the world. Shilajit translates to "rock of life" in Sanskrit. It is usually be found in a powder form varying in color from deep red to dark brown.
---
General Benefits of Shilajit Extract
Shilajit is considered the root of Ayurvedic medicine, and the most powerful. It's potential benefits may:
Strengthen the immune system†
Fortify cells and muscles†
Provide antioxidant benefits†
Reduce feelings associated with everyday stress†
Provide support for seasonal allergies†
Support respiratory health†
---
Cleansing and Detoxifying Benefits of Shilajit Extract Powder
Shilajit is believed to have nutritional, cleansing and detoxifying properties. The possible benefits of Raw Shilajit Powder include:
Support for a healthy inflammation response†
Nervous system support
Digestion support
Increases libido†
Support healthy blood sugar levels†
Boosts stamina and longevity†
---
Naturally Occurring Content in Fulvic Acid
Shilajit Extract contains at least 85 minerals in ionic form, including humic acid and fulvic acid. Fulvic Acid greatly enhances the bioavailability of important trace minerals. It also regenerates and prolongs the residence time of essential nutrients in the cells.†
Trace minerals and nutrients in fulvic acid include:
Phytochemicals
Biochemicals
Supercharged antioxidants
Superoxide dismutases
Enzymes
Amino acids
Natural antibiotics
Antivirals and antifungals
---
How is Shilajit Powder Used?
Ojio Shilajit comes in a pure powder form. Herbs such as Raw Shilajit are better absorbed by the body when taken in conjunction with other foods or nutrients. Shilajit can be taken in many varying dosages, up to 1 tsp twice a day for intense usage, and is most commonly mixed into water, juice, smoothies and as an Ayurvedic additive to chocolate sauces.
Beginning Usage: Add 1/8 to 1/4 teaspoon to your favorite beverages or mixes such as tea, coffee, smoothies, shakes, baking or desserts. Shilajit can also be put into capsules and swallowed or placed directly on the tongue.
Graduated Usage: Increase quantity as your body becomes acclimated to the Shilajit Powder.
---
---
About Ayurveda
Ayurveda, which is native to modern day India, can be traced back thousands of years. Developed to help create balance within its adherents, Ayurveda includes the use of numerous herbs to help achieve this goal.
Originally, Ayurveda defined seven body types. These, referred to as doshas, are Vata, Pitta, Kapha, Sama, Vata-Kapha, Vata-Pitta, and Pitta-Kapha. The first three types occur in their pure form very rarely and so seldom is it that anyone is primarily influenced by one dosha alone. Most Ayurveda reference the following three doshas:
The vata dosha combines the elements ether and air. It is considered the most powerful dosha because it controls very basic body processes such as cell division, the heart, breathing, discharge of waste, and the mind. Vata can be aggravated by, for example, fear, grief, staying up late at night, eating dry fruit, or eating before the previous meal is digested. People with vata as their main dosha are thought to be especially susceptible to skin and neurological conditions, rheumatoid arthritis, heart disease, anxiety, and insomnia.
The pitta dosha represents the elements fire and water. Pitta controls hormones and the digestive system. A person with a pitta imbalance may experience negative emotions such as anger and may have physical symptoms such as heartburn within 2 or 3 hours of eating. Pitta is upset by, for example, eating spicy or sour food, fatigue, or spending too much time in the sun. People with a predominantly pitta constitution are thought to be susceptible to hypertension, heart disease, infectious diseases, and digestive conditions such as Crohn's disease.
The kapha dosha combines the elements water and earth. Kapha helps to maintain strength and immunity and to control growth. An imbalance of the kapha dosha may cause nausea immediately after eating. Kapha is aggravated by, for example, greed, sleeping during the daytime, eating too many sweet foods, eating after one is full, and eating and drinking foods and beverages with too much salt and water (especially in the springtime). Those with a predominant kapha dosha are thought to be vulnerable to diabetes, cancer, obesity, and respiratory illnesses such as asthma.
The key to maintaining physical and mental health is in keeping these elements and doshas in harmonic balance through proper diet, herbs and lifestyle to avoid early aging and various diseases. These three doshas can even be traced back to the very beginning of creation as representing the three Gods in Vedic wisdom Vishnu, Shiva and Brahma. One or more of these doshas or elements will predominate in every individual living entity creating seven possible body types. By knowing which type you are by symptoms, the proper diet and herbal treatment can be established for you.
Eliminating impurities. A process called panchakarma is intended to cleanse the body by eliminating ama. Ama is described as an undigested food that sticks to tissues, interferes with normal functioning of the body, and leads to disease. Panchakarma focuses on eliminating ama through the digestive tract and the respiratory system. Enemas, massage, medical oils administered in a nasal spray, and other methods may be used.


Reducing symptoms. The practitioner may suggest various options, including physical exercises, stretching, breathing exercises, meditation, massage, lying in the sun, and changing the diet. The patient may take certain herbs—often with honey, to make them easier to digest. Sometimes diets are restricted to certain foods. Very small amounts of metal and mineral preparations, such as gold or iron, also may be given.


Increasing resistance to disease. The practitioner may combine several herbs, proteins, minerals, and vitamins in tonics to improve digestion and increase appetite and immunity. These tonics are based on formulas from ancient texts.


Reducing worry and increasing harmony. Ayurvedic medicine emphasizes mental nurturing and spiritual healing. Practitioners may recommend avoiding situations that cause worry and using techniques that promote release of negative emotions.


Cold Water Extracted. It extracts and concentrates the medicinal properties of the herbs. Removing all the fibers and unnecessary parts to make the herb as pure as possible. Making just a little bit go a very long way, allowing ¼-1 teaspoon to be more than enough.
Supplement Facts - Ojio Shilajit Extract Powder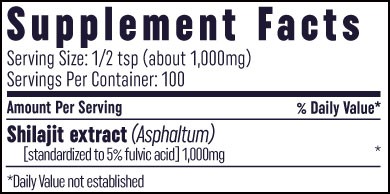 Serving Size: 1/2 teaspoon (about 1,000mg) *
Servings per Container: 100
Amount per Serving: Shilajit extract (Asphaltum) [standardized to 5% fulvic acid] 1,000mg.† Net Wt. 3.53 oz (100g)
*Daily Value not established.
Keep out of reach of children.
---
Origin: Product of India
Manufactured by Ultimate Superfoods, Inc. Moorpark, CA 93021