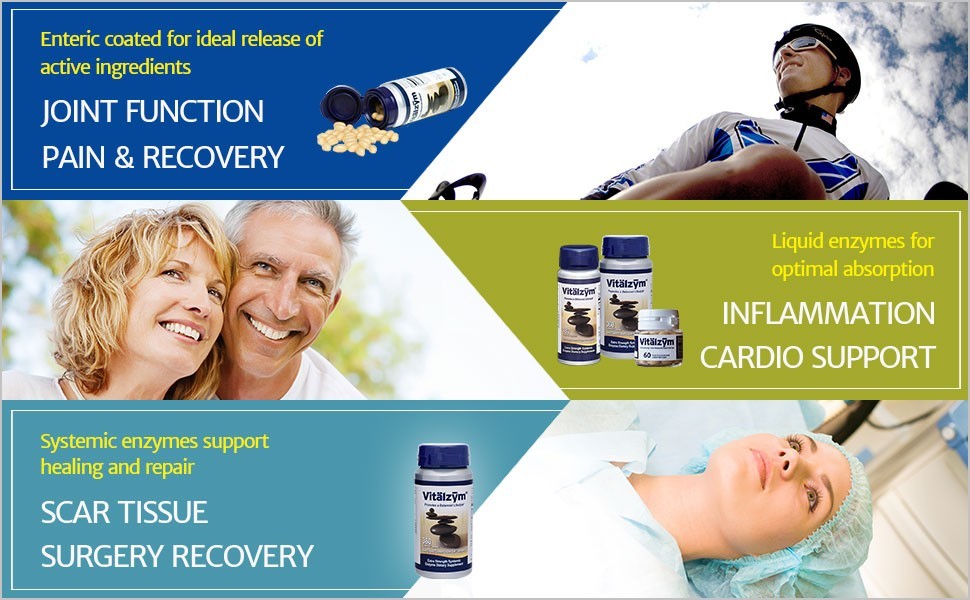 CALL 1-888-501-3344 TO ARRANGE FOR YOUR FREE TRIAL OFFER
AND TO SETUP YOUR MONTHLY SUBSCRIPTION
We are offering one bottle of Vitalzym Extra Strength Systemic Enzymes 360 capsules as a Free Trial Offer with a Monthly Subscription. This bottle normally sells for $149, and the suggested retail price is $199.
CUSTOMER PAYS SHIPPING COST FOR FREE TRIAL BOTTLE - SEVERAL OPTIONS AVAILABLE AS LOW AS $5


MUST SIGN UP FOR MONTHLY SHIPMENT OF ONE BOTTLE - FREE SHIPPING


CREDIT OR DEBIT CARD REQUIRED


SUBSCRIPTION MAY BE CANCELLED AFTER A MINIMUM OF ONE PAID MONTHLY SHIPMENT


WHILE SUPPLIES LAST


THIS IS A ONE TIME OFFER - ONE BOTTLE PER PERSON


30 DAY MONEY BACK GUARANTEE ON ALL VITALZYM PRODUCTS
---
TERMS AND CONDITIONS
By accepting the offer of a free bottle of Vitalzym Extra Strength 360 caps, you agree to the following:
I understand that I will pay for shipping for the Free Trial Offer bottle (offers as low as $5).


I agree that a monthly subscription for shipments of a Vitalzym Extra Strength 360 cap bottle at the purchase price of $149.00 will be setup for me. Standard Shipping is free.


I understand that my monthly subscription order will be charged to my credit or debit card and shipped monthly from the date of my Free Trial Offer order.


I agree to continue the monthly subscription for a minimum of one month. To cancel my subscription, I must contact Energetic Nutrition by email at least 5 days before my monthly subscription is due to be charged and shipped.


I understand that an account with my contact information and credit/debit card will be setup on the EnergeticNutrition.com website in order to facilitate shipment of this free trial bottle and future shipments.


I understand that this is a one time offer - one bottle per person.