About LipiCept Cholesterol Support Formula
MANUFACTURER CURRENTLY OUT OF STOCK. UNKNOWN ETA.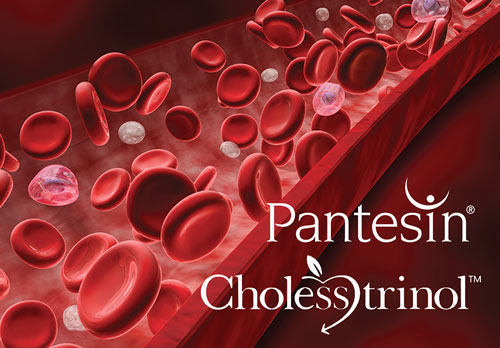 According to the Centers of Disease Control and Prevention, many cholesterol related health issues are preventable through the practice of basic health and lifestyle changes such as exercise, a healthy diet, and not smoking.
There are also high-quality supplements that can harness the key components of certain foods and plants that are specifically beneficial to cholesterol health.
LipiCept™ contains a blend of proven ingredients, including Sytrinol® and Pantesin®, formulated to support healthy cholesterol levels already within the normal range.†
Promotes Healthy Cholesterol Metabolism†
Lowers Cholesterol†
Clinically Proven Ingredients†
---

LipiCept™ Ingredient Highlights
The unique combination of natural, research-based ingredients in Lipicept help to support the body's systems and organs that are key to maintaining cholesterol health.1
LipiCept is phthalate-free and suitable for vegans/vegetarians.
Sytrinol® - Patented Bioflavonoid and Tocotrienol Blend
Orange peel extract, palm seed oil extract and other ingredients promote healthy cholesterol, healthy LDL leves, and healthy triglycerides.2†


Research indicates that Sytrinol specifically helps to lower cholesterol levels, according to a 2007 study.† 3


The chart demonstrates the results of a placebo-controlled study that showed a 27% reduction in cholesterol levels with Sytrinol supplementation as compared to a placebo after 12 weeks.3†


Sytrinol is also vegan, Kosher, and non-gmo.
Pantesin® - A Source of Vitamin B5
Brand name version of pantethine.
Clinic research indicates pantothine, which comes from Vitamin B5, may result in ideal cholesterol levels for those with low to moderate risk factors.†3
Purified, concentrated, and absorbable.†
Does not block CoQ10†
Phytosterols - Plant sterol esters
Foods containing at least 0.65 grams per serving of plant sterol esters, eaten twice a day with meals* as part of a diet low in saturated fat and cholesterol, may reduce the risk of heart disease.†
(*daily total intake of at least 1.3 grams)
Naturally occurring compounds found in plant cell membranes
Structurally similar to the body's cholesterol, and when consumed they compete with cholesterol for absorption in the digestive system, resulting in blocked cholesterol absorption and reduced blood cholesterol levels.†
Lipicept contains 0.65 grams of plant sterols per serving. When taken at this amount in addition to a healthy diet, plant sterols may improve cardiovascular health.†
Milk Thistle - (Silybum marianum)
Used for centuries as an herbal remedy for a variety of ailments, particularly liver problems.
The flavonoid, silymarin, found in milk thistle, may protect and help heal liver damage according to some studies.†4
The liver is a key organ in regulating cholesterol.†
Policosanol - Medium-chain cane alchohols (Saccharum officinalis)
Studies suggest policosanol decreases cholesterol by inhibiting cholesterol synthesis in the liver.†
---
Further Reading
---
About HCP Formulas
HCP Formulas specializes in ultra-premium nutraceutical remedies. Their world-class enzymes are formulated for maximum effectiveness by leading enzymologists, scientists, and health professionals. They source only the highest grade ingredients and utilize cutting-edge delivery systems. They manufacture in the USA in GMP registered facilities.
Healthcare professionals and fine health food stores worldwide recommend HCP Formulas products not just for their efficacy, but also for their commitment to clean ingredients. They do not add unhealthy fillers, excipients, and binders in any of their blends.
---
References
Supplement Facts - LipiCept Cholesterol Support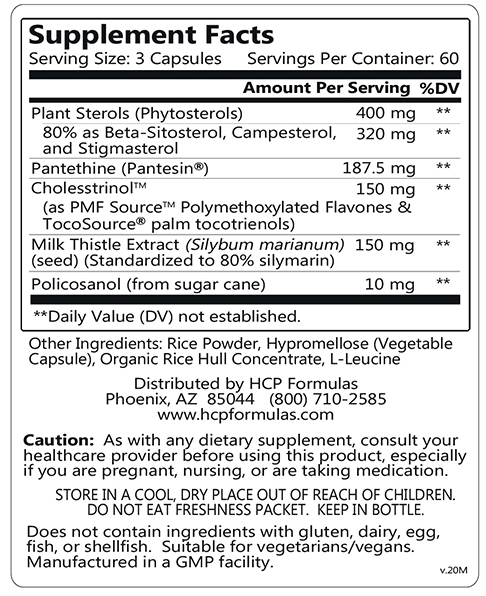 Serving Size: 2 Capsules
Ingredients:
Amount Per Serving:
Plant Sterol Esters (Phytosterols) 650 mg
80% as Beta-Sitosterol, Campesterol and Stigmasterol 520 mg
Pantethine (Pantesin®) 150 mg
Sytrinol® Citrus and Palm Fruit Extracts 150 mg
Orange extract (peel) 135 mg
Polymethoxylated Flavones (36%) 48.6 mg
Palm Extract (seed) 15 mg
Tocotrienols (15%) 2.25 mg
Milk Thistle (whole plant) 100 mg
Policosanol (from sugar cane) 10 mg
Other Ingredients: vegetable capsule, L-Leucine, rice flour, silicon dioxide
This product does not contain ingredients with gluten, dairy, egg, fish, or shellfish. Suitable for vegetarians and vegans. LipiCept is phthalate-free. Manufactured in a GMP facility.
Caution: As with any dietary supplement, consult your healthcare provider before using this product, especially if you are pregnant, nursing, or are taking medication.
STORE IN A COOL, DRY PLACE OUT OF REACH OF CHILDREN
Distributed by HCP Formulas Phoenix, AZ 85004.
LipiCept™ is a trademark of HCP Formulas
Pantesin® is a registered trademark of Kyowa Pharma Chemical Co., Ltd.
Sytrinol® branded blend of citrus and palm fruit extracts. (U.S. Patents 6987125 and 7683095) Sytrinol® is a registered trademark of InterHealth N.I
Suggested Use - LipiCept Cholesterol Support
Take 2 capsules twice daily with meals.