Crave Stop by Redd Remedies

Crave Stop™ is an award-winning, potent blend of minerals and herbs that help you manage sugar cravings and support a healthy appetite.
Do you commit to a healthy eating regimen, only to "cheat" by eating sweets and chips? Does your morning cereal leave you hungry by 10am? Do you reach for something sweet to satisfy that craving, only to find yourself in the same situation soon after lunch? Do you eat a piece of candy or cookie when you're feeling a little low?
Munching on sugar-laden snacks or reaching for a brownie when you're down only makes you crave more sugar. Eating a diet high in refined carbohydrates and sugar may quickly satisfy your hunger, or give you a rush of "feel-good" brain chemicals, but these results are short-lived and leave you wanting more. The effects on your body and your nutritional health can be dramatic and long-lasting.
Crave Stop™ addresses sugar cravings and helps control appetite by:
Supporting healthy sugar metabolism†
Promoting a lean body mass†
Promoting the body's healthy use of insulin†
Supporting healthy adrenal function†
Supporting a healthy stress response†
---
Key Ingredients
Chromium and Vanadium support your body's healthy use of insulin.
Healthy Appetite Proprietary Blend supports a healthy appetite and promotes a healthy stress response.†:
Gymnema (Gymnema sylvestre) Leaf Extract - Used for centuries throughout Asia and India, the effective ingredient found in the leaf of the gymnema plant may help with weight management, healthy blood sugar levels, and reduction of cravings and absorption of sweet foods.†


American Ginseng (Panax quinquefolium) Root Extract - A natural appetite suppressant, studies have also shown that ginseng may enhance blood glucose control, offering the combined benefits of weight management while reducing the blood sugar impact of sweets.


Banaba (Lagerstroemia speciosa) (Glucohelp™) Leaf Extract (standardized to contain: 18% corosolic acid) - In both human and animal studies, the corosolic acid in banaba leaf have been found to help regulate blood sugar as well as reduce food cravings for those with excess weight and higher blood sugar levels.


---
---
About Redd Remedies
Redd Remedies carefully chooses herbs, plants, vitamins, and minerals used in Traditional Chinese Medicine, Ayurvedic medicine, and European traditions which are also supported by modern day research and science to deliver natural solutions to health. They use wholesome clean food, targeted high quality supplements, and qualified doctors with expertise in natural medicine to address health from a whole body perspective. Redd Remedies offers:†
Quality, purity, and potency guaranteed through expiration
All-natural ingredients
Superior quality control
Supplement Facts - Crave Stop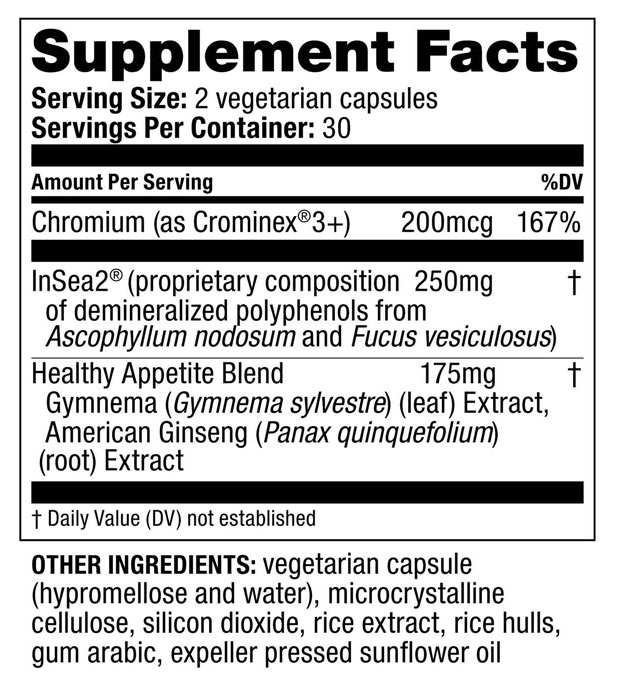 Other Ingredients: Vegetarian capsule (hypromellose and water), microcrystalline cellulose, silicon dioxide, rice extract, rice hulls, gum arabic, expeller pressed sunflower oil.
Contains No: Sugar, dairy, sodium, artificial flavoring or coloring, preservatives or animal ingredients.
Warning: Insulin Dependent Diabetics should consult with a healthcare practitioner prior to use. If pregnant, nursing, or taking prescription drugs, discuss all products used with a healthcare practitioner.
Warning: If you are pregnant, nursing, have a medical condition, or are taking prescription drugs, consult your physician before using this product. KEEP OUT OF REACH OF CHILDREN.
Store in a cool, dry place.
Manufactured by Redd Remedies.
Suggested Use - Crave Stop
Suggested Use: 1- 2 capsules 20-30 minutes before each meal, not exceeding 4 capsules daily.
† These statements have not been evaluated by the U.S. Food and Drug Administration (FDA) or EnergeticNutrition.com. This product is not intended to diagnose, treat, cure or prevent any disease. The information provided on this site is for informational purposes only and is not intended as a substitute for advice from your physician or other health care professional or any information contained on or in any product label or packaging. You should not use the information on this site for diagnosis or treatment of any health problem or for prescription of any medication or other treatment. You should consult with a health care professional before starting any diet, exercise or supplementation program, before taking any medication, or if you have or suspect you might have a health problem, or are pregnant. When you receive an item, carefully read all labels, warnings, and directions before use. Actual product packaging and materials may contain more and/or different information than shown on this website.